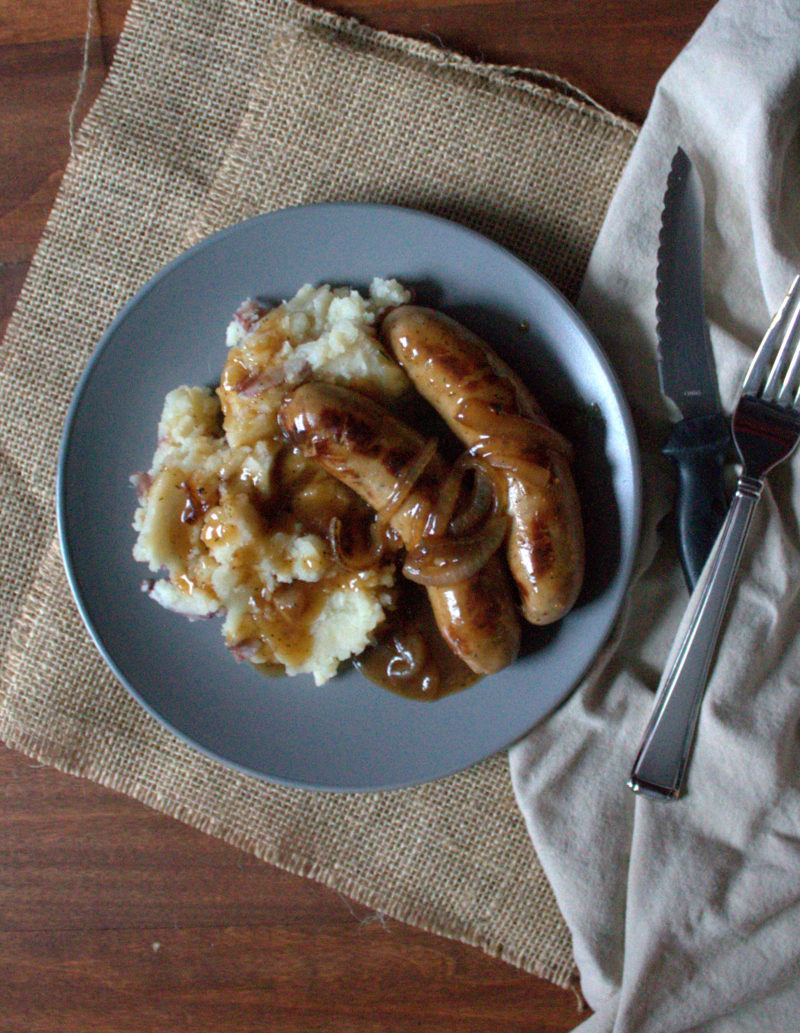 Bangers and mash is probably in Chuck's top 3 favorite meals, right next to Chicken Pot Pie and Shepard's Pie. It's one of those recipes I've been trying for years to perfect. After having it almost daily when we were in Ireland, I had some big shoes to fill.
Can we take a side note to think about that trip? It was 5 YEARS ago. That feels so long, but it also feels like just yesterday we were driving through the country side just enamored with all the rock walls and ruins scattered across the land. It was beautiful and eerie, which gave the whole place a magical quality. I want to go back some time. Who knows when that will be, but I hope it's not too long.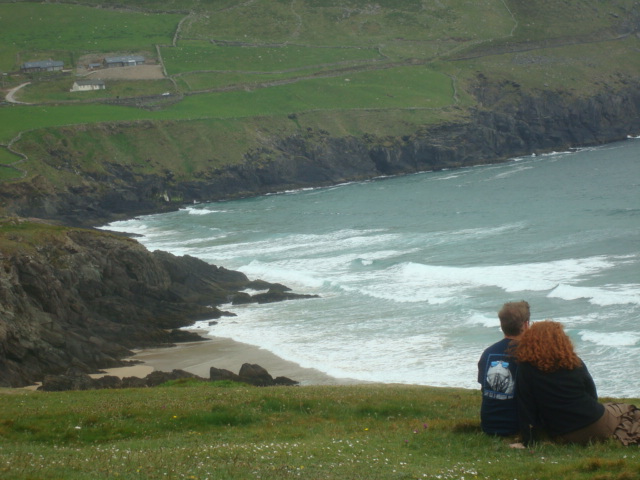 The difficulty with perfecting this dish is the bangers. We just don't make pork and leek sausages as well as they do over there. That is if you can find any at all. Most of the time you might as well just be eating a hot dog. For this recipe I used sausages from a local smokehouse. They were good, for sure, but not great. I'll keep trying. To make up for the lack of perfect bangers I have perfected the sauce.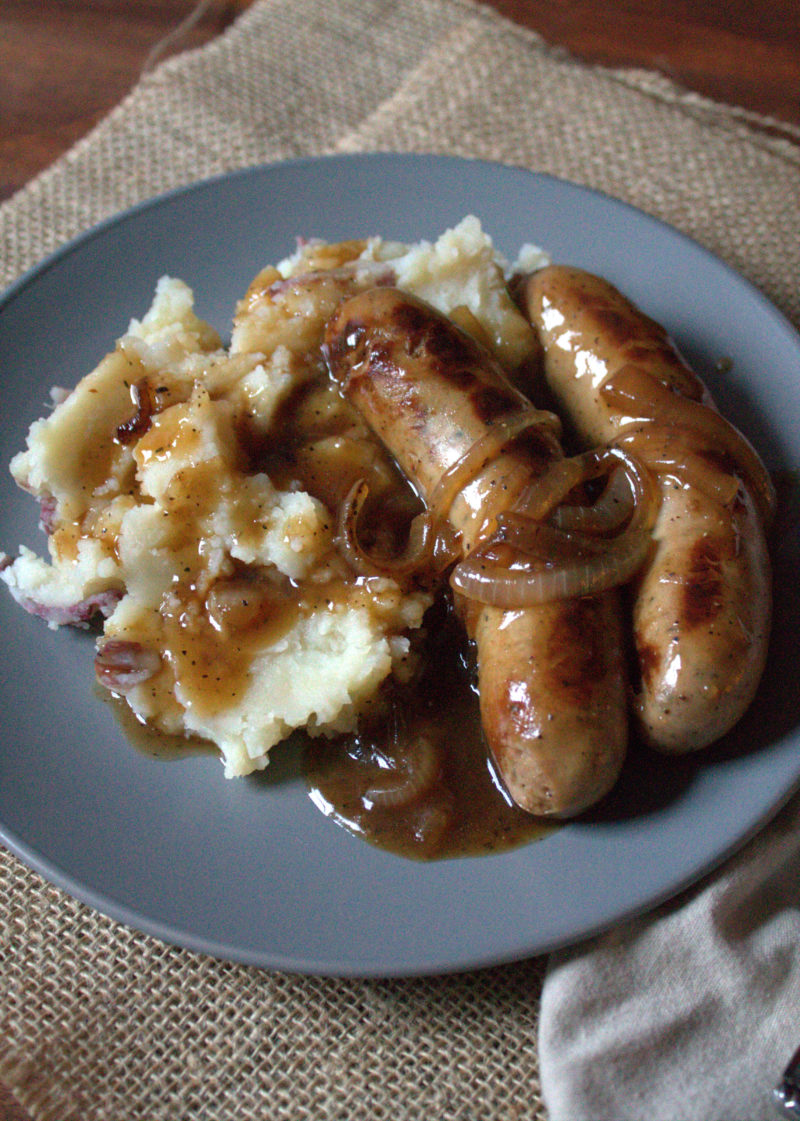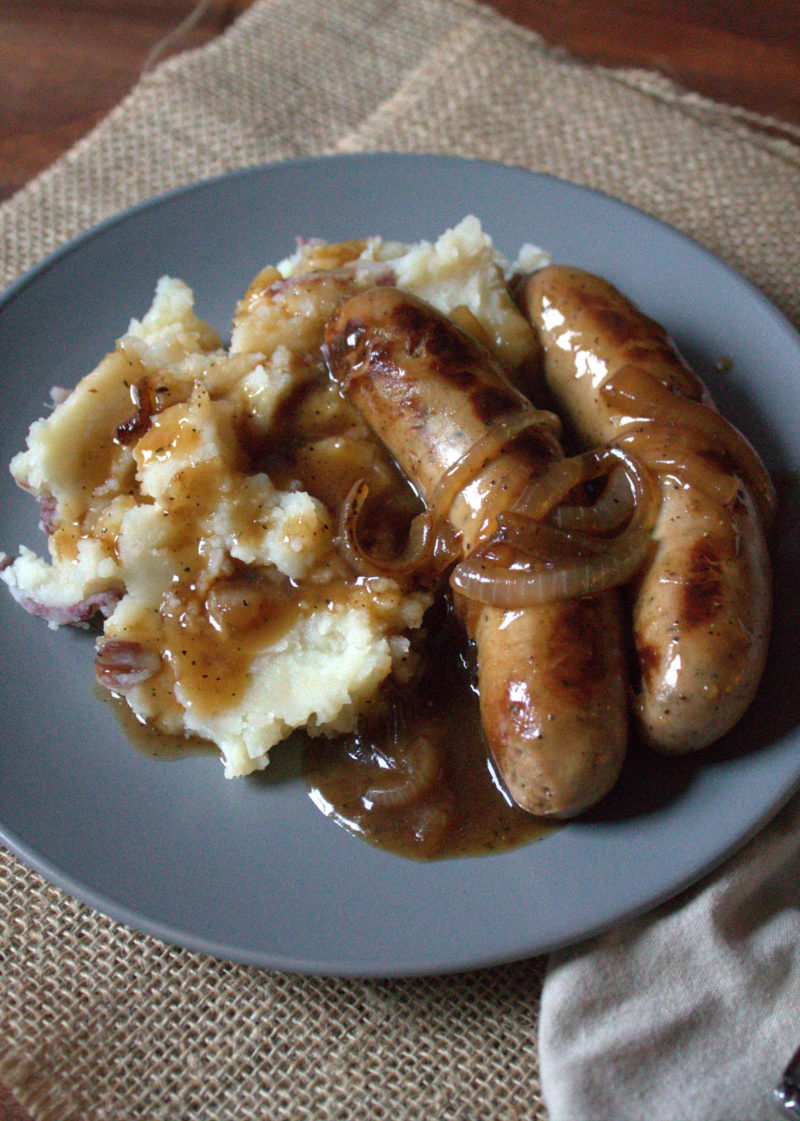 You could call it a gravy, but it's really a pan sauce. I remember the slightly sweet tangy flavor of so many of the dishes we had in Ireland that made it so different from a standard US style gravy. The key is the balsamic. I did a little looking around, and most recipes don't use it, but I'm telling you when we were there that gravy had a tang. Using balsamic is the closest thing I can get to it, so that's what I'm rolling with.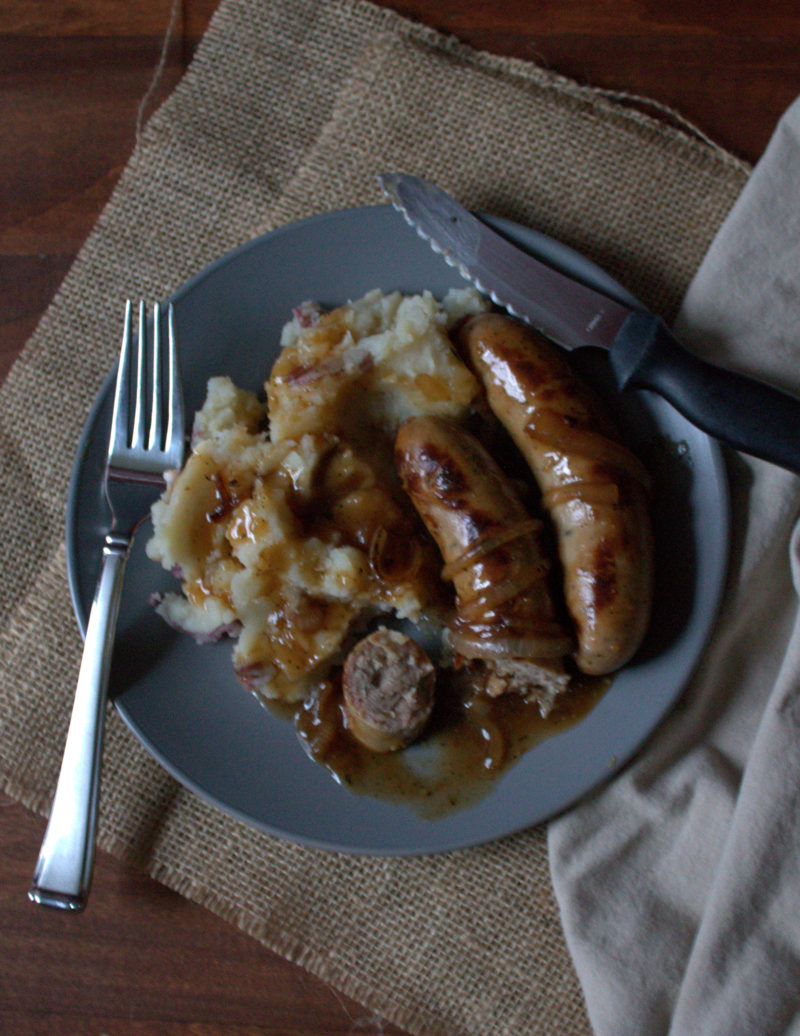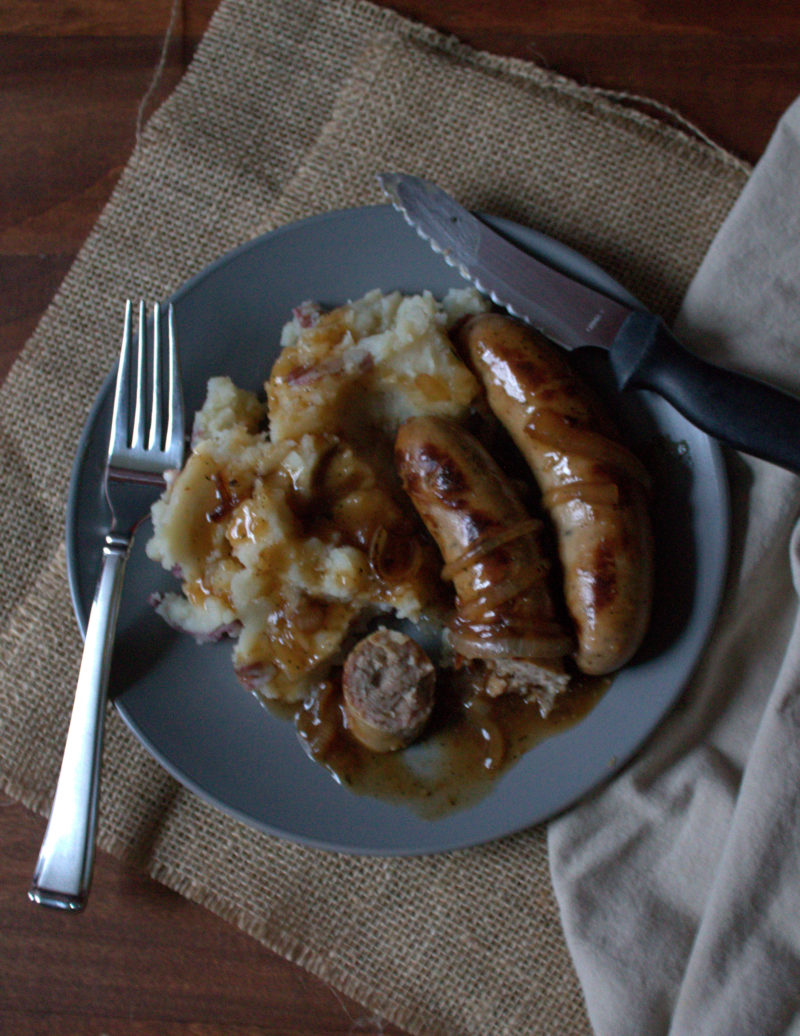 I like to serve it not only with the traditional peas, but some sauted greens. The greens soak up the excess gravy wonderfully, and this time of year they are in abundance, so I'm using them in everything.
Enjoy!

Irish Bangers and Mash
Ingredients
1 pound potatoes, peeled and cubed
3 tablespoons butter, unsalted
1 lb pork and leek sausage links
2 large onions, peeled, halved and sliced ¼ inch thick
1 teaspoon balsamic vinegar
2 cups beef stock
1 tablespoon cornstarch
¼ cup milk
Salt and pepper to taste
Instructions
In a medium saucepan, cover the potatoes with water. Bring to a boil and simmer 15 minutes, or until easily pierced with a fork.
While the potatoes are cooking, melt 1 tablespoon butter in a large skillet over medium. Add the sausages and cook, until browned and cooked through. Remove the sausage and set aside.
In the same pan sauté the onion, until softened and slightly browned (add more butter if necesary), about 4 to 5 minutes. Deglaze with balsamic, and stock, scraping browned bits from the bottom of the pan, cook for 1 minute.
Whisk in the corn starch and cook for an additional minute to allow the sauce to thicken.
Add the sausages back to the pan to warm, about 1 minute.
Drain the cooked potatoes and add 2 tablespoons butter, milk, salt and pepper in a large bowl. Mash by hand until a well combined and chunky mash forms.
Serve with hot sausages and gravy over potatoes.