A light and healthy recipe for vegetable chowder that warms from the inside out while still being low in calories.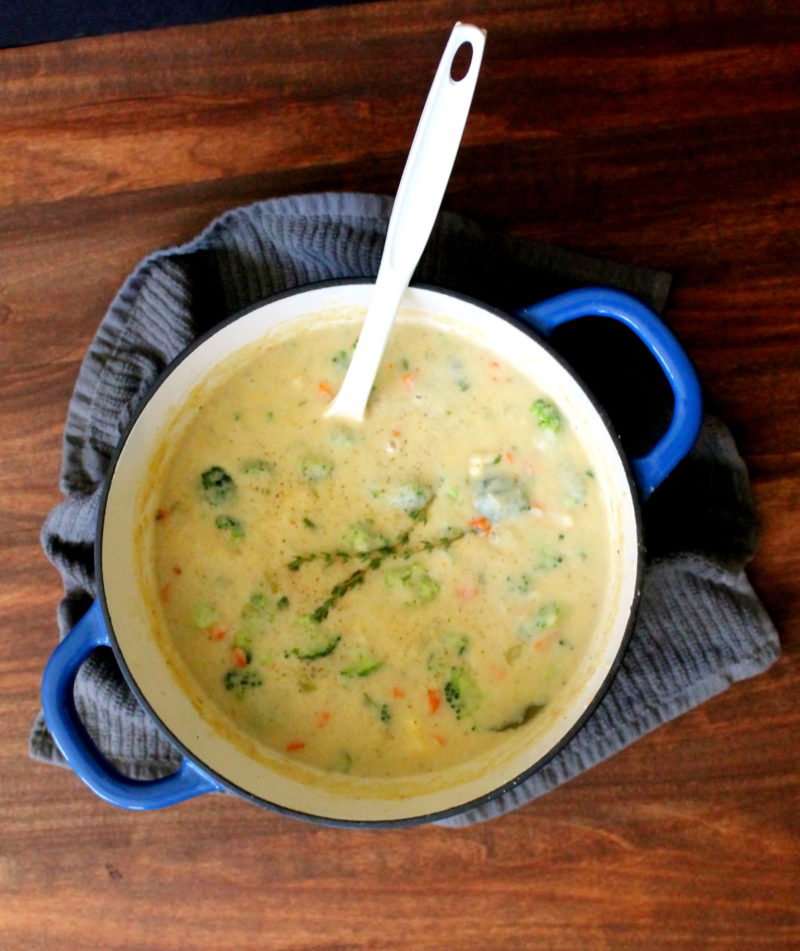 Chili, rainy days have come on strong in the north east.
This is the season when most people grumble and groan about cold weather, mud puddles, raking leaves and seasonal colds that float around. I, on the other hand revel in this season. The smell of fresh rain, the way my hair curls more than usual, there is plenty of reason to cuddle under blankets, drink hot tea and eat soup. Really I love this season.
I also really love soup, though Chuck isn't quite as big a fan; he prefers something that he can sink his teeth into. I could eat soup all year round if allowed. Minestrone or Chicken and Dumplings are definitely my favorites. A Couple weekends ago while he was off hunting I made myself a big batch of vegetable chowder, enough to last me the weekend and then some. It was one of my better ideas since it was healthy, filling warm, and easy to reheat.
I pureed some cauliflower to thicken the soup and reduce the amount of cream and flour. Then I added all my favorite vegetables and spices. I made some homemade bread (recipe coming soon hopefully) to slurp up every last bit. It was the perfect dish for a chilly weekend.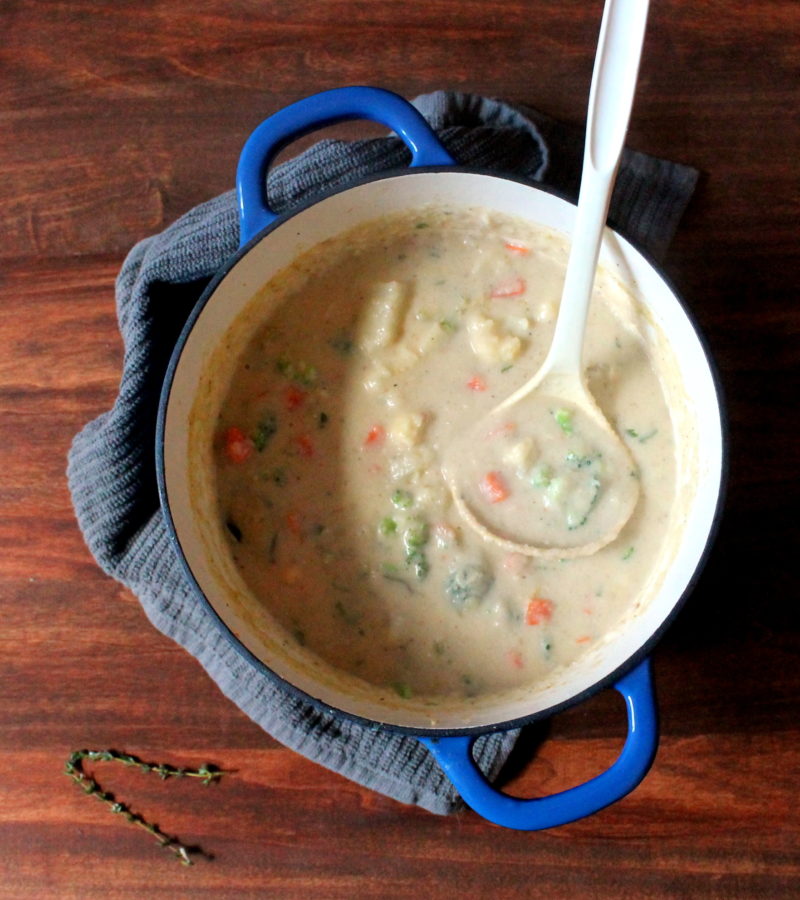 Light Vegetable Chowder
Ingredients
4 tablespoons unsalted butter, divided
3 cloves of garlic
1 onion, chopped
6 cups low sodium vegetable broth, divided
3 cups of cauliflower florets
2 carrots, peeled and chopped
2 stalks celery, chopped fine
1 tablespoon flower
4 cups vegetable broth
⅓ cup milk
1 bay leaf
1 Sprig of thyme
1 russet potato, peeled & chopped
1 cup broccoli florets
Instructions
Melt 2 tablespoons of butter in a large thick bottomed sauce pan over medium high heat. Stir in half of the onion and 2 cloves of garlic. Cook for one minute and stir in 2 cups of vegetable broth and 2 cups of cauliflower florets. Cover and cook for another 8 to 10 minutes or until the cauliflower is for tender. Transfer the contents of the pot to a blender and puree until smooth. Set aside.
In the same pan add the rest of the butter and onion and saute for 1 to 2 minutes or until the onion is soft and fragrant. Stir in the garlic, carrots, and celery. Cook for 3 to 4 minutes stirring occasionally.
Add the flour and cook, while whisking until browned, about 1 minute. Gradually whisk in the chicken broth, milk, bay leaf, thyme, potato, cauliflower, and broccoli. Cook for 2 minutes while stirring. Add the pureed cauliflower to the pan and bring to a boil. Reduce to a simmer and cook for another 5 to 10 minutes or until the potatoes are fork tender.
Adjust seasonings and serve.