This is a quick and easy recipe for No Boil Taco Ravioli Casserole that will feed a crowd, with less than 5 minutes of prep time the whole thing comes together easily in 30 minutes.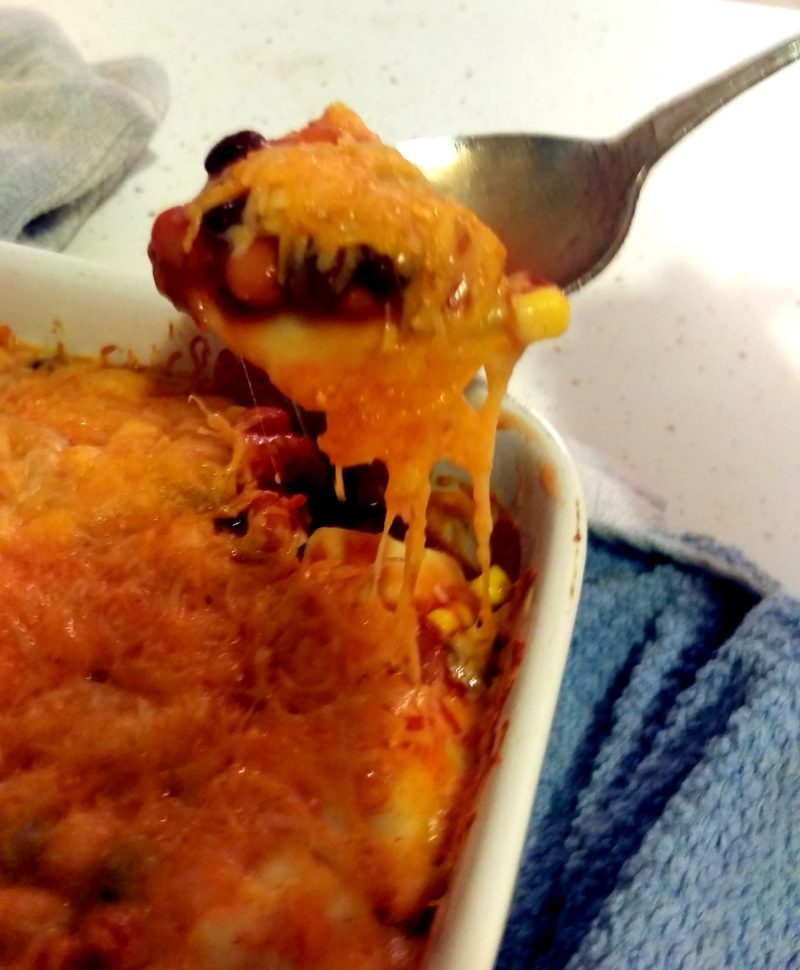 Sometimes you just need a casserole.
And you guys this was that time.
You know that we have been trying out damndest to eat good, and plan ahead , but sometimes life just happens. We found out on a Monday that we were closing on our house on Friday, and realized that because it had been pushed back so far (sigh) we needed to get started on the floors immediately and work our butts off to get them done in a week.
But people still need to eat.
Leave it to me to constantly be thinking of food first however.
I decided to make a casserole that could get us through the weekend. And it did, in a wonderful fashion. I was able to through it together in one pan, with hardly any prep time and it was delicious, as well as filling and satisfying. I did use all prepackaged ingredients, which kind of goes against my base food philosophy, but desperate times man.
This recipe was a hit! Chuck loved it and said I should make it again sometime. Despite it not having meat! I was totally impressed and probably will make it again, since it was seriously so easy. This recipe is also super filling so we were able to eat it for several lunches and dinners before it was all gone.
I want to mention that you can totally add cooked ground beef, or turkey to this if you want, just brown the meat with some taco seasoning and add it in with or instead of the beans and corn. I chose not to for this recipe because 1)we are trying to eat less processed meat and 2) that was another step in the process I was not willing to add 3)the recipe without meat is way cheaper. I have made this same recipe with meat before and it was just as well received as this particular time.
Also don't mind the last minute smart phone photos, and gross 80s counters, this is what the first days of home ownership looks like kids. It's not as glamorous as you originally thought now is it?

No Boil Taco Ravioli Casserole (Vegetarian)
Ingredients
1 jar of salsa
1 (20 ounce) package of frozen cheese ravioli
1 (15.5 ounce) can black beans, drained & rinced
1 (15.5 ounce) can pinto beans, drained & rinced
1 (15 ounce) can cut corn in water, drained
1 jar of taco sauce
½ cup shredded cheddar cheese
Instructions
Preheat the oven to 350 degrees.
In a 9x13 baking pan spread the jar of salsa, covering the bottom of the pan.
Add about half the package of ravioli in one layer on top of the salsa, do the same with the black beans, pinto beans and corn.
Add another layer of ravioli, and then beans and corn.
Top with an even layer of taco sauce and shredded cheddar cheese.
Bake for 25-30 minutes, or until the ravioli is cooked through and cheese melted.
Serve immediately.