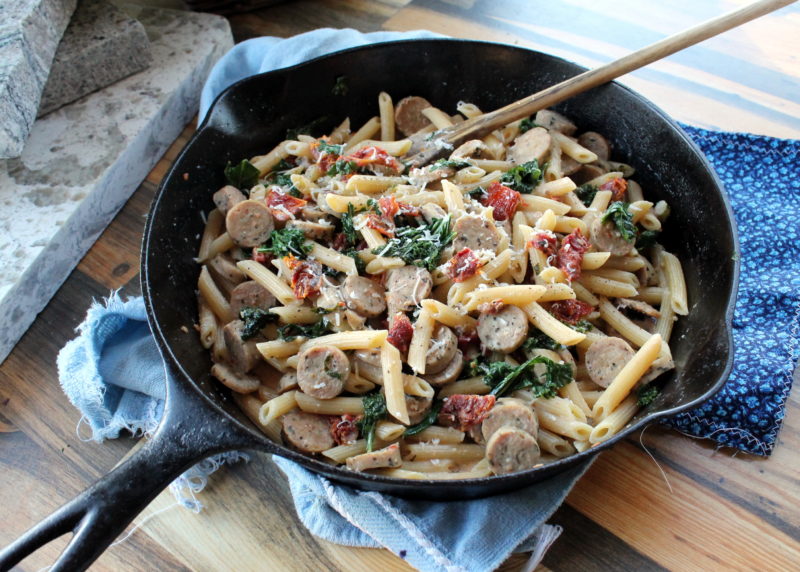 Have you guys seen this eat your greens series I'm doing over on Instagram? If not go check out my highlights right now. I'll wait.
Pretty cool huh? I'm hoping to get a pretty big collection (close to 100 if possible) of recipes in there and then turn that into a blog post for all the recipes, or something. I'm not 100% clear on that yet. Anyway, While scouring my old photos for recipes that use greens (DUDE, you guys my food photo collection is insane!) I stumbled across these photos, of this amazing dish, that was never posted.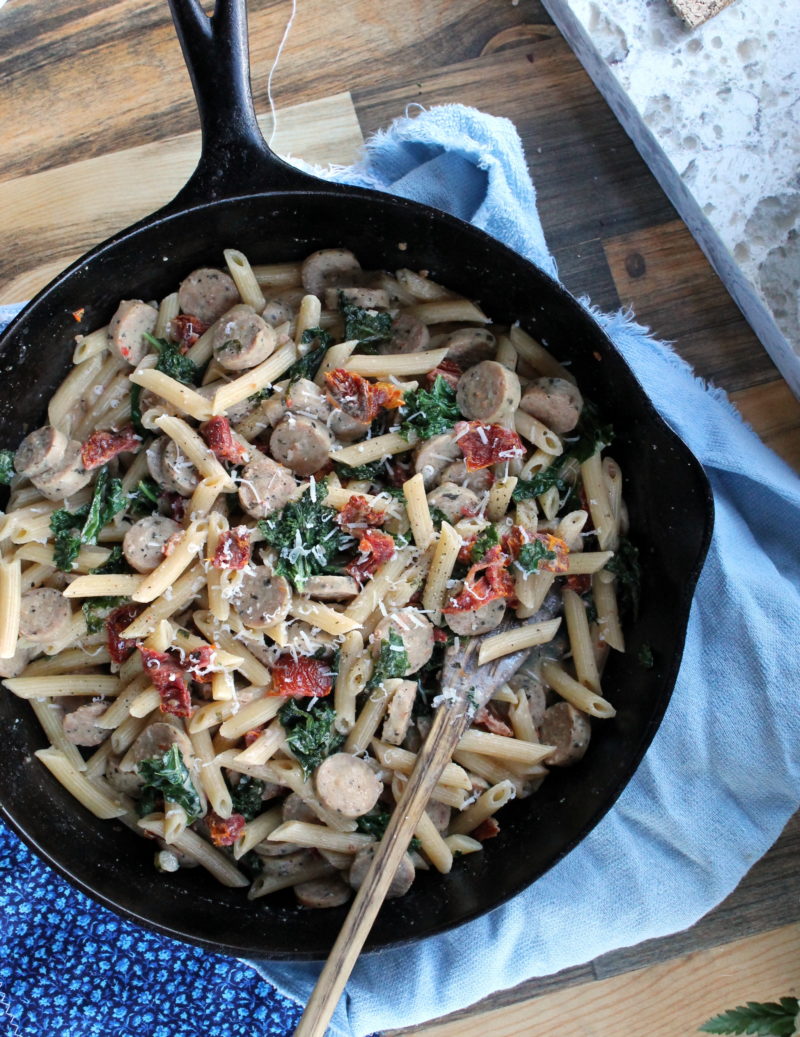 This Sausage, Kale and Sun-Dried Tomato Skillet Pasta is one of those dishes that I repeat over and over again, swapping out a few of the ingredients for what I have on hand. It's so easy and delicious that I'm positive it will become a go-to for you as well.
SO why did it never get posted? Probably because the key ingredient in here is sun-dried tomatoes. I took these photos at a time (Circa 2015) when sun-dried tomatoes had already made their way into something like 4 consecutive recipes. It was time for a break, and then we were moving on. At this point, I think it's safe to bring it out.
I have to tell you though that the sun-dried tomatoes are the one ingredient in this dish you should not substitute. They are the main flavor driver here. Sure trade out the kale for spinach, arugula or Swiss Chard, have the sausage, don't have the sausage, or use un-ground meat, whatever you like. Just don't skip the sun-dried tomatoes. Especially this time of year when fresh tomatoes are still a ways off. These little babies are packed full of flavor and ready to serve.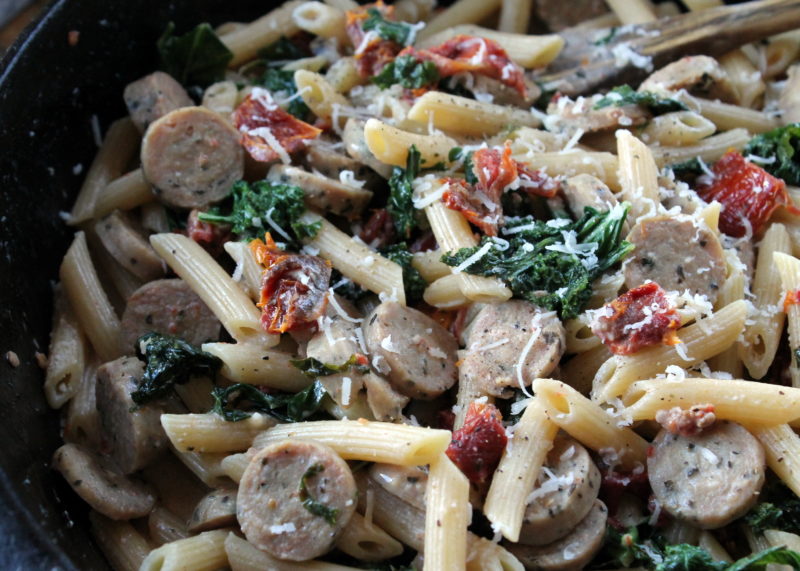 Did I mention that this is one of those one pan wonders? Because it totally is. You're excited now right? I knew you would be.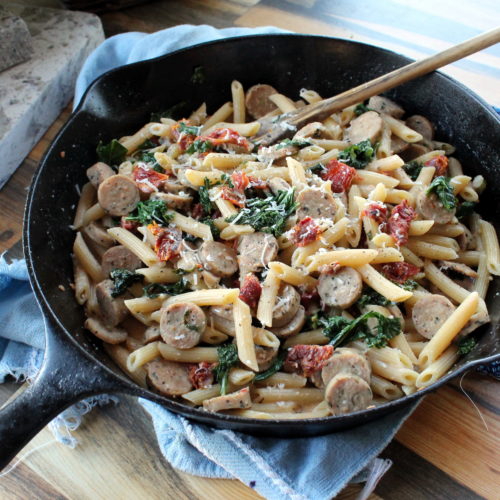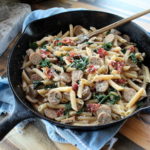 Sausage, Kale, & Sundried Tomato Skillet
Prep Time 10 minutes
Cook Time 20 minutes
Total Time 30 minutes
Ingredients
1 tablespoon olive oil
1 small onion peeled & diced
3 cloves of garlic sliced
12 oz fully cooked Italian sausage links sliced
½ cup sun-dried tomatoes chopped
12 oz penne pasta
2 cups chicken broth
2 ½ cups water
2 cups kale destemmed & chopped
Salt and pepper to taste
¼ cup parmesan cheese plus more for garnish
Instructions
In a large skillet heat the oil over medium high heat. Add the onion, and garlic and cook for 1 to 2 minutes or until the onion has become translucent.

Add the sausage and cook, until browned, about 3 to 4 minutes.

Add the sun dried tomatoes and cook for another minute.

Stir in the penne and toss well to coat.

Add the broth and water. Cover and let simmer for 8 to 9 minutes stirring often, until the pasta is cooked aldente.

In the last couple minutes of cooking stir in the kale, and cover again. Let cook until pasta is aldente.

Remove from heat and stir in the parmesan cheese. Adjust seasonings and serve immediately.
Similar Recipes: