This Fiddlehead Hash Recipe post was first published in may of 2013. The recipe has been updated to reflect recent clarifications.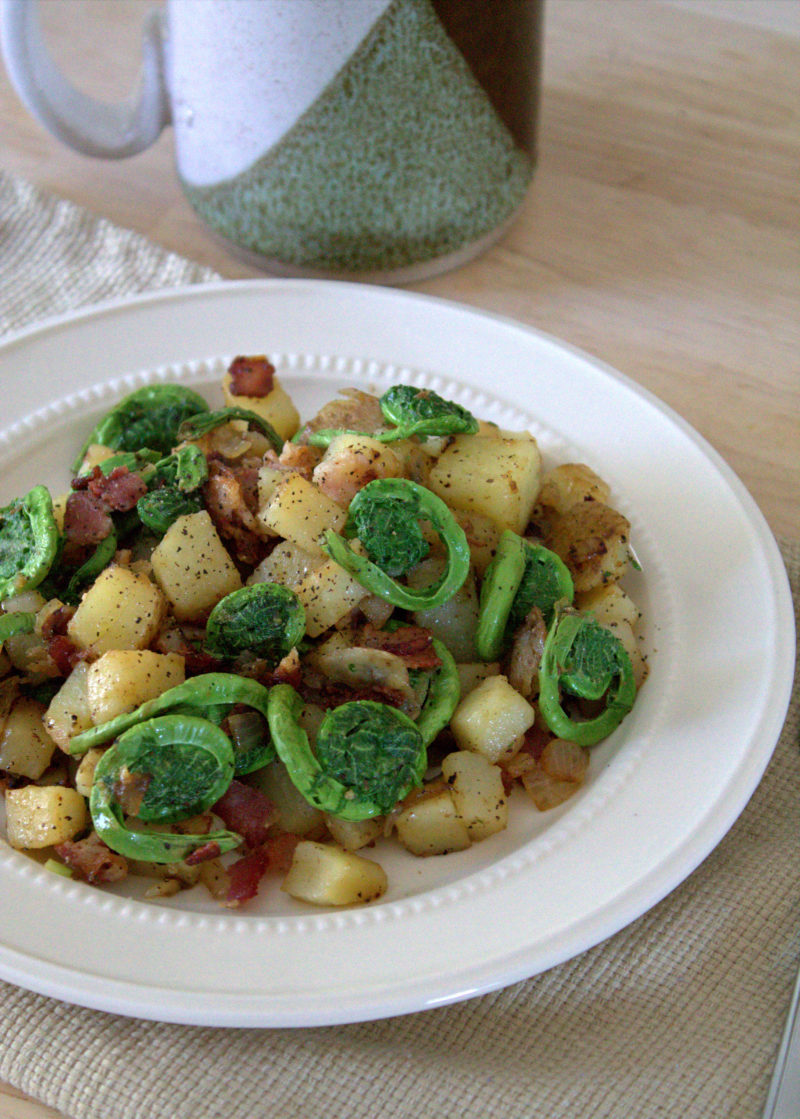 It's getting to be that time of year, that insanely short and bountiful time when fiddle heads are ripe for the picking. Fiddle heads are the curled up leaves of young ferns that begin to unfurl in the very early spring. Picking and eating Fiddle heads, or Break Greens as my grandpa calls them has been always been a large part of my family traditions, and therefore very dear to my heart.
They have a woody and bitter taste that I just love. Growing up we always had them simply steamed with salt or vinegar, however lately I have really enjoyed experimenting with these little guys in my own kitchen and seeing what I could come up with.
I've also been noticing other recipes for these guys creeping into some of my favorite websites and magazines. I have even started seeing them in grocery stores. I never even thought anyone else ate them until last year when I saw them at the grocery store. I was pretty shocked, but excited to see that others really do enjoy this kind of local foraged food.
Fiddle Head Hash is a recipe that I made up sometime last year (think 2012) and quickly became a favorite breakfast staple in our house, as long as the breaks lasted anyway. I liked it because it was simple, delicious, and filling. The fat from the bacon lent itself perfectly to the bitterness in the breaks, and the earthiness of the potatoes, making a perfect combination.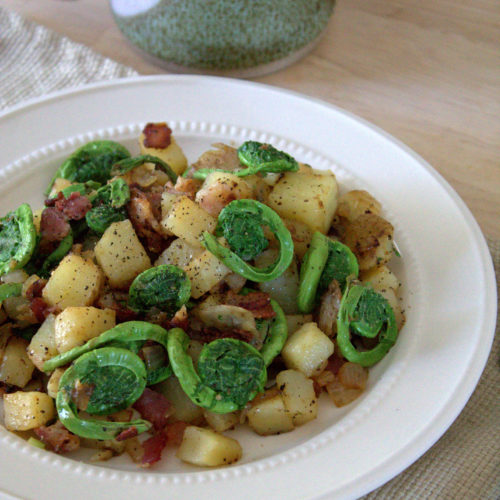 Fiddlehead (Breakgreen) Hash
Prep Time 10 minutes
Cook Time 15 minutes
Total Time 25 minutes
Ingredients
½ lb thick cut bacon
1 1/2 lbs russeet potatoes chopped into bite size pieces
1 very small onion chopped
1 tablespoon butter
1 lb fiddle head ferns cleaned well
1 teaspoon salt
1/2 teaspoon black pepper
Instructions
Place the potatoes in a large pot of water and bring it to a boil. Allow them to cook until just tender, but not mushy, about 10 to 12 minutes. Drain and set aside.

In a large skillet cook the bacon until crispy. Drain the pan leaving a couple teaspoons of grease in the bottom and set the bacon aside.

Add butter, and onion. Sauté for 3-4 minutes or until the onion begins to soften.

Add the potatoes and fiddle heads and sauté for another 6 to 7 minutes, or until the potatoes have begun to brown and the fiddleheads have softened.

Crumble bacon and return it to the pan with salt and pepper toss well to combine.

Adjust seasonings, and remove from heat. Serve warm.
 Similar Recipes: