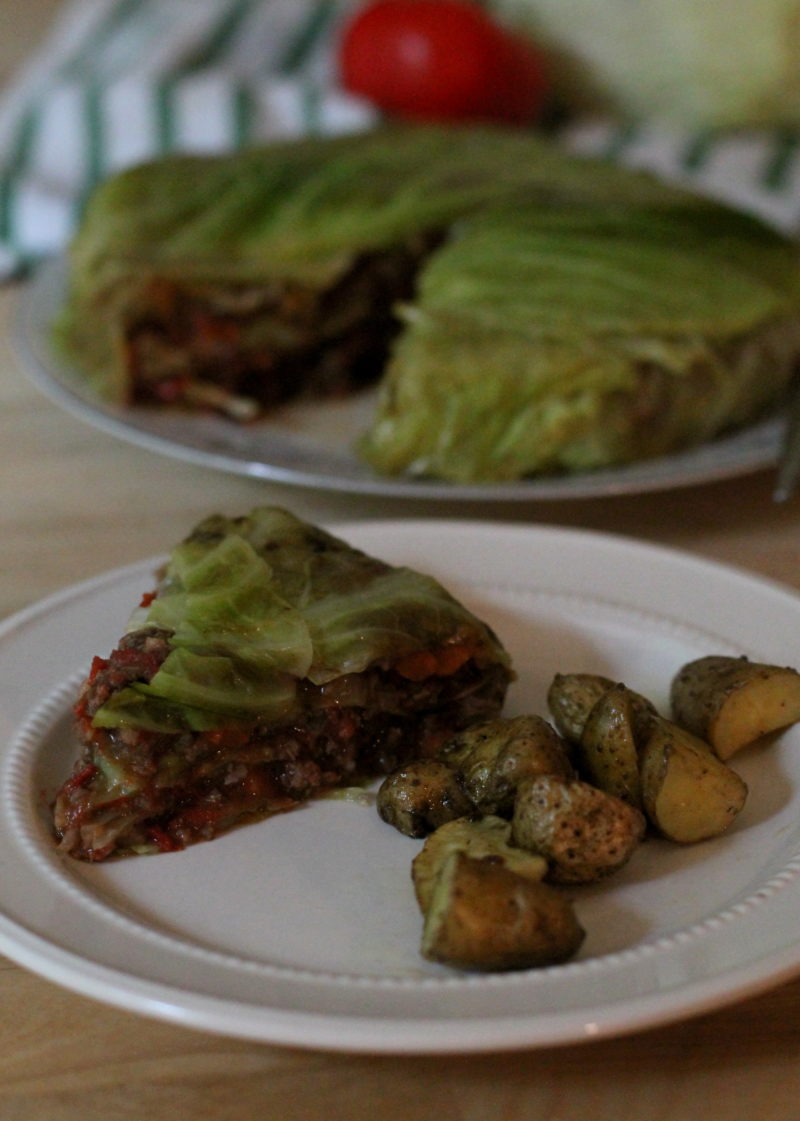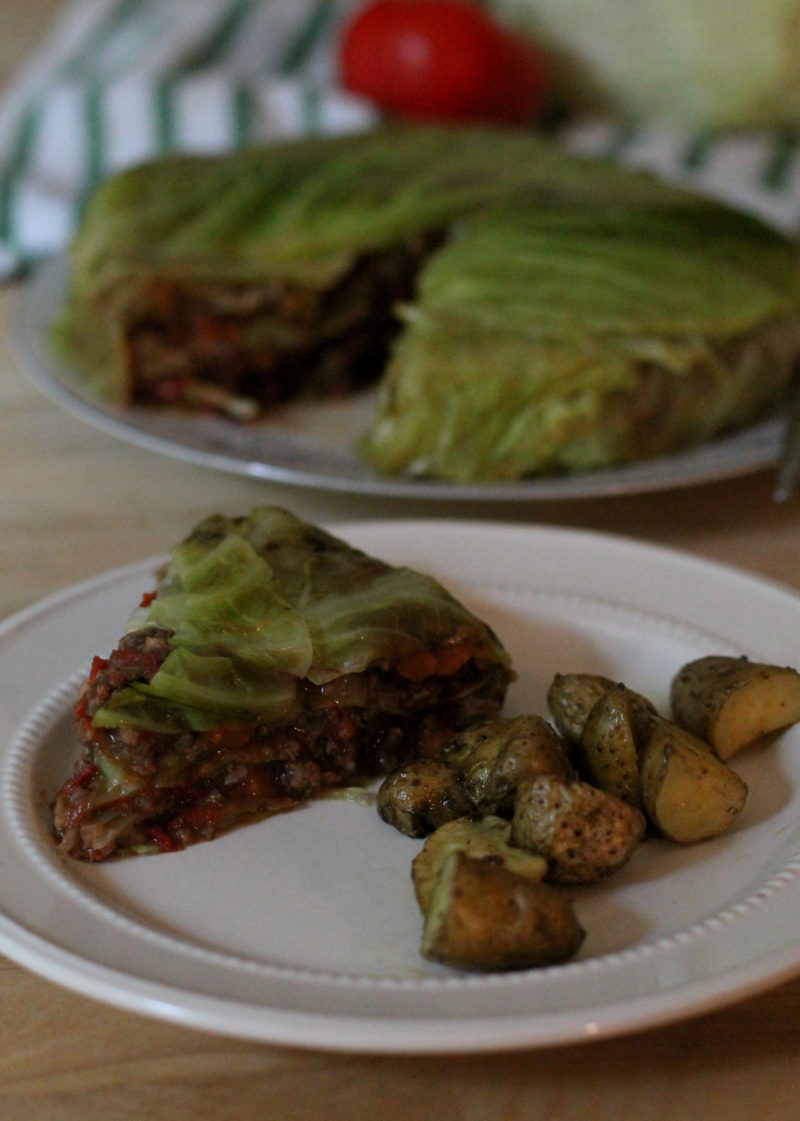 This is a recipe that I have wanted to make for a long time. I saw the original version way back in 2014 on Manger. I had seen a number of stuffed cabbage recipes, but this one came out so beautifully that I was propelled to make it asap, and I did, but of course, I didn't take any photos. I've made it a few times since, and finally gotten a few ok shots of it.
Around here we like to eat our food. I don't make food just for a photo and then toss it. We eat every single thing, in fact, half the time I'm photographing things while Chuck is strapping Monster into his high chair at the other end of the table. Sometimes, usually in the winter when the light is fleeting, I'll photograph the leftovers before we eat them for lunch the next day. However, either way, you look at we are eating this food. Sometimes, this means I don't always get the greatest shot, but that's life. I would much rather give you a quality recipe than a perfect shot.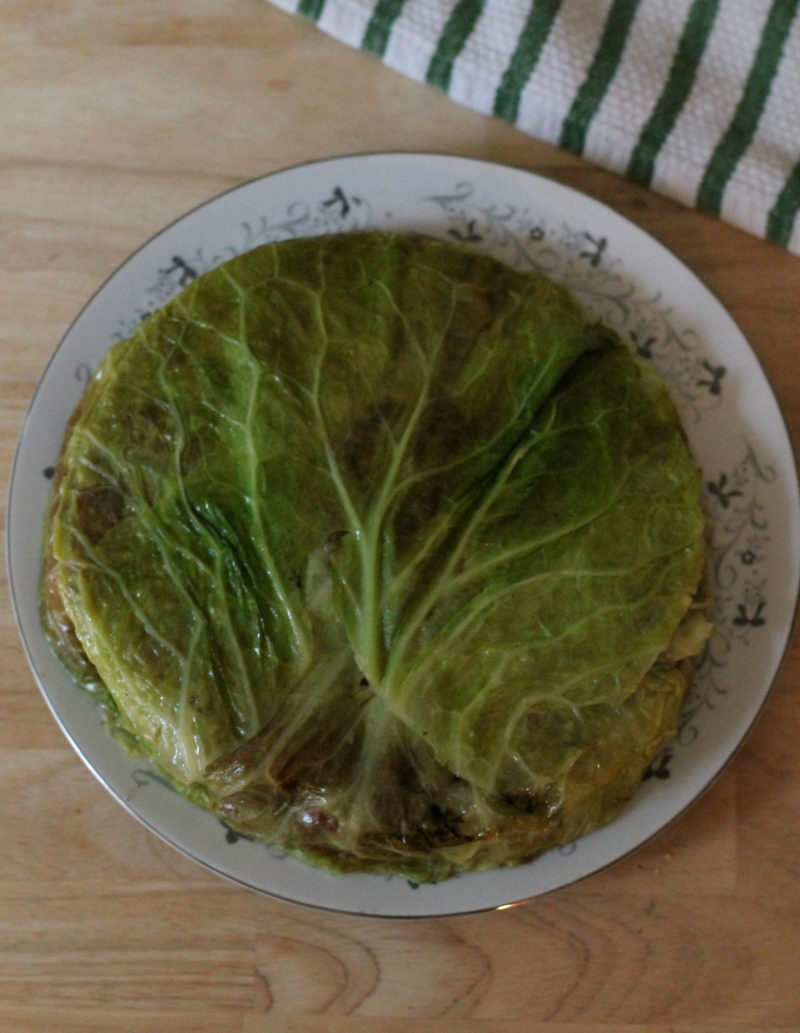 On this particular day, the sun had started to fade by the time I was able to shoot this beautiful dish. I also failed to get it in the center of the plate, and it wouldn't budge without falling apart after. Long story short, these photos are not perfect. The dish, however, was pretty perfect.
This method of stuffing cabbage seems easier to me that trying to roll it like so many other recipes. Plus, I love the way this dish slices like a piece of cake. I also love that while it looks fully meat stuffed, the majority of what's going on here is still vegetable-centric.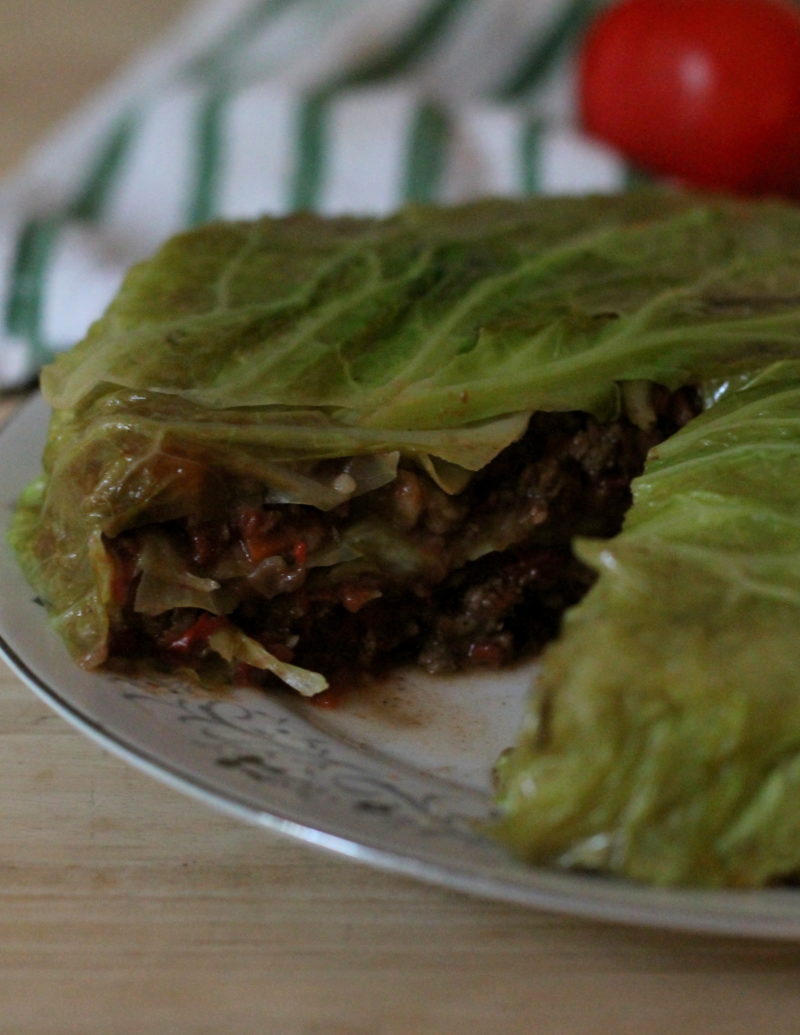 The filling here is less complex than Mimi's original recipe, but I wanted something a little more approachable for the home cook, since we are already using spring-form pans, and layering blanched cabbage leaves. There appears to be a lot going on, but I promise it's totally worth it, and it's really not that involved. Really, you could adapt the filling for any meat sauce and make this as a way to use up leftovers. If you are anything like me you make sauces by the gallon, because it's so easy, and then are scrambling for ways to use them up. This is one great solution to that problem.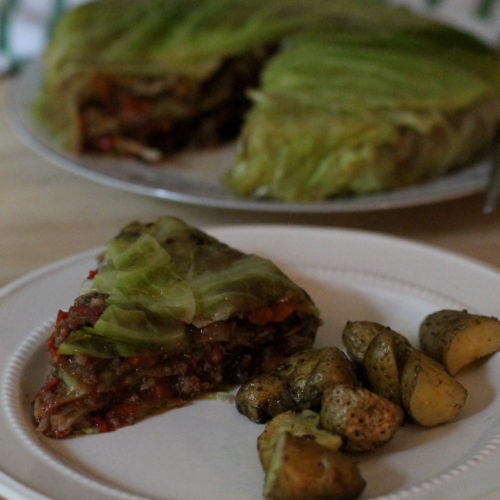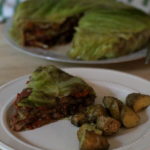 Venison Stuffed Cabbage
Prep Time 15 minutes
Cook Time 1 hour 35 minutes
Total Time 1 hour 50 minutes
Ingredients
1 head Savoy cabbage
Unsalted butter for the pan
1 tablespoon olive oil
1 onion chopped
2 carrots Chopped
1 1/2 lb ground venison
2 garlic cloves minced
2 to 3 sprigs of thyme
1 tablespoon flour
1/2 cup beef venison or vegetable broth
Salt & pepper to taste
2-3 large tomatoes de-seeded and diced (8 oz can)
Instructions
Core the cabbage and separate the leaves, whole. Blanch for 6 to 8 minutes, until softened, and drain on towels. Set aside to cool.

Meanwhile, heat the oil in a large skillet over medium high heat. Add the onion, and carrots and cook until softened, about 1 to 2 minutes.

Add the garlic, thyme, and venison. Cook stirring and breaking into crumbles until well browned.

Add the flower and stir well to combine, cooking for 1 to 2 minutes.

Stir in the broth and tomatoes and let simmer until thickened.

Adjust seasonings and remove from heat, and remove any thyme stems.

Preheat the oven to 350 degrees F.

Grease the sides and bottom of a spring form or an extra deep 7 inch cake pan with butter.

Put the largest cabbage leaf on the bottom of the pan. Arrange several other leaves so that the bottom and sides are completely covered, reserving the rest for additional layers.

Put a 1/2 to 3/4 inch layer of meat mixture into the pan, on top of the cabbage leaves. Arrange cabbage leaves over the top so that the meat is covered. Add another layer of meat and repeat until all of the meat mixture is gone. About, 4 layers should cover it. For the final layer be sure to tuck in all the cabbage leaves under the final couple of leaves, and tuck their edges into the pan so that it's sealed on all sides.

Place in the oven and back for 35 to 40 minutes.

Remove from heat and let cool slightly.

To serve, invert a plate over the pan and carefully flip the dish. Release the spring form and remove it. Cut into slices and serve.
Similar Recipes: