A recipe for Pear & Brie Toasts with a simple honey balsamic drizzle. Perfect for a fall or winter pot luck.
As the cooler temperatures start to take their toll a simple bowl of chips and guac is not cutting it anymore as an appetizer amongst our group of friends. We are all craving something warm and comforting, but we also don't want something super heavy such as meatballs or cheese dip. We just aren't there yet.
In our house we are still holding out on turning on the heat, and most weekends are still spent outside, albeit on house projects as opposed to camping of hiking as I would like. While we aren't jumping in pools anymore we are not ready to give up our outdoor time to the impending northeast winter. It's still fall and we plan on living it up regardless of how cold it might be when we get up in the morning.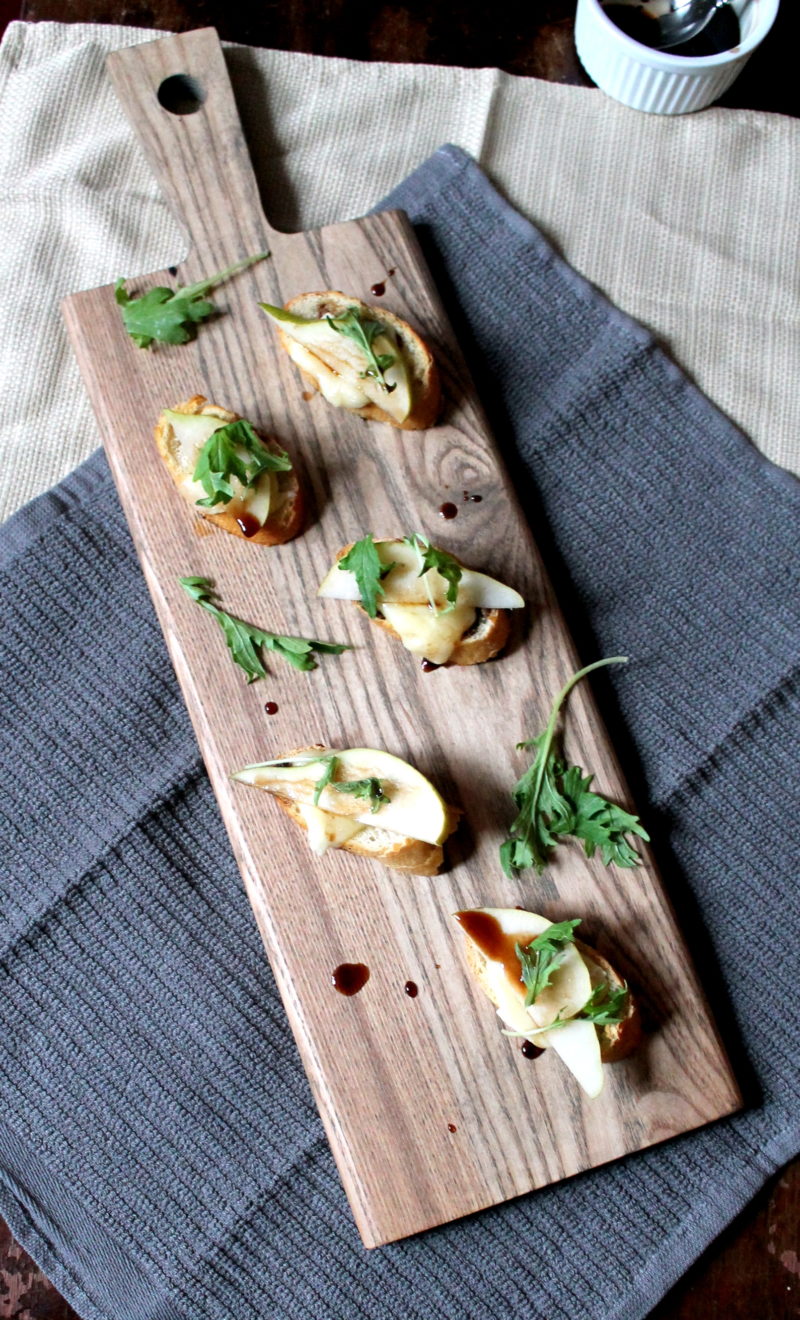 That's what's nice about these little toasts. The warm crunchy bread is covered in buttery, melty cheese and topped with a single slice of fresh cool pear, and a nice balsamic honey drizzle to add some sweetness. Now that is balance people. You've got a little bit of everything there to please everyone as well as give a nice little nod to the season's flavors. This is an appetizer that would be great to serve throughout fall and winter since pears tend to be in season well into the cool months.
Pear & Brie Toasts with Honey Balsamic Drizzle
Author: JC
Serves: 10 Servings
Ingredients
1 baguette, sliced at an angle
¼ cup olive oil
½ teaspoon dried thyme
1 large triangle of brie cheese, rind removed & sliced to fit the toast
3 teaspoons honey
3 teaspoons balsamic vinegar
1 large pear, sliced
Baby arugula for garnish (opitional)
Instructions
Preheat the oven to 400 degrees.
Combine the oil and thyme in a small bowl. Lay the baguette slices on a sheet tray and brush with the oil mixture.
Place in the oven for 5 to 7 minutes or until the bread begins to turn golden. Add a slice of cheese to each toast and return to the oven for 2-3 minutes or until the cheese just begins to melt. Remove from heat and move to a serving tray.
Meanwhile combine honey, and balsamic vinegar until well blended.
Place a pear slice on each toast and drizzle with honey balsamic mixture, garnish and serve.