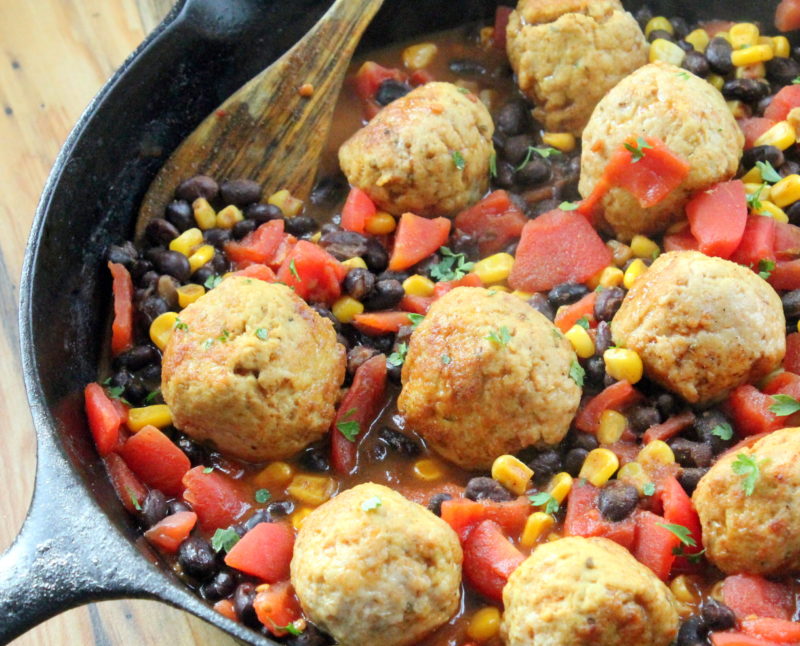 This recipe is one of my absolute favorites. It's a house staple that's been around our house for years. I even posted about it long ago. This post is basically a revival post for this bad boy. Favorites deserve that kind of attention, in my book.
This is one of those recipes that has everything I am looking for. It is deceivingly hearty, has a mixture of textures and flavors, and involves very little work. The whole thing comes together in 20 minutes or less! A single serving (2 meatballs, and roughly 1 cup of corn mixture) is about 320 calories, and 37 grams of protein! Not to mention all the benefits from all the different spices. Additionally, it fits into the slow carb diet that Chuck and I did back in January.
So if you are looking for your new healthy and quick weeknight meal this is it. I mean I'm pretty sure we just checked off most of the weeknight necessities here. Is there even anything after healthy and easy? One pan? yep we have that. Cheap? Yes, it's cheap too. I think we have them all.
Need to feed more people? Simply toss it over some rice or a salad, or add another can of beans (I suggest pinto). Boom. You just increased the servings by roughly 2.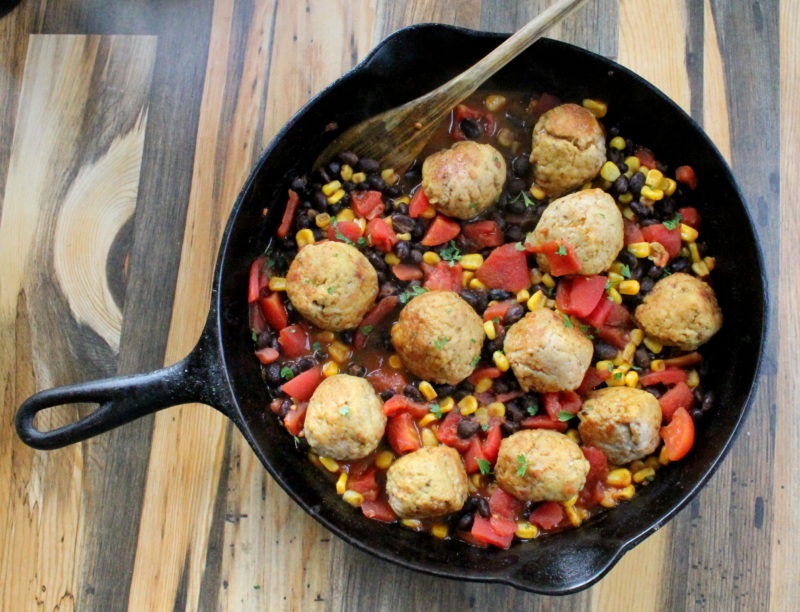 Side note: Leftover are usually even better, so sometimes I make this a day ahead and let it hang out in the fridge for the night and then just heat and serve the next day. This also works great if you're doubling the batch for a party. If I do plan on serving this for a larger party I tend to make smaller meatballs for ease of serving.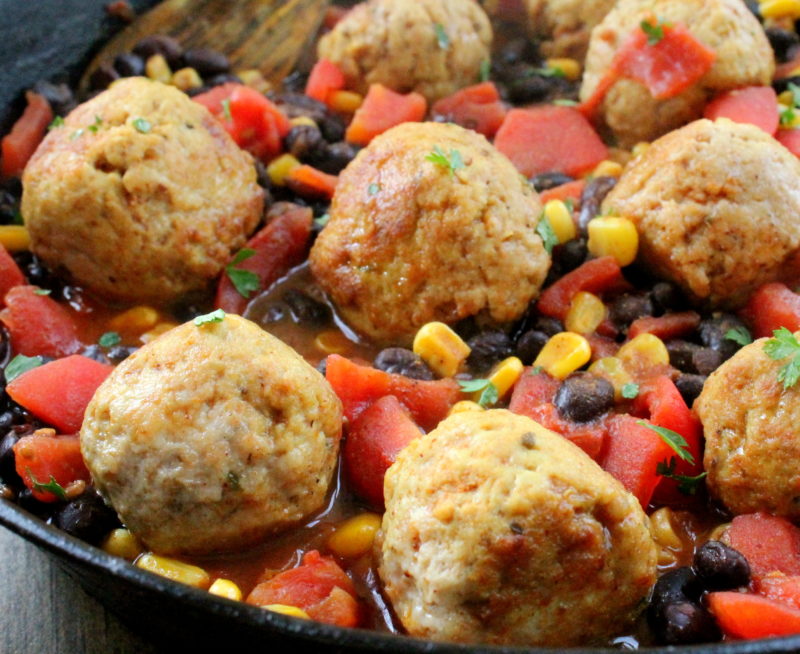 See this thing has ease, versatility, health, flavor and texture. I mean what more could you ask for in 20 minutes?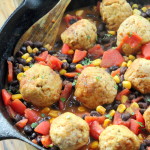 Southwest Meatball Skillet
Prep Time 10 minutes
Cook Time 16 minutes
Ingredients
1 lb ground turkey
1 egg white
¼ cup breadcrumbs
¼ tsp salt
¼ tsp pepper
½ tsp oregano
2 tsp olive oil
1 cup frozen corn
1 can low sodium black beans rinsed
2 diced med. tomatoes substitute 1 can diced
1 cup low sodium chicken broth
1 tsp ground cumin
½ tsp turmeric
⅛ tsp cayenne pepper
1 tsp chilli powder
½ cup chopped fresh cilantro
Instructions
In a large bowl, combine turkey, egg, bread crumbs, oregano, salt and pepper and mix well. With your hands shape into 8 meatballs.

In a large skillet, heat oil on medium-high. Add meatballs and cook for 3 to 5 minutes, turning frequently, until browned on all sides.

Add corn, beans, tomatoes, broth, lime juice, spices and mix well. Reduce heat to medium, partially cover and cook for an additional 5 to 7 minutes, until meatballs are cooked through.

Stir in cilantro and serve.
Similar Recipes: