This is a post all about How to make Meatballs. It breaks it down into easy to manage steps with lots of tips to make the best meatballs ever.
Making meatballs is a very important skill for the home cook. Aside from the obvious the process of making meatballs can teach a number of different cooking skills. For one learning to work with binding agents, such as breadcrumbs and eggs, is a skill that will help you with other recipes such as meatloaf's, zucchini or potato fritters and many more.  Also working with different types of ground meat with different flavors and fat contents can go a long way in teaching home cooks to adapt their cooking skills. For instance, a meat with a lower fat content has a tendency to dry out when roasting, so it might be prudent to cook them in a liquid or sauce instead or add slightly more liquid (milk or water). All of these lessons can be learned through experimentation, which as always with these cooking lessons, is totally encouraged.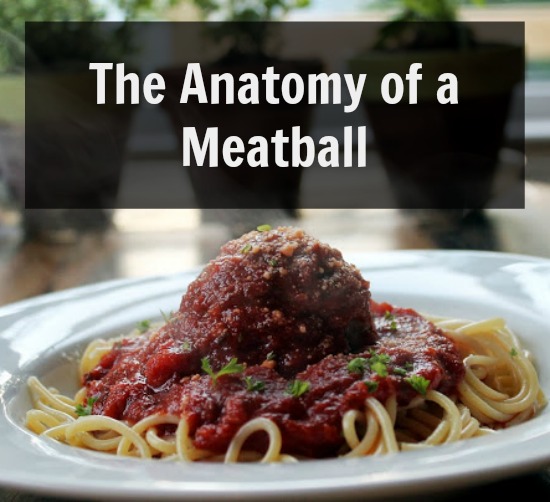 The basic components of a meatball.
Ground Meat – The base of meatballs is meat, obvious I know, but there is more to it than that. As mentioned before fat content makes a difference, but so does the meat source. For obvious reasons beef tastes different from venison, or chicken, or pork. Mixtures of different kinds of meat also produce different flavors. Again this is a great place to experiment and see what flavors you prefer.
Moisture – the right amount of moisture makes for a light and soft meatballs instead of overly dense and spongy meatballs. Liquid is added by soaking the breadcrumbs in milk or water.
Binder – Eggs are the most standard binder using one or two per pound.
Flavor Enhancers – herbs, spices, cheese, are all other ways to add flavor to your meatballs. Take note however that most cheeses will also add moisture to your meatballs, so too much could end up making your meatballs crumbly.
Mixing – It's important to actually use your hand to mix meatballs and don't mix too much. Spoons, spatulas, and pastry blenders can crush the meat into a paste which will also make for an overly dense meatball, the same thing will happen if you over mix the ingredients. Gently use your hands to incorporate everything and roll the meatballs into the correct shape.
Cooking – there are several ways to cook meatballs, all have positives and negatives. Pan frying or starting them in the oven is a great way to "lock in" the flavor, while, braising helps them to stay moist. Combine these two and you will get a perfect meatball.
I also suggest reading through Bon Appetit's 8 Most Common Meatball-Making Mistakes post. It clears up a number of misconceptions associated with making meatballs, as well as a few good tips that will make your meatball making easier.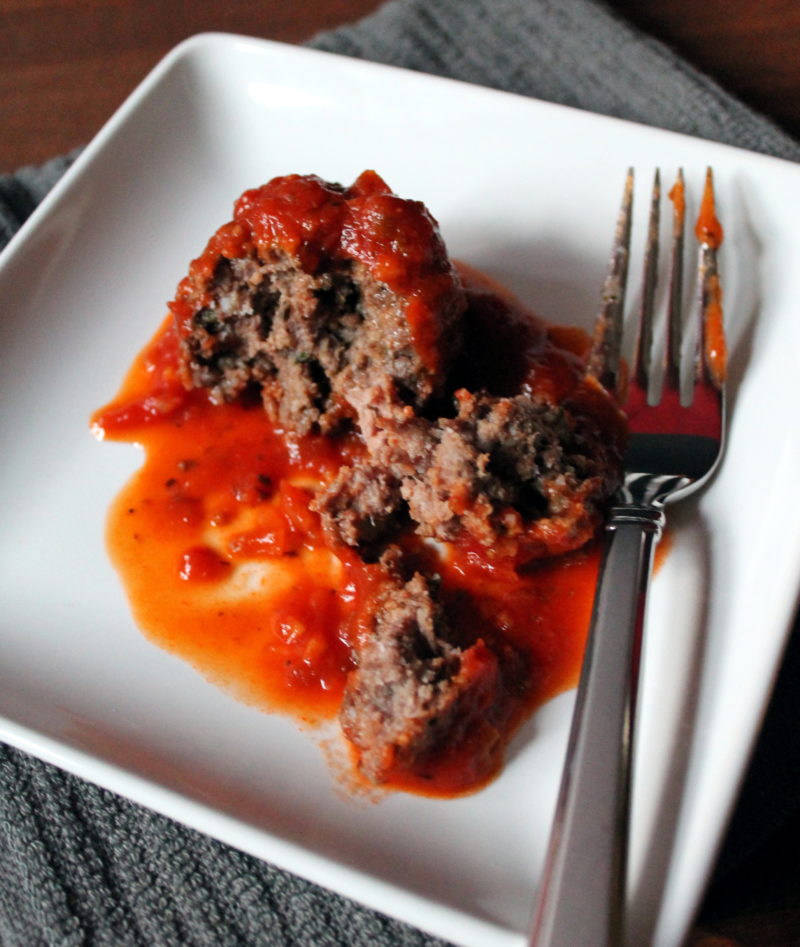 Today's recipe is based on old fashioned Italian style meatballs. It utilizes a mixture of meats, and milk-soaked breadcrumbs. The flavor enhancers, aside from the mixture of meats, include parsley, garlic, and parmesan cheese.
Interested in learning more about authentic Italian cooking checkout this list of top Italian cookbooks.

Old Fashioned Italian Style Meatballs
Ingredients
½ cup day-old Italian bread, cut into ½ inch cubes
½ cup milk
1 Egg, beaten
1 ½ teaspoons black pepper
1 teaspoon salt
½ cup fresh grated parmesan cheese
3 cloves of garlic, minced fine
2 tablespoons flat leaf parsley, chopped fine
1 lb ground beef
½ lb ground pork
½ lb ground veal
2 tablespoons vegetable oil
Instructions
Preheat the oven to 400 degrees, or start a pan of tomato sauce over medium high heat (this depends on how you plan to finish the meatballs either in the oven or in a sauce).
Pour the milk over the breadcrumbs in a small bowl and set aside.
While the bread soaks, whisk together the egg, salt, pepper, parmesan, garlic, and parsley.
Add the beef, pork, and veal to a large bowl. Pour the egg mixture over the meat mixture. Add the soaked bread crumbs and begin to combine all the ingredients with your hands. Crumble the meat with your hands to incorporate. Form the meat mixture into roughly 2 to 2½ inch sized meatballs.
Heat the oil in a large skillet over medium-low heat. Once hot add the meatballs into the pan. They should sizzle if the pan is hot enough. Gently roll the meatballs around the pan to brown them on all sides.
Finish the meatballs by moving the pan to the oven and baking for 15 to 20 minutes or dropping them into the sauce and letting them simmer, covered, for 30 minutes.
Remove from heat and serve immediately.