This is a recipe for Thai Glazed Salmon in Foil that comes together in minutes with fresh Asian style herbs and spices.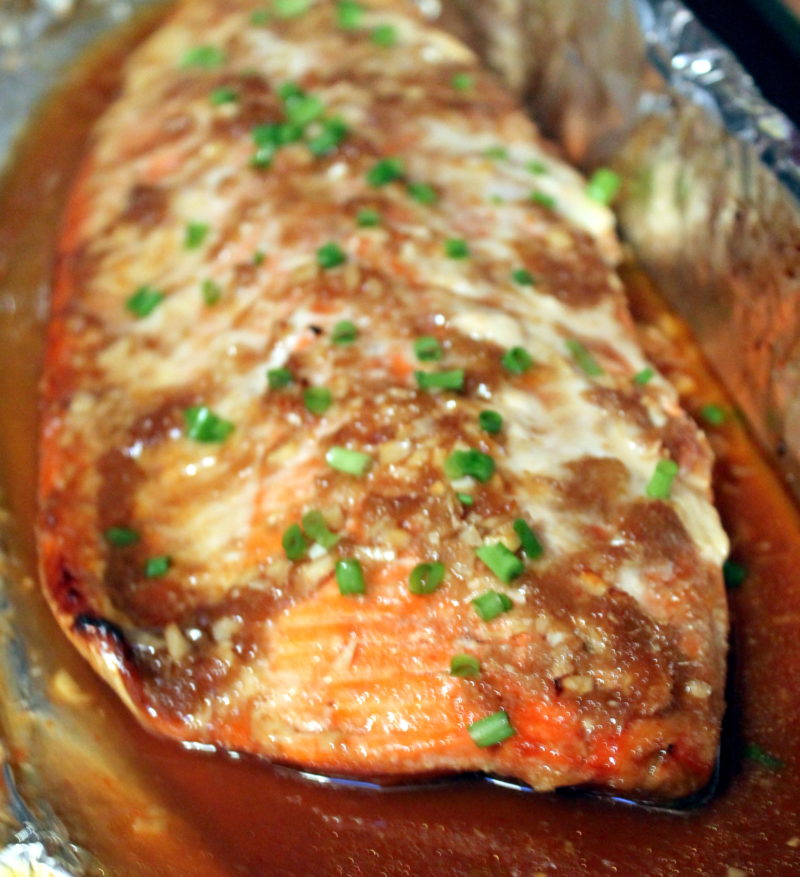 So I think Chuck and I found our new favorite salmon recipe. Chuck even said he might like it better than the Maple Salmon that I usually make him, and this is a man who eats maple everything.
I myself could not get enough. The sauce it sweet, and tangy with a little heat at the end, and it goes great slathered over rice, and veggies. The little chunks of lemongrass, garlic, and ginger add little bursts of flavor that send the whole thing over the moon.
I like the idea of cooking it in foil because it keeps all the juices in, while the last few minutes of broiling add a wonderful char, caramelizing and a bit more flavor.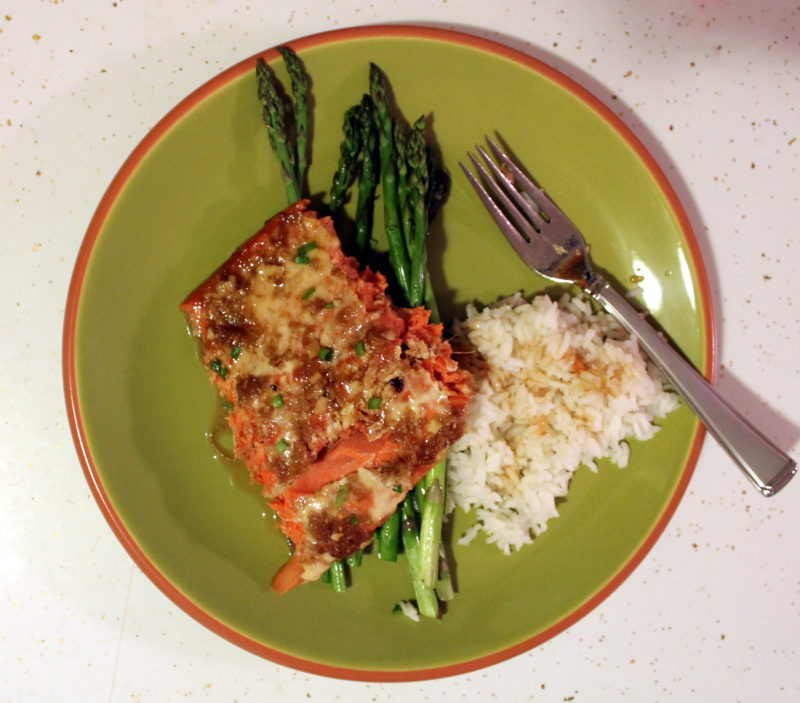 Thai Glazed Salmon in foil
Ingredients
2 tablespoons fresh grated lemon grass
2 tablespoons grated ginger
3 cloves garlic, minced
¼ cup low sodium soy sauce
3 teaspoons sesame oil
1-2 teaspoons Sriracha (to taste)
¼ cup honey
2 tablespoons rice wine vinegar
2 lbs salmon
Hand full of green onions for garnish
Instructions
Preheat the oven to 375 degrees
In a small bowl whisk together lemongrass, ginger, garlic, soy, sesame oil, sriracha, honey, and vinegar.
Lay a large piece of foil (large enough to wrap the salmon) on a baking sheet and place the salmon skin side down.
Spoon the sauce over the salmon and fold up the sides of the foil creating a sealed packet.
Bake for 17-20 minutes.
Turn up the oven to broil and open the packet. Cook for another 2-3 minutes. The sauce should caramelize and the salmon will flake with the flat side of fork when cooked through.
Garnish and serve.