I might just be begging for a lashing putting together a recipe for canned salmon. I mean why would I do such a thing when beautiful fresh salmon is available in a grocery store? Well, I'll tell you. I did it because not everyone has the cash money for fresh salmon, because there's more to a fish than those perfectly shaped pink fillets and because some people actually can their fresh salmon to get through the winter (I'm a little obsessed with my girl Eve at the moment).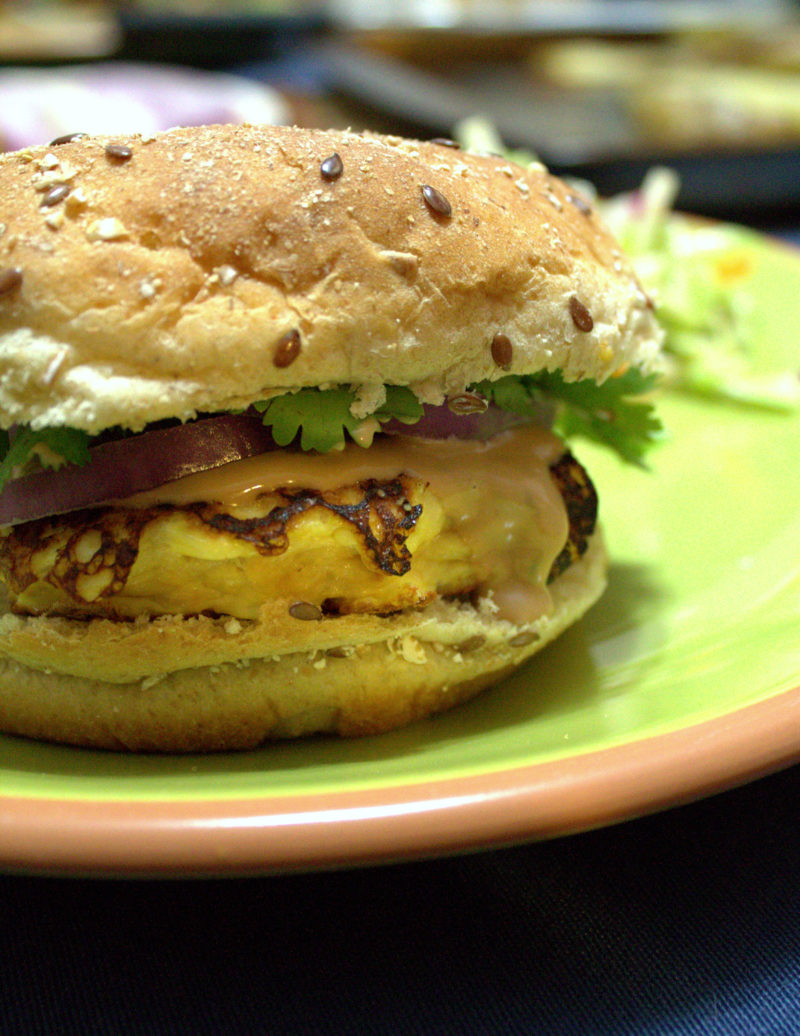 Personally, I've used canned salmon, crab, clams (here and here are 2 of my favorite canned clam recipes) and all sorts of other canned goods throughout my life, they tend to be a little less expensive, and can last for a good long while, which makes them great to have in your cupboards for last minute meals, and to take for an easy protein source when camping. In fact, if you can source or dehydrate the spices and herbs in this recipe prior to a trip these burgers are a great option for camping.
For this particular service, I decided to make these burgers for a fun couple who were coming over for dinner on a weeknight. Because the burgers come together quick I knew I could get them and everything else on the table with ease. That's the key with weeknight dinner parties, you want to enjoy your company so simple recipes with little clean up are key. Prior to making the burgers I sliced some potatoes and put them in the oven for fries (Oven fries recipe found here), and tossed together a simple broccoli slaw salad (recipe coming soon). The only appetizers were wine and beer for those who can partake and a bowl of mixed nuts on the counter. There's no need to be fancy when you have good friends over.
Other than the ease and convenience of these burgers I love them for their flavor. There is so much flavor happening here, guys. They are juicy, sweet, a little tangy and just so darn delicious. The combination of lemongrass, ginger, cilantro and the Asian style sauce just really puts me over the moon.
Seriously give the canned salmon burger a shot. You won't be disappointed.

Thai Salmon Burgers with Canned Salmon
Ingredients
1 inch piece of ginger grated (about 2 tablespoons grated ginger)
1 stalk of lemongrass grated (about 2 tablespoons grated lemongrass)
3 cloves of garlic, minced
2 (6.5 ounce cans of boneless, skinless salmon, drained
2 eggs
½ cup panko bread crumbs
2 tablespoons of grapeseed oil
4 teaspoons sesame oil
2 tablespoons low sodium soy sauce
¼ cup mayo
2 tablespoons Hoisin sauce
Bunch cilantro, stems removed
4 buns
Instructions
In a large bowl combine the ginger, lemongrass, garlic, salmon, breadcrumbs and eggs. Use your hands to mix the ingredients and create 4 equal sized patties. Set aside.
In a large skillet on medium-high, heat 2 tablespoons of grapeseed oil. Place burgers gently in the skillet and cook until browned, about 3 minutes. Turn and brown other side for another 3 to 4 minutes or until firm and cooked through.
Make the Hoisin mayo by whisking together the hoisin sauce and mayo until well combined. Set aside.
Toast the buns if desired in the same pan before assembling burgers with burger, cilantro, and hoisin mayo.
Serve immediately.
Similar Recipes: