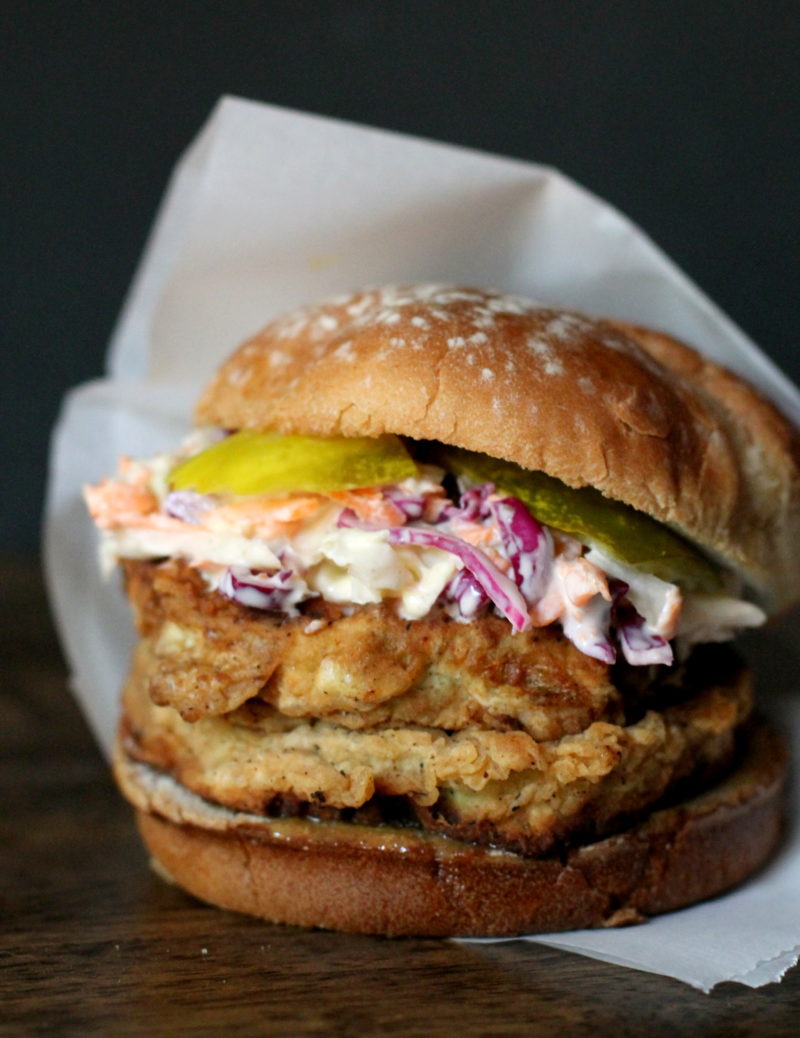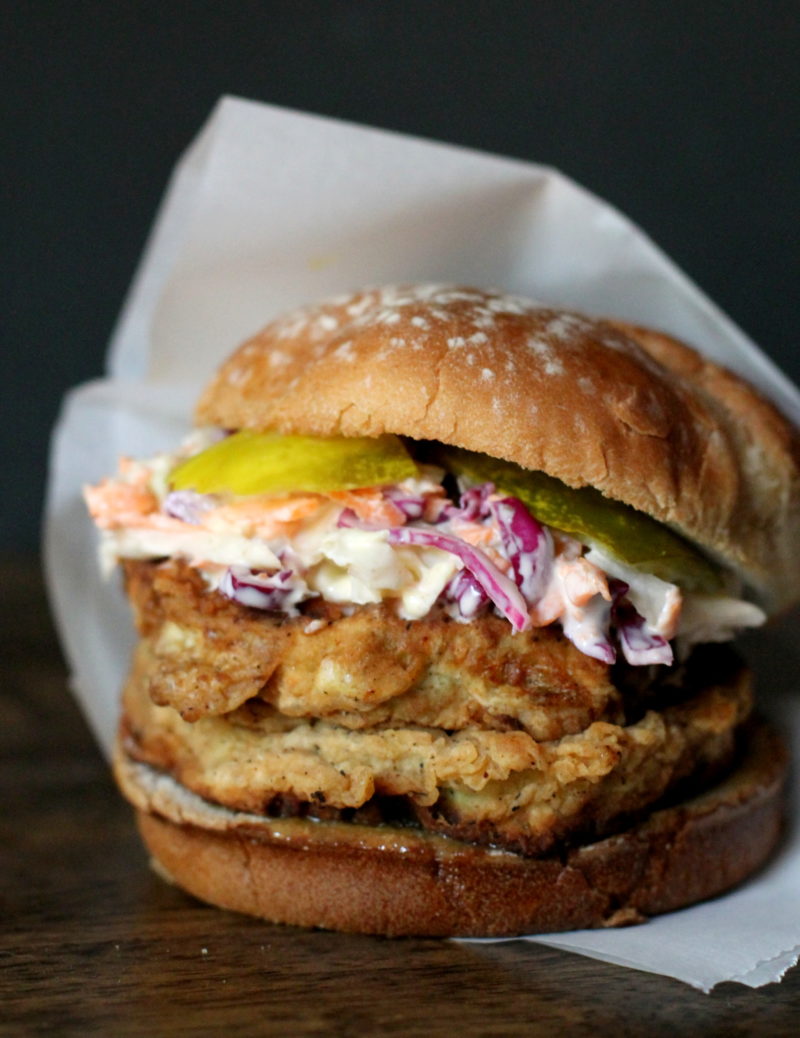 This my friends is a sandwich.
A hearty, messy and delicious vegetarian sandwich.
There are no fru-fru toppings on this bad boy. It's modeled after a typical fried chicken sandwich, but obviously without the meat. This, my friends, might just be my new favorite sandwich. Well, on second thought, maybe it's just the extra crunchy eggplant that I'm loving on. Since these photos were taken I have not only eaten two of these beauties, but also used the fried eggplant in a buffalo eggplant wrap, an eggplant parmesan stack, and just on their own with some red pepper pesto.
The key here is in the spices. The flour dredge is loaded with herbs and spices to give it that delicious fried chicken flavor. We are looking at something similar to the colonel's spice mix, but a few less ingredients and a bigger punch.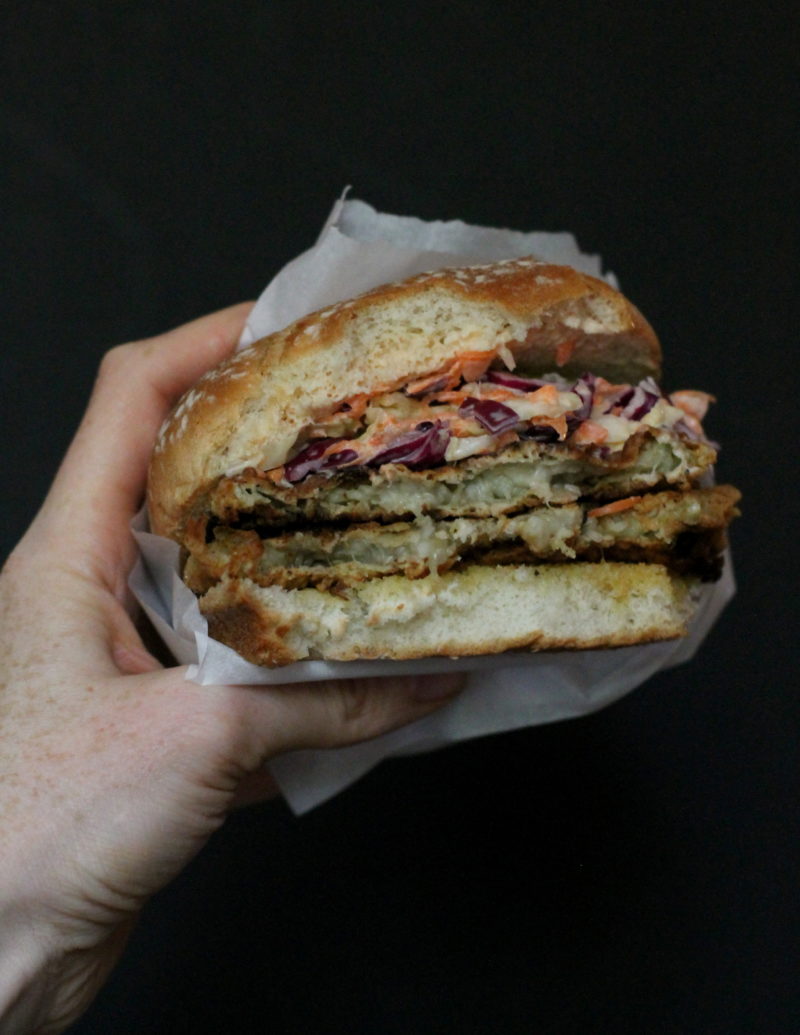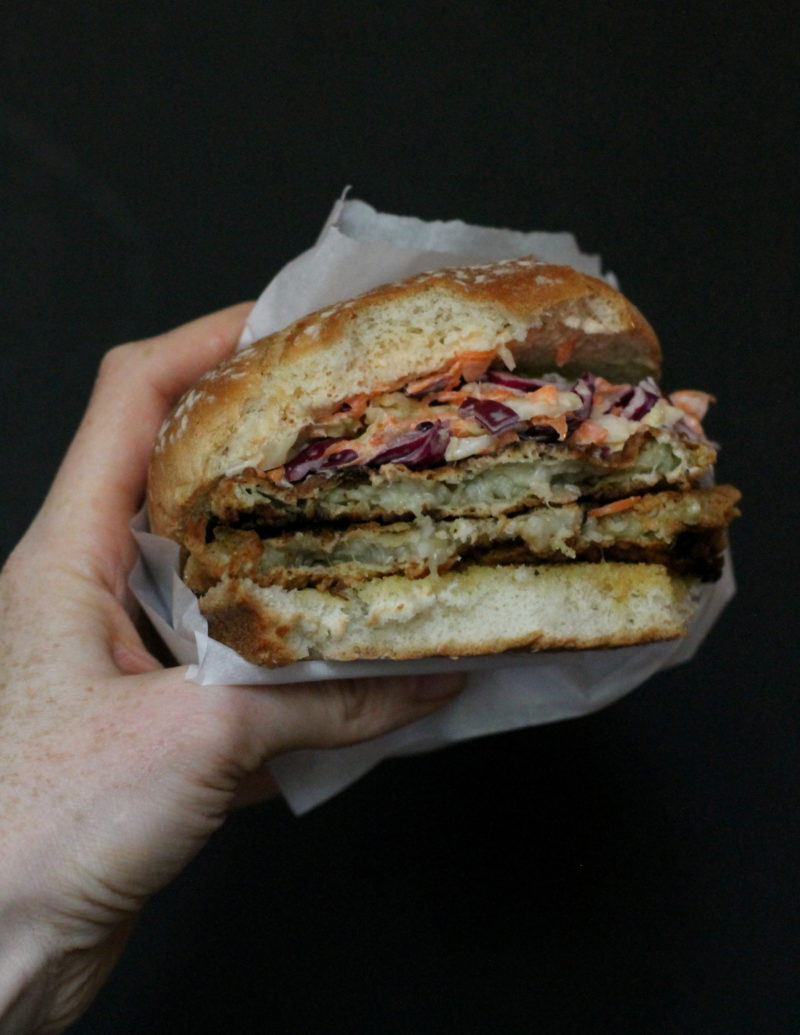 Then there is the crunch to discuss. Each eggplant round is dredged not once, but twice through the flour-spice mix. This extra dredge does wonders to increase the crunch and flavor factor. It also makes them really easy to freeze and reheat without damaging the integrity too much. Though if you want to bring the crunch back after freezing I do suggest heating them in the oven at 450 degrees at least, or try a toaster oven.
As for the sandwich itself, there is a classic bun, then the toppings. Use what you like, but if you want to follow along with what's shown here then I'll give you the run down. I started with my Gram's spicy-sweet homemade mustard. Try a honey Dijon if you don't have a hook up like mine. Then come the eggplant patties. I decided that two were necessary for the right amount of patty-to-bun ratio. Then I decided to top it with coleslaw and a couple pickles. Again keeping it true to fried chicken sandwich fashion.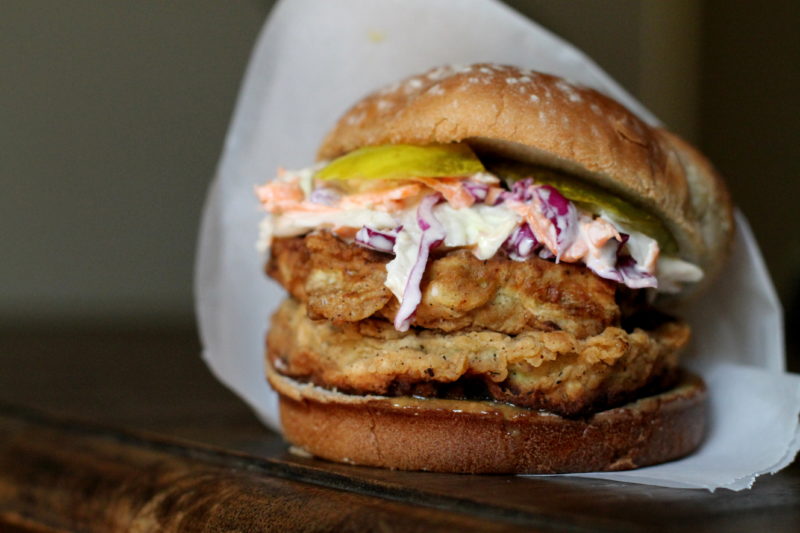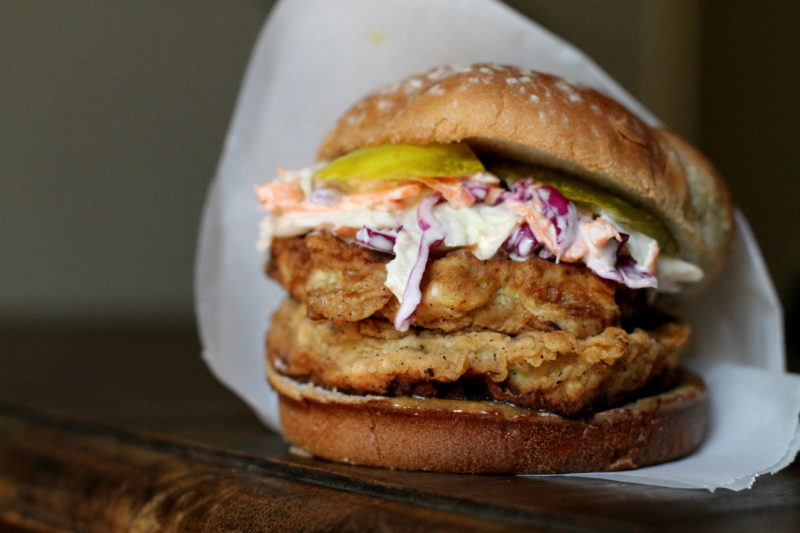 You guys, it was the perfect balance. There's a little heat in the spice mix, but the slaw is sweet, and the spicy-sweet mustard is the best accompaniment. Pickles bring the tang, and there you have the ultimate fried eggplant sandwich.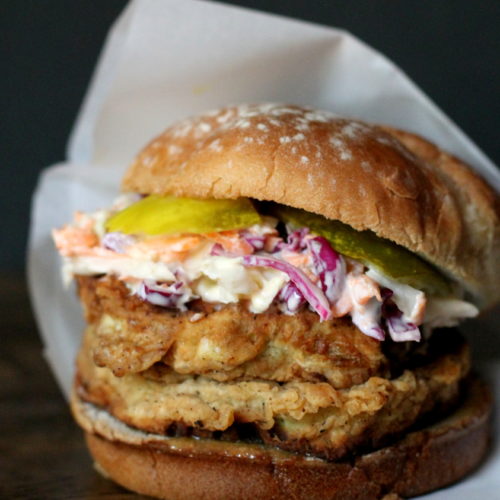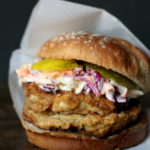 Fried Eggplant sandwich
Prep Time 30 minutes
Cook Time 20 minutes
Total Time 50 minutes
Ingredients
2 Large eggplants peeled, and sliced into rounds
2 cups flour
3 tablespoons ground ginger
2 tablespoons garlic powder
1 tablespoon ground sage
2 tablespoons smoked paprika
4 teaspoons salt
4 teaspoons black pepper
2 teaspoons ground thyme
1 teaspoons cayenne pepper plus more to taste
1 teaspoon ground nutmeg
3 eggs
3 tablespoons water
canola oil for frying
bread or buns and toppings as desired
Instructions
Place the eggplant round on a towel and sprinkle liberally with salt. Let sit for 15 minutes. Flip and repeat with the other side. After another 15 minutes dab the tops of the eggplant rounds dry with another towel.

In a large, shallow bowl combine the flour and spices. Sifting until well blended. In another large shallow dish whisk together the eggs and water until well blended.

Pre heat a large skillet with about ¼ inch of canola oil over medium-high heat. When a sprinkle of flour sizzles when it's dropped in the oil is ready.

Take one eggplant rounds and coat it in the egg wash mixture. Drop it into the flour and give it a good coating. Then drop it back into the egg wash mixture for a second time. Once fully coated move the eggplant back to the flour for a final coat. Place the coated eggplant directly into the hot oil and cook until browned, about 1 to 2 minutes. Flip and cook until browned again, about one minute. Remove to a paper towel lined plate to drain. Repeat until all the eggplant are coated and fried.

Once cooled slightly place 1 to 2 rounds on a bun and garnish with toppings as desired. Serve immediately.
Similar Posts: