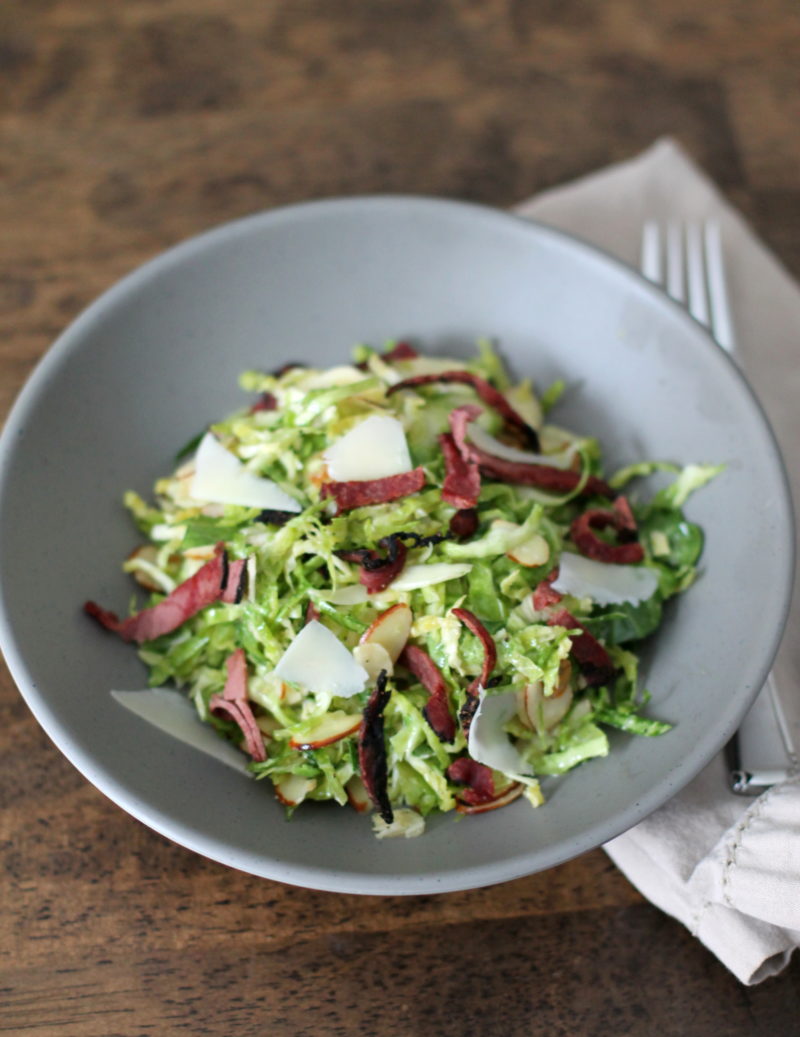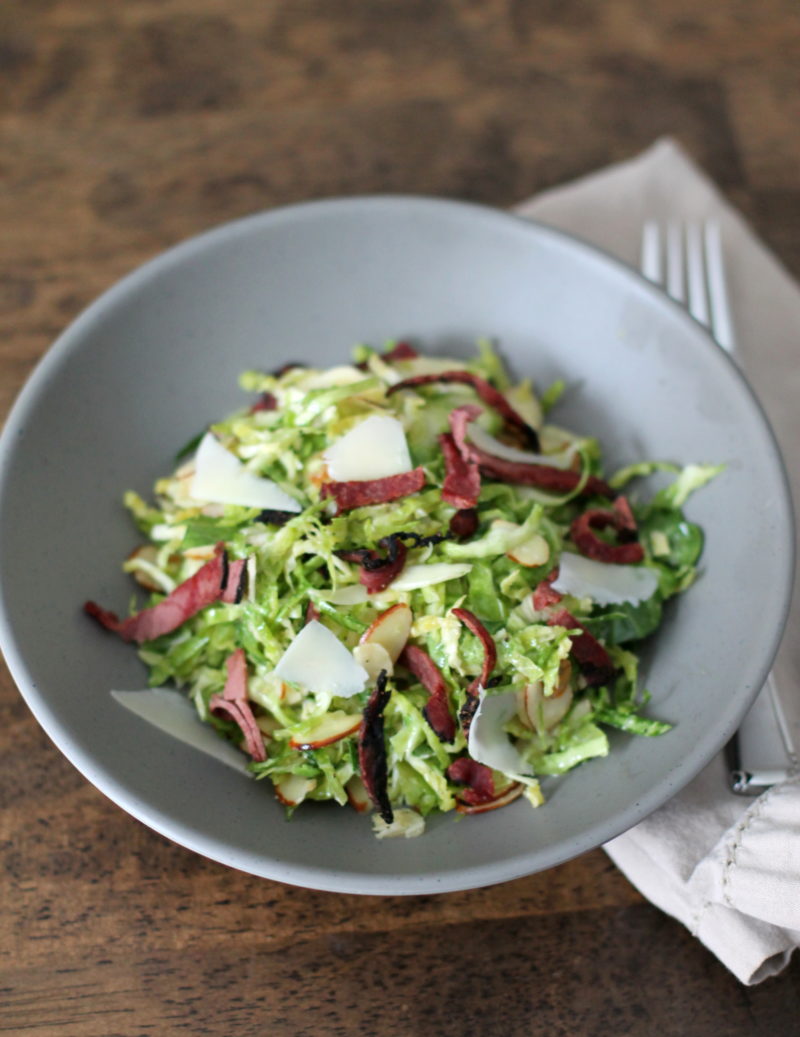 I love a good slaw. That sounds weird I realize, but in all seriousness in this family, we are big on brassicas. We love things like broccoli, cabbage, Brussels sprouts, kale, the list goes on and on. While Chuck is happy to eat cabbage raw by the chunk I really prefer it in a nice vinegary slaw. Seriously, slaw's our a dinnertime staple in the summer, and pop in the winter now and then too.
This time of year I tend to swap out the usual cabbage slaw for Brussels sprouts, just for something different. I've made different variations of this slaw for about a million Friendsgivings and Thanksgivings. It's always been well received, as something tangy and different for a holiday that usually airs on the rich side.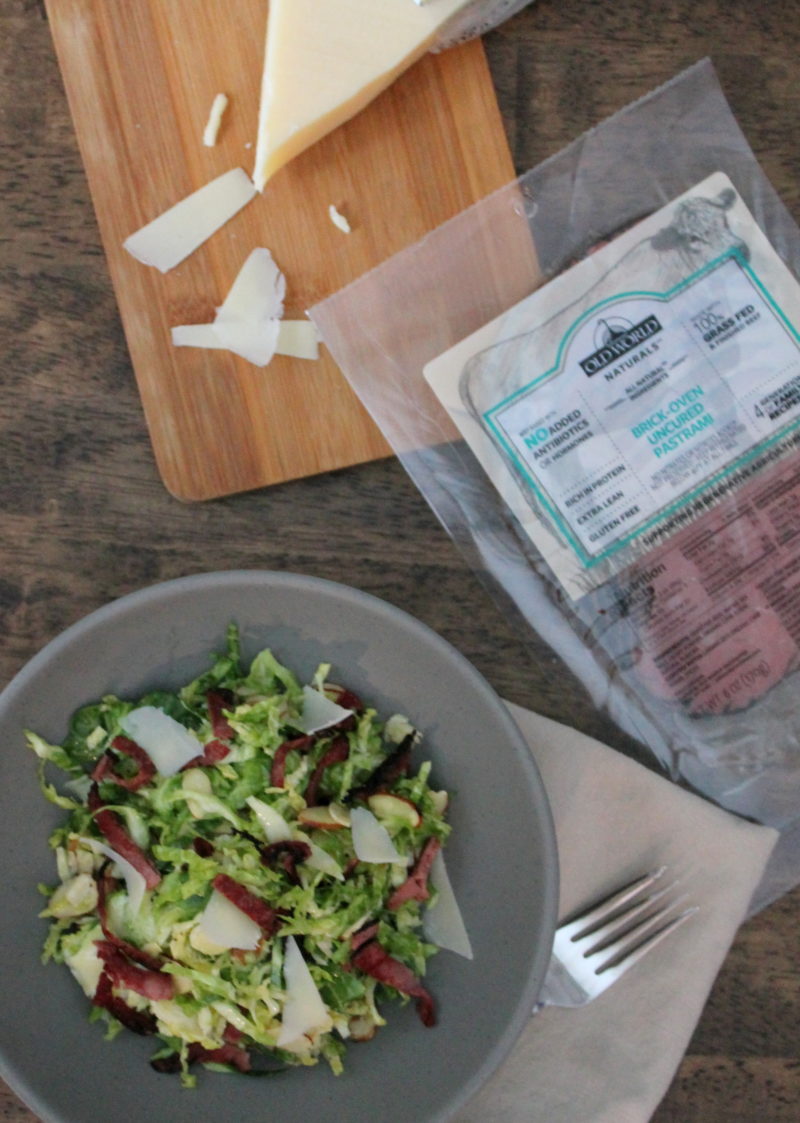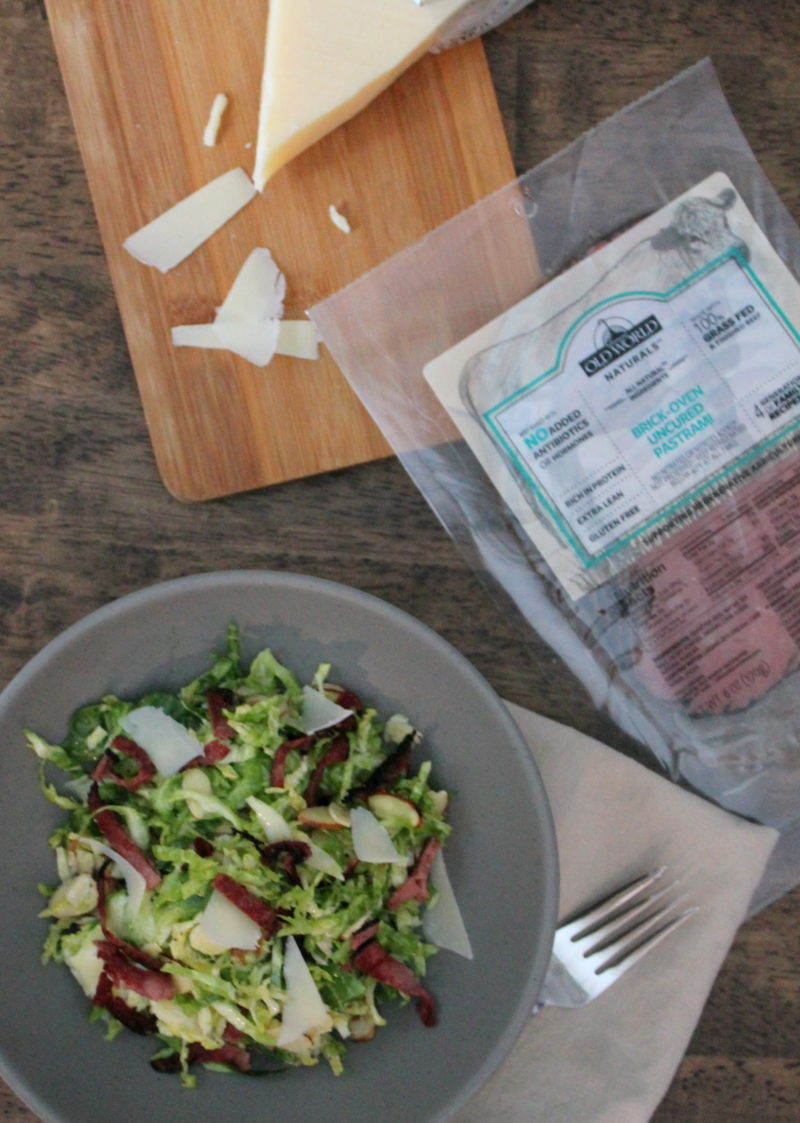 Recently, I was lucky enough to be invited to Old World Naturals launch party, in my home-town of Saratoga Springs, NY. You guys I can't tell you how excited I am that there is a company right here that is working toward humane, organic, and regenerative agriculture. All while supplying convenience food! How cool is that? I had pretty much decided that convenience food was not an option if we were going to eat as ethically as I wanted to. Then, I started learning about companies like this one and I'm so stoked about it.
I was thrilled to be able to chat with everyone from the multi-generational family owners, to marketing staff, and in-house chef about all the amazing things this company is trying to do. Obviously, there was a lot of food there as well, and t was all pretty fabulous.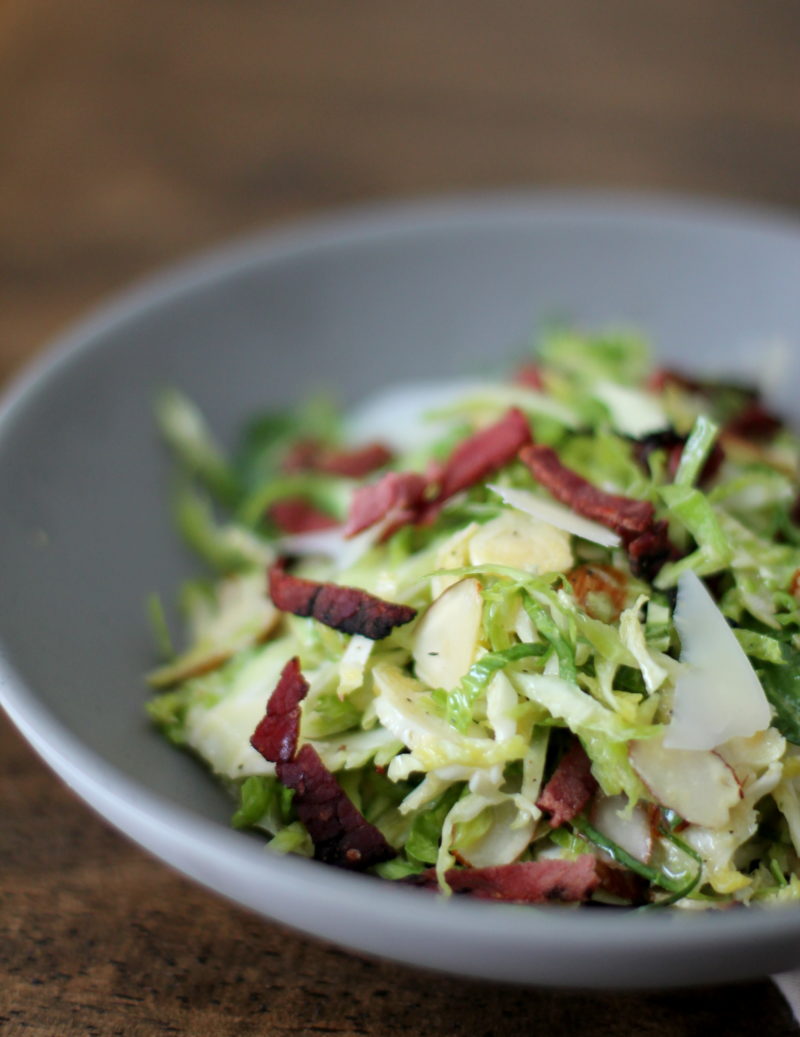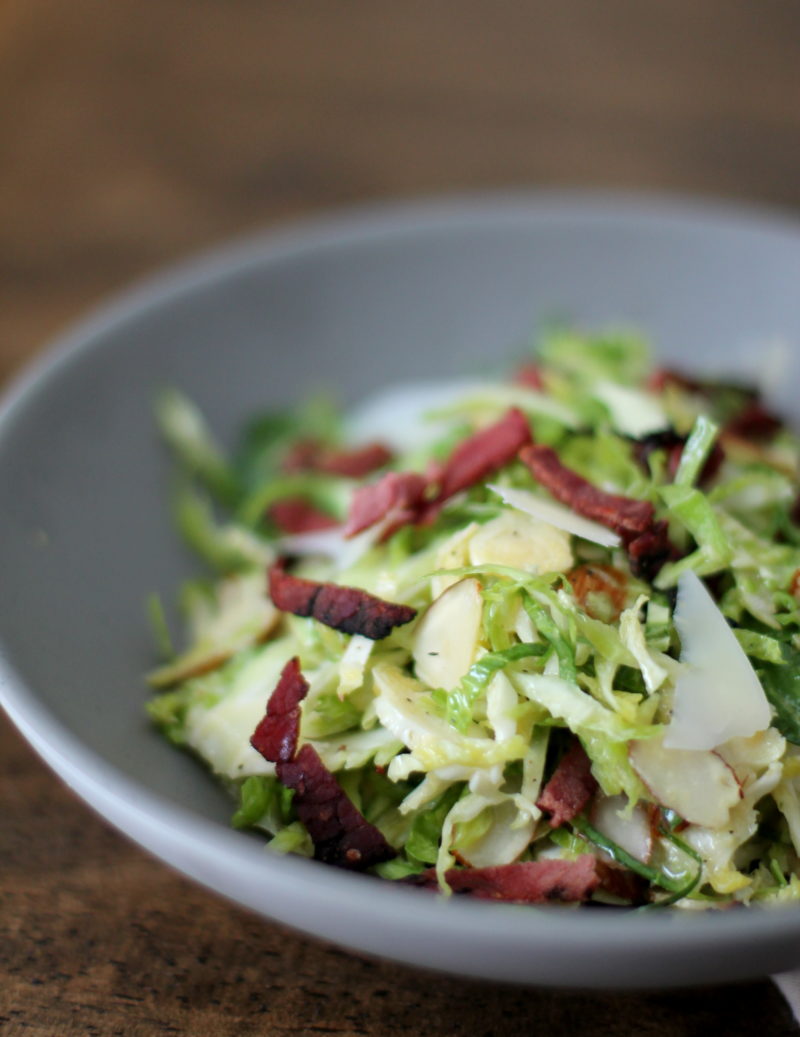 After the event, they sent me over a box of their deli meats to try out and I thought it would be a fun change of pace to add some crispy pastrami to this tried and true slaw. I think it was a success. It was devoured in just a few minutes, and Chuck asked me to make more when we got home.
While you don't really have to crisp the pastrami if your in a pinch, it's something that I absolutely suggest. That extra bit of texture just really sets off the slaw. Plus, it allows the pastrami flavor to kind of strengthen and pop even after it's been all mixed in.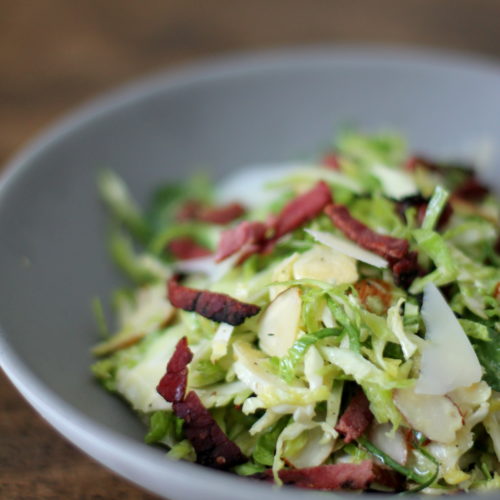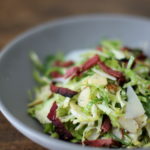 Brussles Sprout Slaw with Crispy Pastrami
Prep Time 15 minutes
Cook Time 5 minutes
Total Time 20 minutes
Ingredients
6 slices Old World Naturals Uncured Pastrami, cut into ribbons
juice of 2 lemons about 4 tablespoons
1/2 cup olive oil
1 tablespoon Dijon mustard
1/2 teaspoon salt and pepper to taste
4 dozen Brussels sprouts
1 cup almonds
1 cup grated Parmesan cheese
Instructions
Heat a large nonstick skillet over medium high heat. Add the pastrami ribbons to the pan and cook stirring lightly until the pastrami crisps, about 4 to 5 minutes. Remove from heat and set aside to cool.

Whisk together the lemon, olive oil, Dijon mustard, salt and pepper in a small bowl until well combined and creamy.

Slice or shred the Brussels sprouts into ribbons using a knife, mandolin, or the shredding tool on a food processor.

Toss the shredded Brussels sprouts, almonds, pastrami, and cheese together in a large serving bowl. Drizzle with the reserved dressing and toss again.

Serve immediately.
Similar Recipes: