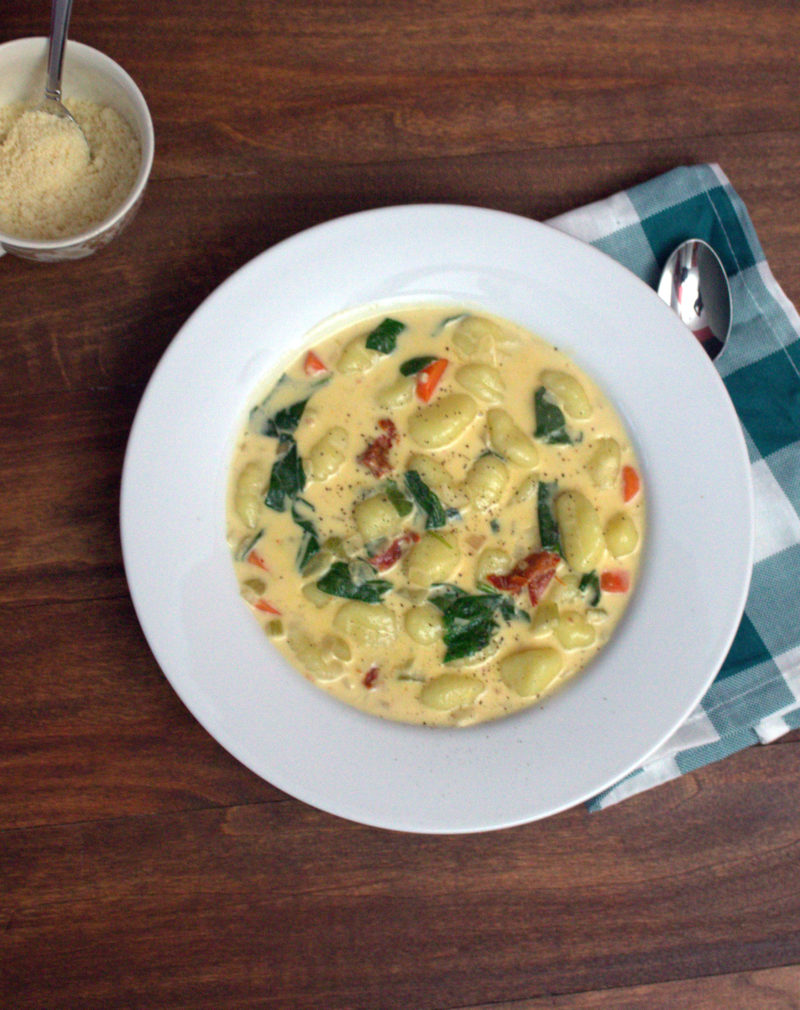 Olive Garden's Chicken Gnocchi Soup is easily one of the most copycatted (yep, I'm making up words again) recipes out there. Probably due to the fact that Olive garden is one of the US's top chain restaurants, and it's a freaking delicious dish.
This is one of Chuck's favorite's so I have developed my own version that I make him from time to time, but since switching to a more vegetarian diet I've been thinking that this would be a perfect comfort food vegetarian recipe. I was not wrong.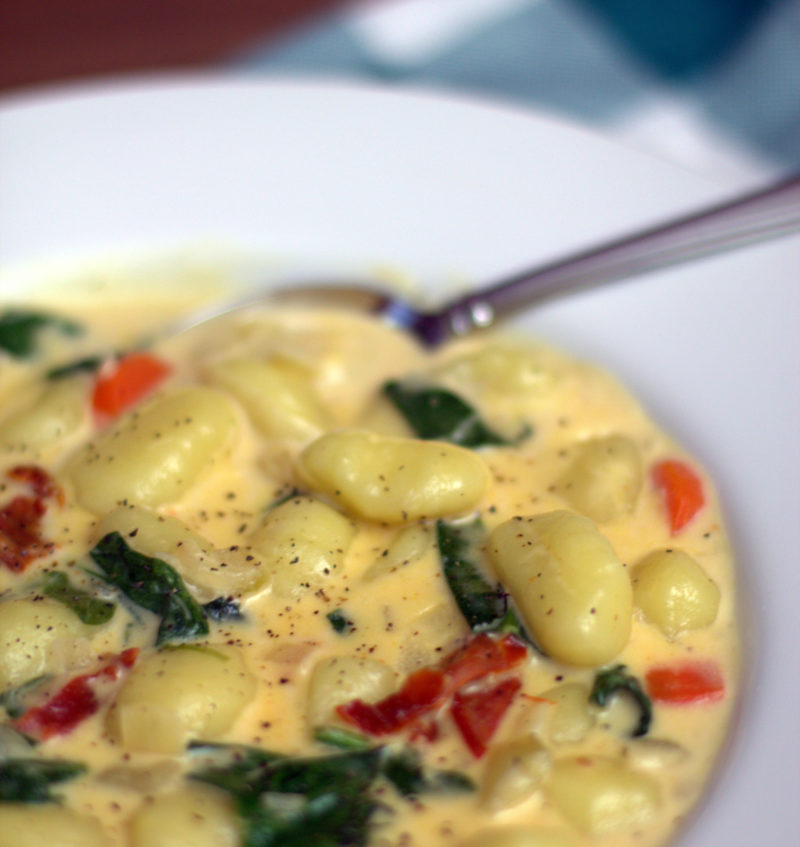 While my version lacks chicken, it still has plenty of flavor and if you're a garlic lover it's even better. I also added sun dried tomatoes, because that little touch of occasional sweetness really brightens it up in an unexpected way.
The dish is an extremely decadent one that can fill you up fast, so I recommend serving it with a fresh salad or a crisp vegetable.
Prep Time 10 minutes
Cook Time 35 minutes
Total Time 45 minutes
Ingredients
1 pound potato gnocchi
2 tablespoons butter
1 tablespoon olive oil
1 medium onion chopped
1 large carrot peeled and chopped
1 large stalk celery chopped
¼ teaspoon salt
¼ teaspoon pepper
4 cloves garlic minced
1 tablespoon all-purpose flour
½ cup chopped sun dried tomatoes
4 cups vegetable broth
3 cups fresh baby spinach roughly chopped
1 cup heavy cream
fresh grated Parmesan for serving
Instructions
Prepare the gnocchi according to package instructions, drain and set aside.

In a large thick bottomed sauce pan heat the butter and oil over medium high heat. Add onion, carrots and celery and cook for 2 to 3 minutes or until the vegetables begin to soften, stirring often.

Stir in the salt, pepper, and garlic. Cook for another minute or two, until the garlic become fragrant.

Sprinkle in the flour and sun dried tomatoes and stir well to blend. Cook for 2 to 3 minutes or until the flour begins to brown.

Add the broth and stir well to combine. Bring the soup up to a boil and reduce to a simmer. Cook for another 10 to 15 minutes, until vegetables are tender and the flavors have blended.

Add the cream and simmer for an additional 5 minutes.

Stir in the cooked gnocchi and then the spinach and allow it to wilt.

Adjust seasonings and serve with Parmesan for garnish.
Similar Recipes: