This is a simple recipe for Crispy Maple Chipotle Baked Wings.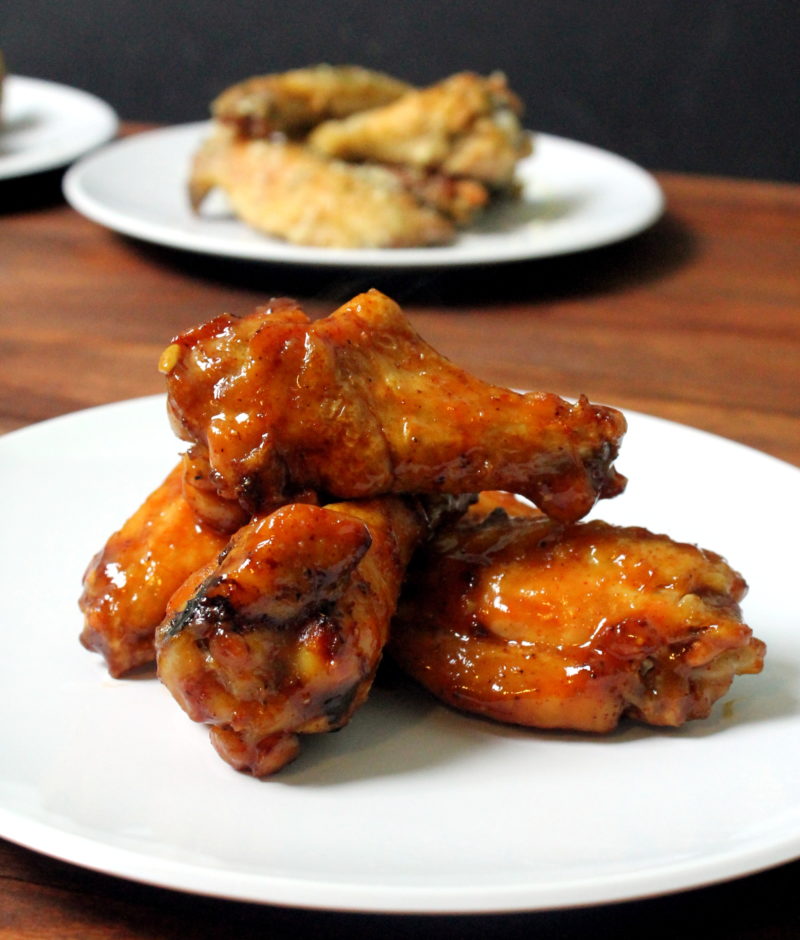 With the Superbowl right around the corner I figured it was my food blogger duty to post something football-y. Not that I know the first thing about foot ball (I can however talk about car, and fishing all day long), but you know it's my duty.
I actually really like to make these wings in the summer, since cooking wings on the grill is easy and it adds a little delicious smokiness to them that you don't get in the oven, but in February we like to use the oven right?
What I like best about making wings at home is the array of sauces that I can use on them so that each wing can be its own flavor. Maybe that should be a party theme, sauce your own wing night? Though, that could get a little messy.
I'm rambling, I know. Let's get back to the wings.
My favorite wing sauces right now are this one (obviously), Sweet Chili, Garlic Parmesan (coming soon), Curry, Garlic & Herb, Asian glazed, and standard barbecue.
Crispy Maple Chipotle Baked Wings
Ingredients
2 lbs chicken wings
2 teaspoons salt + ½ teaspoon more
2 teaspoons pepper
1 teaspoon chipotle powder
¼ cup pure maple syrup
1 tablespoon tomato paste
½ teaspoon salt
½ tablespoon onion powder
1 teaspoon garlic powder
⅓ cup brown sugar
2 chipotle chilies in adobo sauce, minced
¼ cup apple cider vinegar
½ teaspoon fresh cracked pepper
Instructions
Preheat the oven to 400 degrees.
Set a wire rack inside of a large rimmed baking sheet. Sprinkle salt, pepper, and chipotle powder over chicken and place on the rack.
Place in the oven for 45 to 50 minutes or until they are cooked through and the skin has become crisp.
Meanwhile combine the maple syrup, tomato paste, remaining salt, onion, garlic, brown sugar, chilis, apple cider vinegar, and pepper in a small sauce pan over medium high heat.
Bring to a boil and then reduce to a simmer and cook for 5 minutes or until the sauce thickens. If the sauce is too thick add water by the tablespoon until desired thickness is reached. Set aside.
Remove the wings from the rack and toss with sauce.
Serve immediately.