This is a simple recipe for Hawaiian Marinated Chicken that is clean and healthy!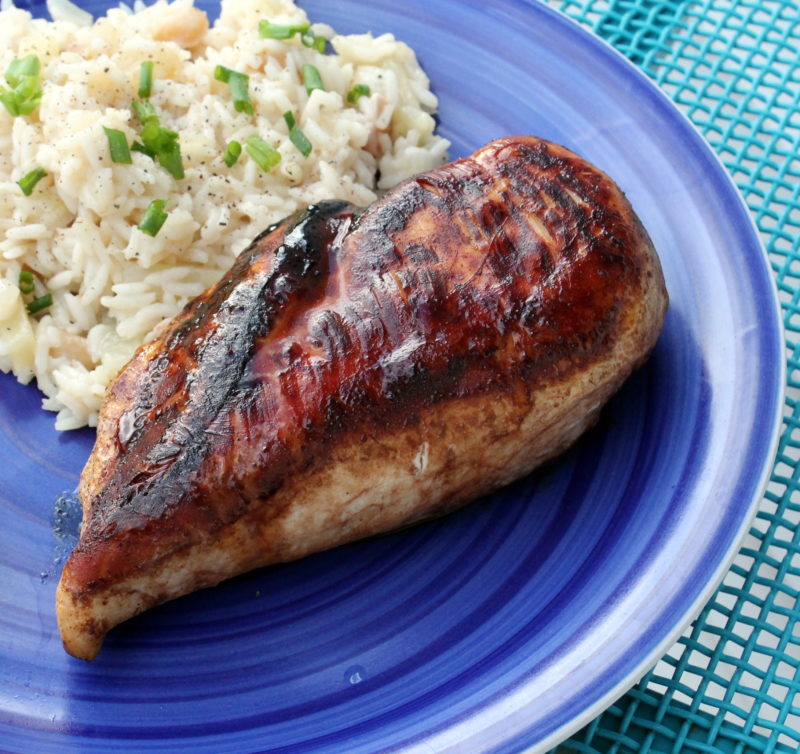 We have fallen into a chicken breast rut. Yep, that's seriously a thing. By that I mean I feel like I am always cooking the same chicken breast recipes over and over again.
It's Spinach and Mozzarella Stuffed Chicken, Chicken Parmesan, Sherry Mushroom Chicken, or Asian Grilled Chicken, or some kind of chicken stir-fry, time after time after time. It gets old, so since its grilling season I am on a quest to try out some new chicken breast recipes.
Someday I hope to amass a collection that hits 100 recipes, and while that might take a while there's no time like the present to get started on that goal.
To start off this is a new recipe I recently came up with to pair with a rice recipe that I wanted to try (that one is coming soon, don't worry). I'm really happy with the way it came out, it was incredibly flavorful, and the chicken was super moist. It is also a completely clean recipe so it's great for those of us trying to stay healthy.
Now if you have any amazing chicken recipes that I can try please send them my way! I'll be sure to give all of my influencers credit in upcoming posts!
Clean Hawaiian Marinated Chicken
Ingredients
⅓ cup unsweetened pineapple juice
2 oz tomato paste
1 tablespoon low sodium soy sauce
1 teaspoon rice wine vinegar
1 tablespoon honey
1 lb boneless skinless chicken breasts
Instructions
Whisk together the pineapple juice, tomato paste, soy sauce, vinegar, and honey.
Place the chicken breasts in a bowl with a lid or a sealable bag and allow it to marinade for at least 30 minutes (may marinade for 24 hours in the fridge).
To bake: Cook the chicken in a 350 degree oven for 20 to 25 minutes or until cooked through. Serve immediately.
To grill: Place the chicken on a preheated grill (400 or more degrees) and cook for roughly 5 minutes a side. Then remove from heat and let rest for 5 to 10 minutes before serving.