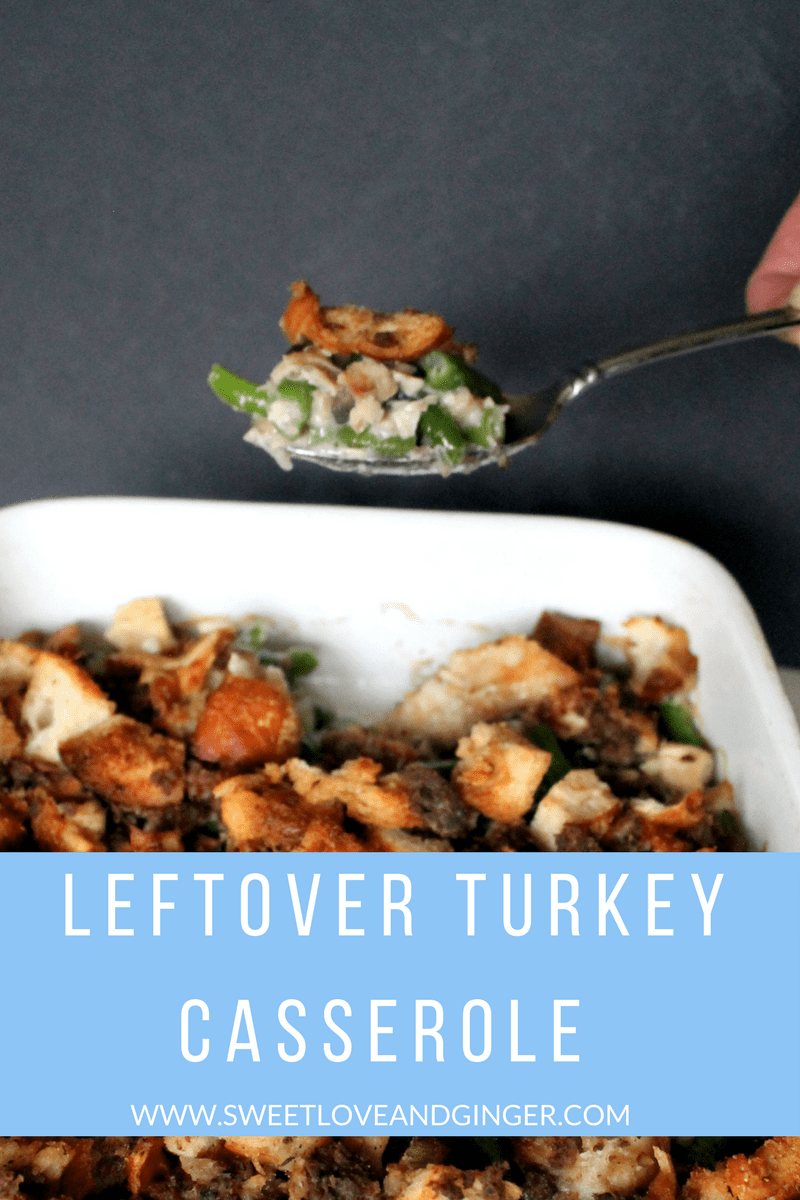 This is my version of one of my favorite childhood recipes, though I used to call it something a little less savory. You see this dish never really had the best looks since it's all kind of monochromatic. I used to think it looked like vomit, which is not something you want to think about before you put the thing in your mouth, but in reality it was always a house favorite, because it's delicious.
Its super simple leftover turkey, cream of mushroom soup a little broth, some herbs and leftover stuffing. For this version though I decided to dress it up by starting with mushrooms from scratch and adding green beans. Anyone who has spent any time around here knows my pension for adding green things to just about every recipe. It's built into me at this point I can't help it.
I should note that you can swap out or add to the green beans with just about any leftover vegetable you have on hand. My dad loves it with corn, Chuck likes peas, I obviously go for the green beans, but just about any other vegetable, or mix of vegetables will work.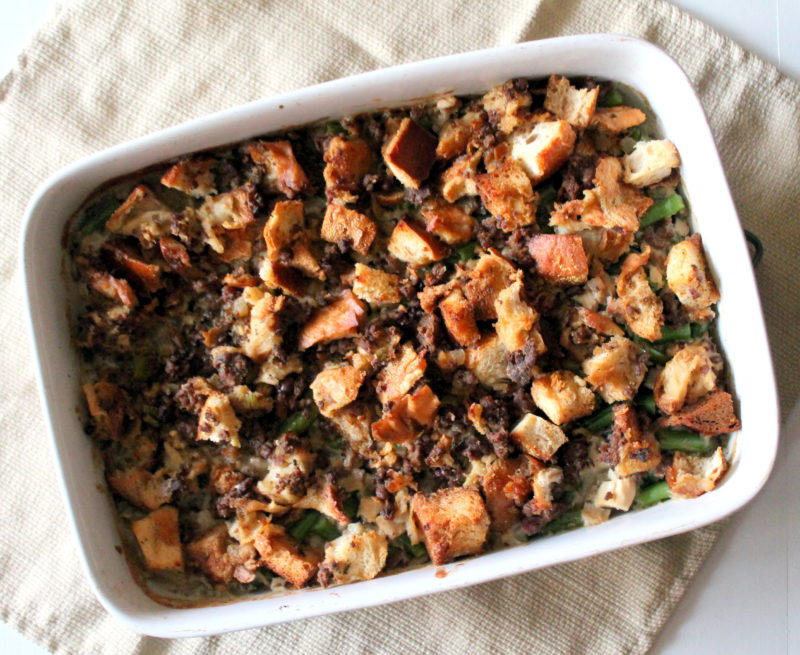 Leftover Turkey & Stuffing Casserole
Ingredients
1 tablespoon butter
1 tablespoon olive oil
1 cup cremini mushrooms, chopped
1 shallot, chopped
1 clove garlic, minced
1 teaspoon salt
1 teaspoon pepper
Pinch of thyme
1 tablespoon flour
1 cup vegetable or chicken broth
½ cup half and half
2 cups cooked chicken or turkey, chopped
1 ½ cups leftover or frozen vegetables
2 to 3 cups leftover stuffing
Instructions
Preheat oven to 350 degrees.
Heat oil and butter in a large skillet. Add mushrooms and cook until browned, about 2 minutes.
Stir in shallot and garlic and cook for an additional minute.
Add salt, pepper, thyme and flour stirring well and cooking until the flour begins to brown.
Stir in the broth until well combined, bring to a boil, then reduce to a simmer and cook for 5 minutes.
Reduce heat to low and stir in the half and half, meat, vegetables. Cook until well combined and heated through.
Place the meat and mushroom mixture in a large casserole dish and top with stuffing. Bake for 18 to 20 minutes or until the stuffing has browned and sides are bubbling.
Let stand for 5 minutes before serving.
Similar Recipes: