I always thought fish tacos were kind of weird. In my house growing up tacos contained ground beef, and a spicy sauce that came out of a packet and magically made the meat sauce thick and creamy. Sure we had fajitas, or the chicken version of a taco (in my mind), but fish? That's not right.
Then this summer we were vacationing on the beach and one of the restaurants we went to had a mahi mahi fish taco special, and it came with chipotle mayo. I LOVE mahi mahi and am completely head over heels for chipotle anything, and typically keep chipotle mayo around out house on a regular basis. So I took the dive and tried this thing that I have been seeing around the internet for a while, and always thought was just so wrong.
Guys I was the one that was wrong. So very wrong.
They were and explosion of deliciousness in my mouth that I just couldn't comprehend. The texture wasn't at all as mushy as my mind had envisioned, in fact the slaw on top made it crunchy while also balancing the heat from the mayo.
I knew that when I got home I was going to recreate it. It took me some time to get the measurements just right but I think I have them. I made the mayo with chipotle powder in order to keep the recipe simple, since not everyone wants to fool around with blending up chilies and all that jazz. It still tastes amazing, I mean how could it not?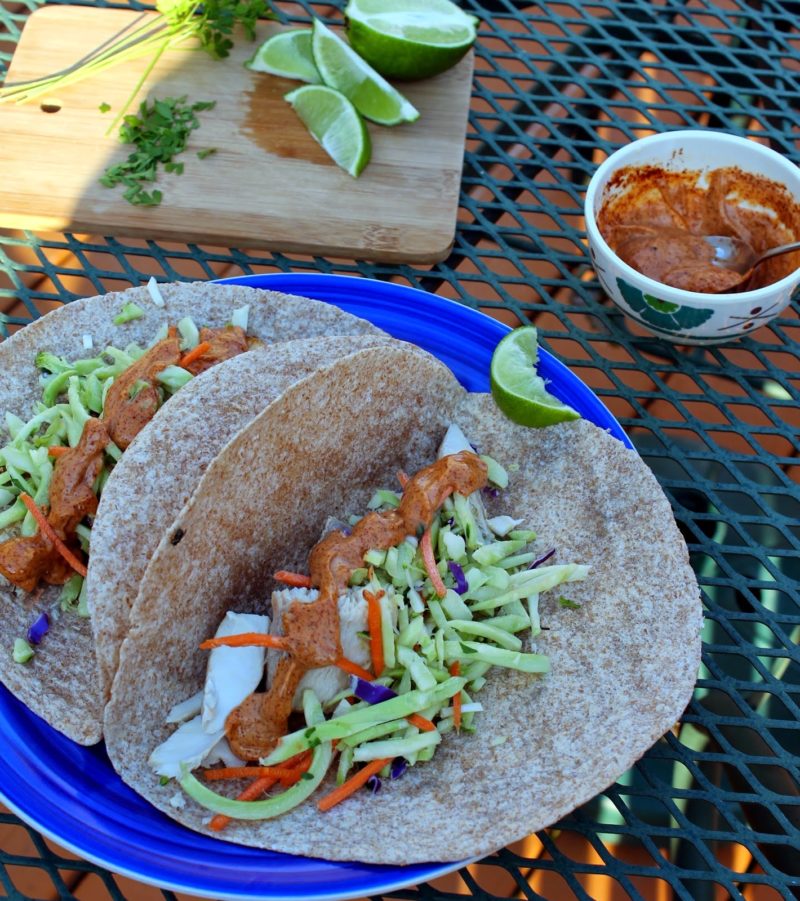 Also if I can make the suggestion to serve this with something that is chipotle mayo scoop-able. Something such as chips or fries, something you want to dip into the fish-juicy mayo-y mixture that will inevitably squirt all over your plate, it's so good you don't want it to go to waste.
These fries
are a great option for that.
Mahi Mahi Fish Tacos with Easy Chipotle Mayo
Ingredients
1 pound wild caught, mahi mahi
2 tablespoons olive oil, divided
1 ½ teaspoon paprika
½ teaspoon chipotle Chile powder
¾ teaspoon garlic powder
½ teaspoon onion powder
¼ tsp salt
⅓ cup plain mayonnaise
2-3 teaspoons chipotle powder
1 tsp lime juice
Flour or corn tortillas
1 cup prepared broccoli slaw
1 spring of cilantro for garnish
Instructions
In a small bowl whisk together the oil, paprika, chipotle chile powder, garlic powder, onion powder, oregano and a pinch of salt and pepper.
Rub the Mahi Mahi all over with this combination and set aside.
Prepare the Chipotle Mayo by whisking chipotle powder with mayo
and lime.
Heat a skillet over medium high heat. Add the marinated mahi mahi, and cook for about 4-5 minutes. Flip and cook another 4-5 minutes. The fish should be crisp and cooked through. Remove from heat and with a fork or
chop into chunks.
Assemble the tacos with fish, slaw, mayo and clitantro to taste.
and