So far in this Cooking Lessons Series, we have gone over a number of really important techniques that will help you on the road to becoming a pro- home chef. Today's lesson will put some of that knowledge to the test.
When cooking a good flavorful stir fry you much know how to cut your ingredients properly, how to saute, and make a pan sauce amongst other things. While there is a number of techniques used here a stir fry is still one of the easiest meals that can be made at home. Learning this skill will make cooking delicious and healthy meals easier than you ever thought. 
5 Steps to a Stir Fry
Choosing your Ingredients – Since stir fries are very versatile you can include almost any ingredient, but there are a few basics that you really should have.

Main Star – This will be your base and should be chosen first. Typically this is a protein source since the stir fry itself is usually a main dish. Meats are always a good option but don't shy away from tofu, tempeh, or edamame.
Supporting Characters – These are typically additional vegetables added to enhance, flavor, texture, and bulk of the stir fry. No one's saying they can't be the main star once in a while, but usually, they have strong supporting roles. Basically any vegetable imaginable can be used so get creative.
Aromatics – what herbs and spices will enhance the flavors in your already selected main star and supporting characters? Consider garlic, onions, ginger, cayenne, oregano, and anything else that catches your eye.
Final Touches – Again there is a lot of versatility here in ingredients. I prefer to add liquids such as soy sauce, broth, nut milk or fruit juices, but have also added miso, curry paste, sriracha, corn starch, and more.
Accompaniments – What are you serving with your stir fry? Yes, it's true, some stir fries need nothing additional, but if you have a great sauce a side of rice or noodles is a great way to soak it up and stretch the meal. Once you've chosen your accompaniment I suggest getting it started first in the 20+ minutes it takes rice to cook, your stir fry could be done completely.

Prep the Ingredients – Do not skip this step! Prepping ahead is important because stir fries come together quick and if you wait to chop your carrots then the chicken and aromatics will be burnt in the pan. Keep in mind that just about everything should be roughly bite size. I like to combine the ingredients that will go in the pan together in prep bowls to make things easier. For example, onions and carrots usually take about the same amount of time to cook so since I'll be adding them at the same time I chop them and place them in the same bowl. Meanwhile, eggplant and canned artichoke take barely any time at all so those are prepped and added further on in the cooking process. This step also includes starting your accompaniment.
Start with the Main star – Cooking the protein first allows for a nice golden crust to form, and keep the juices in, especially if you are using meat or seafood. Remove the protein to a plate once it's roughly 80-90 percent cooked through. It will finish cooking when it's added back in at the end.
Cook the Veggies and Aromatics– Add more oil to the pan if needed and start with the hardier vegetables first (carrots, onions, ginger, broccoli, potatoes etc.), once they have begun to soften add in the more tender vegetables (cabbage, tomatoes, thinly sliced garlic, etc.).
Final Touches – Add the meat back into the pan and add your final touches (sauces, and flavor enhancers). Let it cook for another minute or two so that it really comes together and serve.


Other Tips:
Get your pan hot first – you want to hear a sizzle when you add your ingredients. That's how a nice stir fry crust gets on your ingredients.
Combine your flavor enhancers – By combing these in a separate bowl first you can adjust the taste and make sure they are thoroughly mixed. If you are adding cornstarch as a thickener this will allow the cornstarch to blend well before it heats up and thickens.
Keep your vegetables crisp – you want them tender, but to retain their color, and crispness, otherwise you might as well have made a stew.
Stir, then cook then stir again – You have to stir a lot in a stir fry, but you should also let it cook for a minute or two between stirs so it actually gets the chance to cook.
Cooking in batches is better – If you have a lot going on it might be best to cook in batches so the pan doesn't get over crowded and turned to mush. You can add everything together at the end if need be.
Use oils with a high smoke point – low smoke point oils such as olive oil are likely to burn. Canola oil is a great option.
Add water to your soy sauce (or teriyaki, or whatever) – Sauces tend to reduce quickly in a hot pan, so you can easily over flavor, by adding a little water it helps you control the flavor intensity better. I like to use 2 parts sauce to 1 part water (or broth).
Serve Immediately – everything is bite-sized, which means it cools down fast.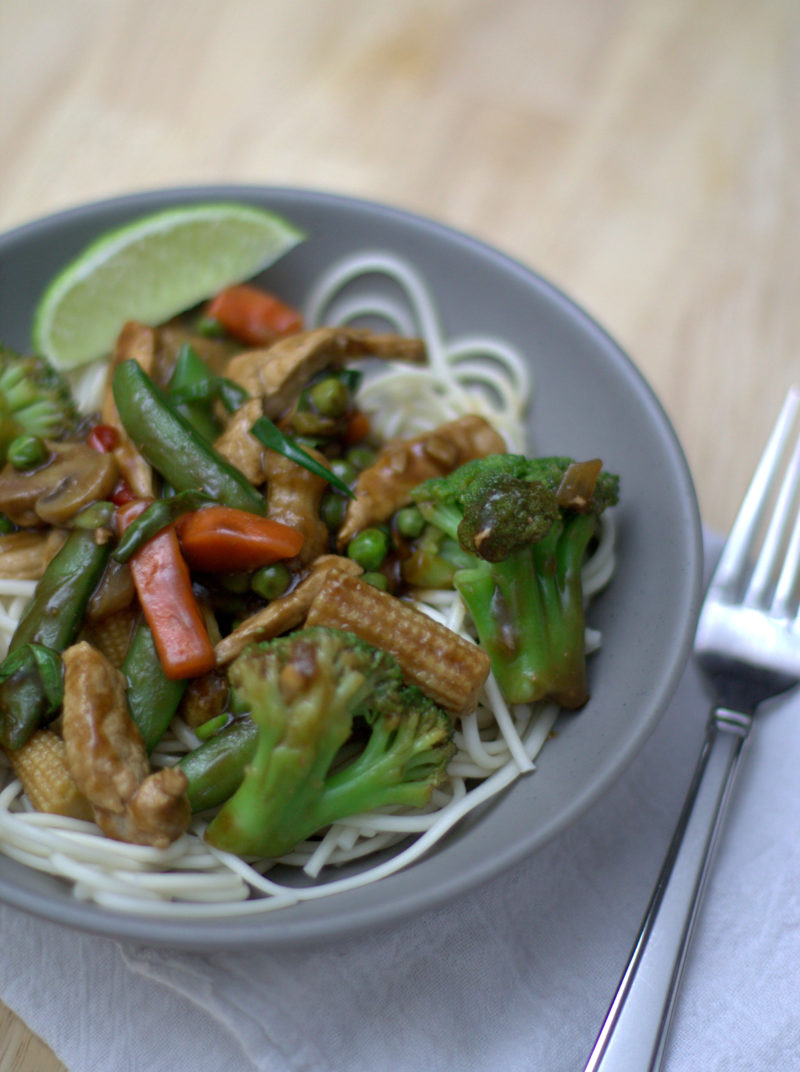 Quick Asian-Style Pork Stir Fry
Ingredients
3 tablespoons soy sauce
Juice from half a lime
2 teaspoons cornstarch
¼ cup vegetable or chicken broth
2 teaspoons sesame oil (plus more)
¾ lb pork loin, cut into thin 2 inch long strips
2 cloves garlic, minced
2 teaspoons minced peeled fresh ginger
1 lb frozen mixed vegetables
1 bunch scallion greens, chopped
Instructions
Whisk together soy sauce, lime, cornstarch and broth in a small bowl until well combined.
Heat the oil in a large, deep skillet over medium high heat until hot. Add the pork and cook, stirring often until browned and barely cooked, about 2 to 3 minutes.
Remove the pork to a plate. Bring the pan back up to hot. Add more oil if none remains.
Add the garlic and ginger to the pan and sauté for a minute before adding the frozen vegetables to the pan. Cook and stir often until the vegetables are defrosted. Stir in the green onions.
Add the soy sauce mixture to the pan and toss to coat. Cook and stir for another minute or two, until the sauce has thickened.
Remove from heat and serve over rice or pasta.