A few months ago I went to this little hole in the wall Thai place somewhere near Syracuse. I was there for work and wanted a healthy-ish dinner. I get really sick of the butter laden, fried, and heavy food that seems to dominate the restaurant scene. I realize that some of the higher end restaurants don't always serve that kind of thing, but I'm not looking to spend that kind of money when I'm out of town for work.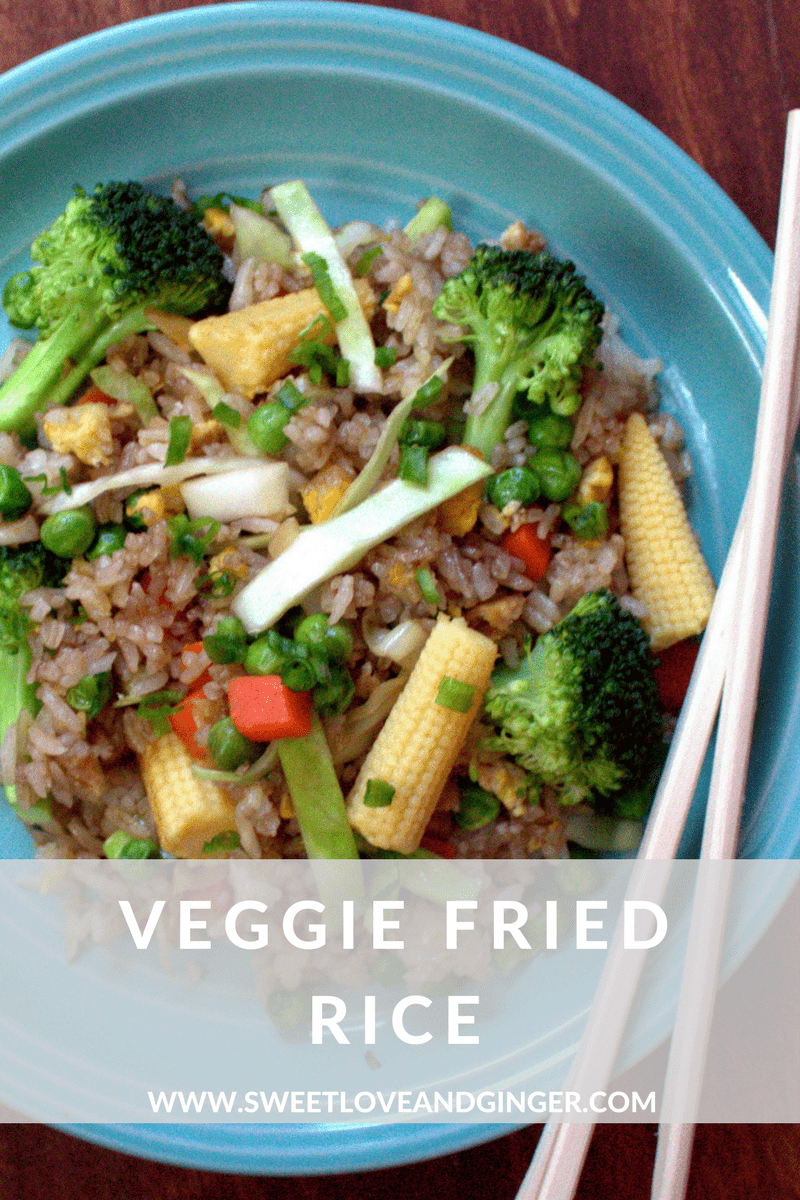 If I want something that feels homey, and is a little healthier I think specialty ethnic restaurants are the way to go. Anything from Ethiopian, to Thai to Greek typically has at least a few veggie filled, more traditional dishes that really hit the spot.
In this case, the place that I landed on had some of the best veggie fried rice I have ever had. It was so perfectly light, yet flavorful. I knew immediately I'd have to figure out how to recreate this at home.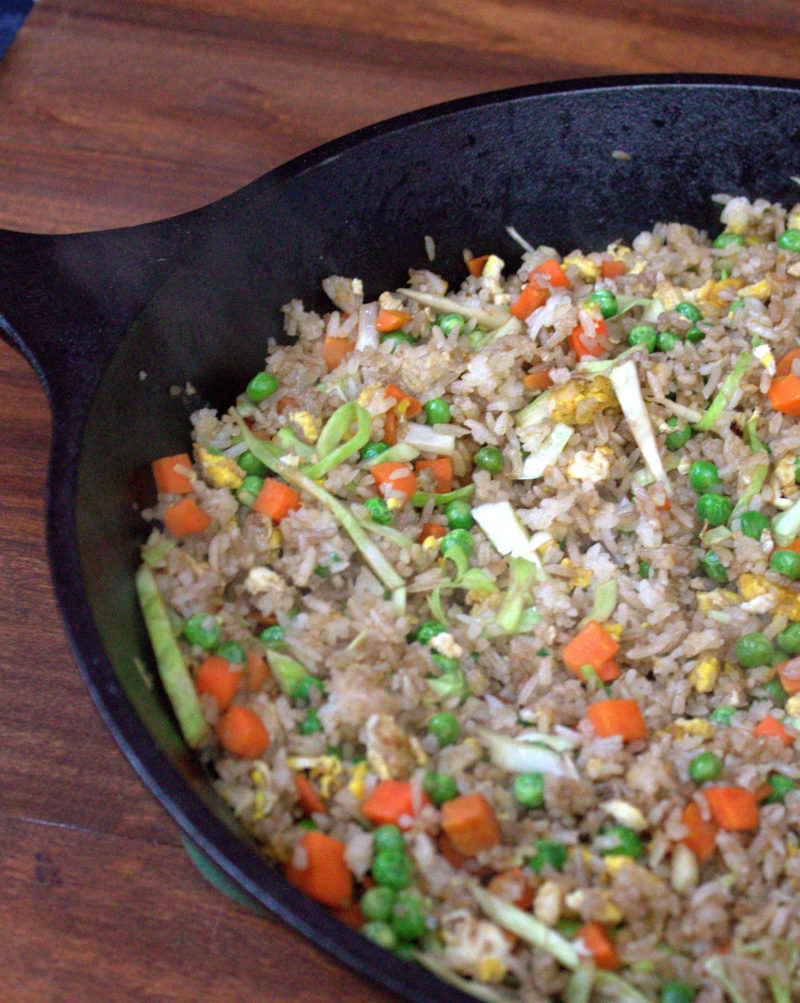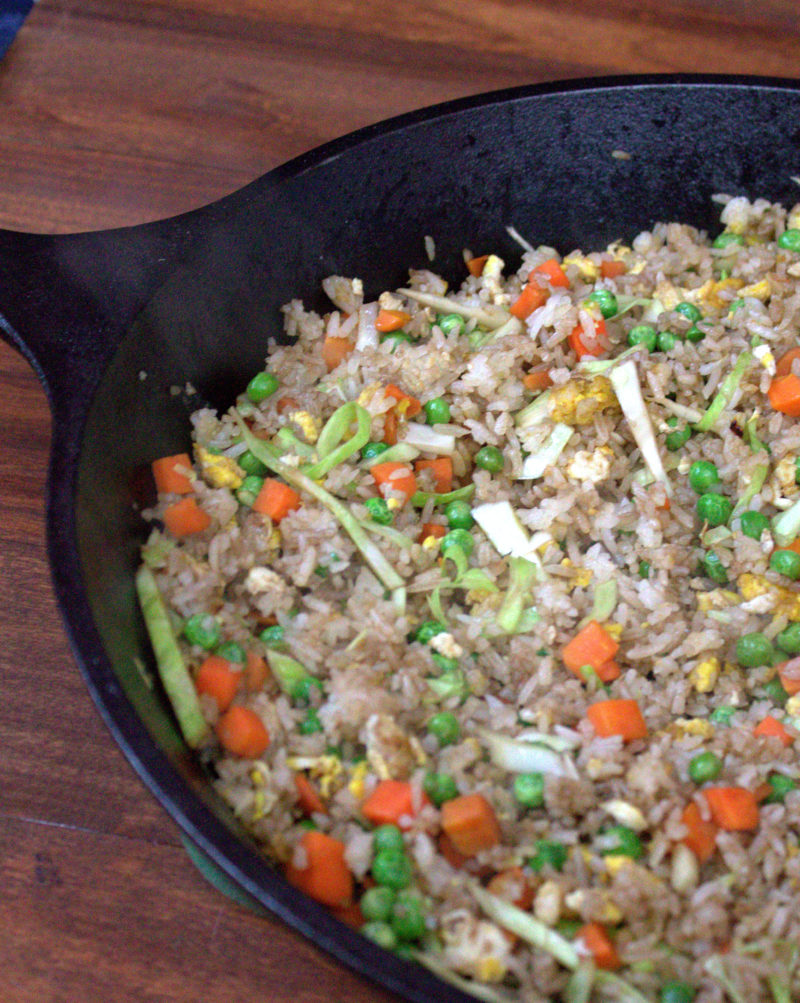 Now I'm not stranger to fried rice dishes, as you well know (eg.: Shrimp Fried Rice, Ground Turkey Fried Rice), but this was a bit of a challenge. I had to try a few different methods to get it just right.
I learned pretty early on that you really have to cook the large veggies separately, it makes a huge difference in the final texture of the dish as a whole. Otherwise you end up with under done vegetables or overdone rice.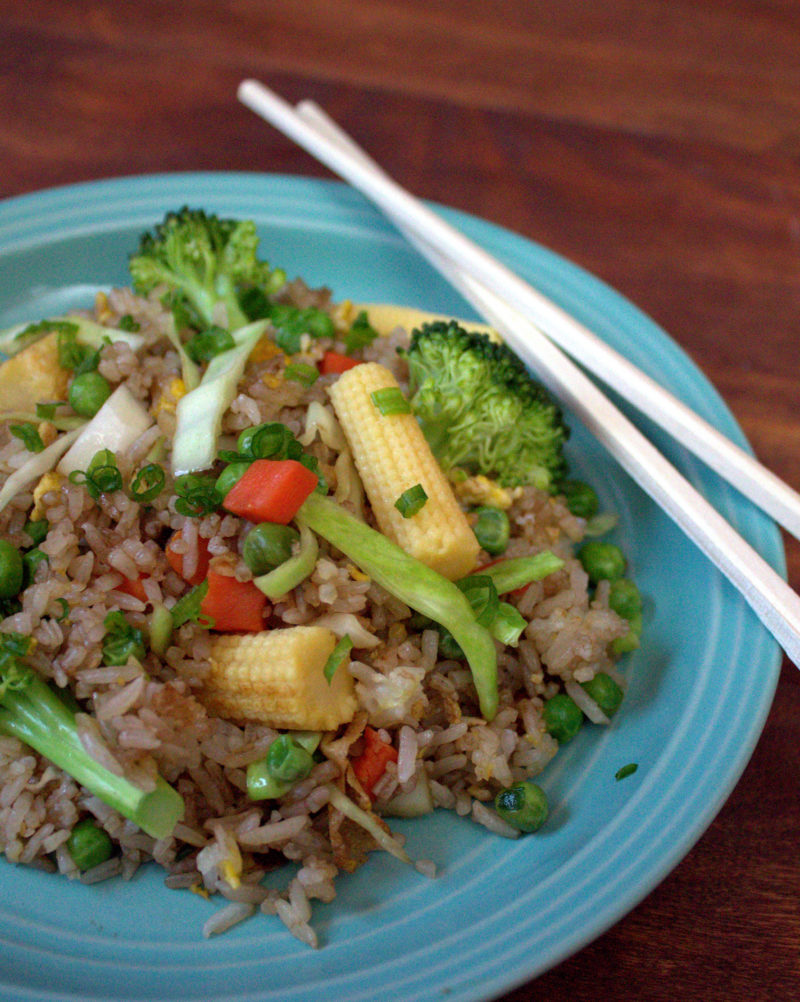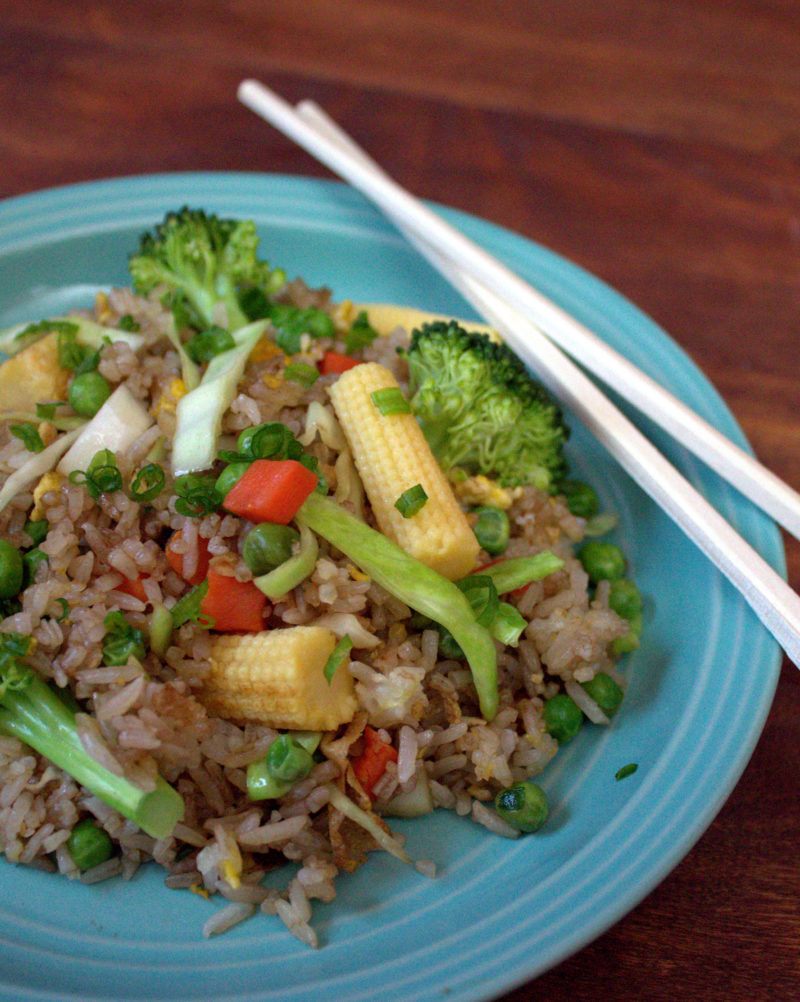 Another thing was the use of fresh whole ingredients. While I love the convenience of dried ginger, and garlic, there is just something a little different in the flavor when you use the fresh stuff that really just does wonders. I did end up using frozen peas and carrots in the final recipe, because I didn't find too much of a benefit to starting with the raw vegetables in this case, but this however was the only one.

Veggie Fried Rice
Ingredients
1 ½ cup broccoli florets
1 cup sliced red pepper (optional)
1 can baby corn, drained
3 tablespoons neutral oil, like canola or grapeseed
1 tablespoon minced garlic, or to taste
1 tablespoon minced ginger
4 cups cooked white rice, cooled
2 eggs
1 cup frozen peas and carrots
1 cup shredded green (or nappa) Cabbage
¼ cup water
2 tablespoons soy sauce
1 tablespoon sesame oil
Salt and freshly ground black pepper to taste
½ cup minced scallions
Instructions
Bring a sauce pan with 1 to 2 inches of water up to a boil. Place a steamer basket inside and add broccoli, red pepper and baby corn. (Note that is you don't have a steamer, you can simply put the broccoli directly into an inch of boiling water.) Cook for 5 to 6 minutes, or until the broccoli is bright green and all vegetables are just tender. You may need to do this in batches depending on your steamer size. When cooked remove from heat and set aside.
Put 1 tablespoon of the oil in a wok or a large skillet, and turn heat to high. When it begins to shimmer, add garlic and ginger. Cook until fragrant, about 30 seconds to 1 minute.
Add the rice, breaking up clumps with a spoon as you go along and tossing it with oil. When the rice is well coated, and just beginning to toast make a well in the center and break the eggs into it. Scramble these, then stir into the rice. Cook and stir for another 1 to 2 minutes until well incorporated. Add the peas and carrots, and cabbage. Toss to combine.
Add water, soy sauce and sesame oil, and cook stirring, for approximately 1 minute. Then taste and add salt and pepper if necessary.
If the steamed vegetables are too cool add them to the skillet as well to reheat.
Turn off heat, stir in the scallions, top with steamed vegetables, and serve.
Similar Recipes: