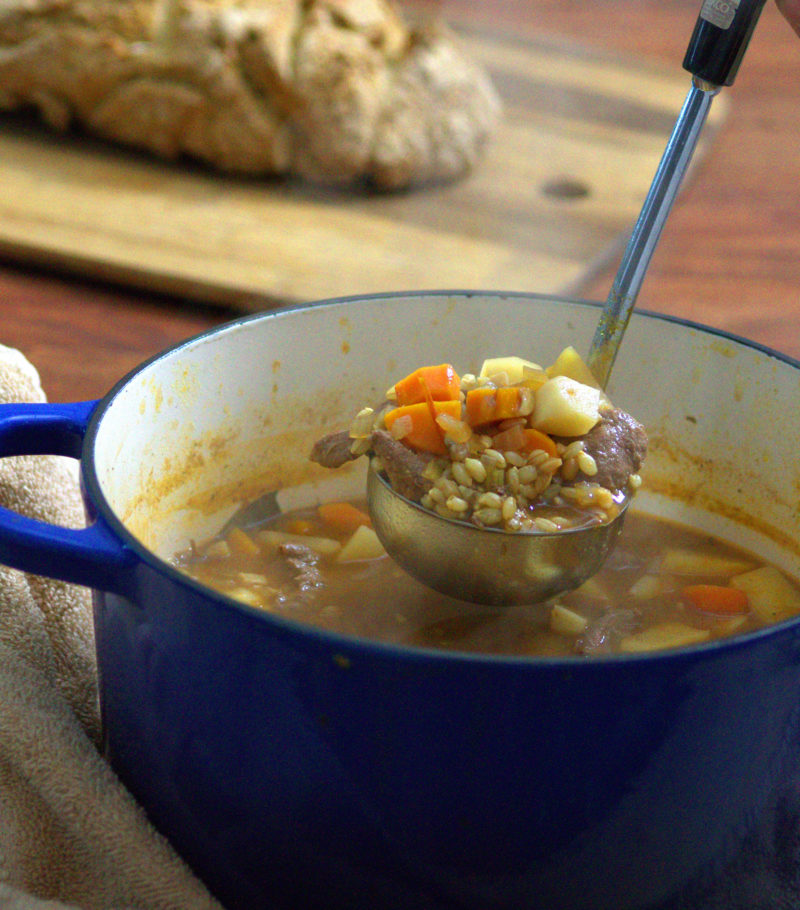 The cold weather has begun to settle over us here in the northeast. We have gotten a few snowfall (though not much has stuck), a few freezing rains, and plenty of below freezing weather. I find myself reaching for wool socks and cozy sweaters as I get ready for work, and stuffing the pocket of all my coats with spare gloves just in case. It's officially that time of year.
This means that it's also time for soup, stew and chili, just a few of my favorite things.
It's also great timing since it's hunting season and that means that we have been butchering deer lately.
So when Chuck and I butcher a deer, we always end up with a pound or two of tiny little morsels that we like to use as "stew meat". I have found through talking to people that often these are tossed into the grinder, which is a faster way to process the dear, but not what we prefer. I like to have stew meat on hand for dishes like this, or stroganoff, and I don't love the idea of using a good cut of steak for it, because let's be serious a perfectly cooked steak is like Valhalla on a plate. We like to take the extra couple of minutes to make the "stew meat".
I put the quotes in there because stew meat typically reminds us of tougher meat that needs to be cooked for a long time, but the reality is that this "stew meat" is usually pretty tender, it's just cut up small. For this venison barley stew, I would suggest using this type of tender meat. For tougher meat toss all of the ingredients into a crockpot and cook it for a good long while.
In this recipe, I used a variety of vegetables, mostly what was left from the garden, though feel free to add or change vegetables based on your preferences, just be aware that the cooking time may change based on the different vegetables.

Venison Barely Stew
Ingredients
1 ½ pounds venison, cut into bite size pieces
Salt and pepper to taste
2 tablespoons extra virgin olive oil, divided
1 large onion, diced
2 large carrots, diced
1 stalk celery, diced
½ pound crimini mushrooms, cleaned and quartered
3 cloves garlic, minced
1 teaspoon dried thyme
1 teaspoon dried oregano
2-3 turnips, peeled & chopped
½ cup pinot noir
4 cups beef stock
1 tablespoon tomato paste
1 large bay leaf
½ cup barley
½ cup flat leaf parsley, chopped
Instructions
Pat the venison cubes dry with a paper towel and season with salt and pepper.
Heat one tablespoon of the oil in a large Dutch oven over medium-high heat and sear the meat on all sides, working in batches so as to not overcrowd. Use a slotted spoon to remove the venison and set aside.
Heat the remaining tablespoons of olive oil over medium-high heat. Add the onion, carrot and celery to the Dutch oven. Cook for 5 minutes, or until softened.
Add the mushrooms, garlic and herbs and cook for another minute.
Return the beef to the pot and add the turnip.
Add the wine to deglaze the pan, scraping the browned bits form the bottom of the pan.
Stir in the broth, tomato paste, and bay leaf, until well combined.
Turn up the heat to bring the stew up to a boil, and then reduce to a simmer. Cover and cook for 45 minutes to 1 hour.
Meanwhile, cook the barley. Bring the barley and 1 ¼ cup of water to a boil. Reduce to a simmer, then cover and cook until the barley is tender 40 to 50 minutes. Drain and set aside.
When the stew has simmered stir in the cooked barley and venison cook for another minute or two.
Adjust seasonings and serve hot, garnished with fresh parsley.
Similar Recipes: