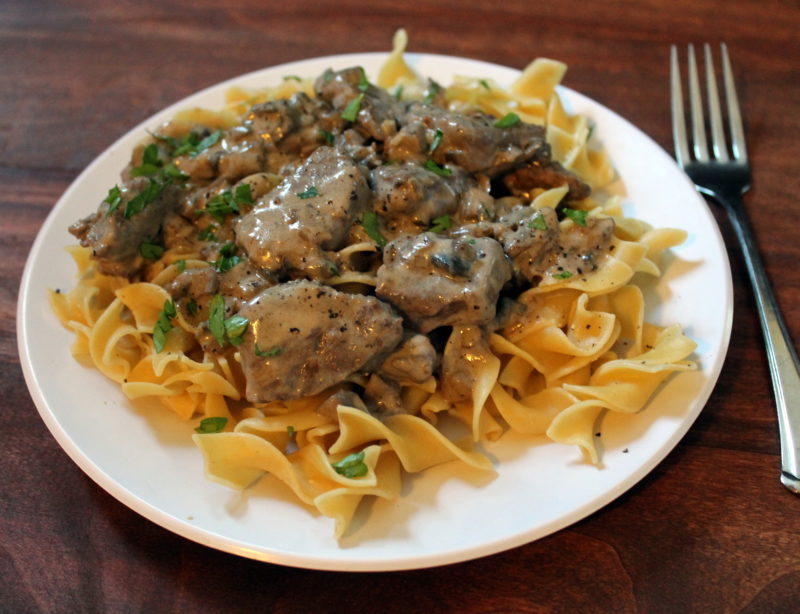 Stroganoff is a pretty traditional recipe with a wide breath for interpretation. I have already posted a few of my favorite versions, one is vegetarian, one a hiking version and one includes pasta and is all prepared in one pot because sometimes you just have to cheat. The number of other versions of this well loved recipe is staggering, I've seen them use tomato puree, lemon, dill, and numerous types of meat.
This version however, has got to be my absolute favorite. I'd like to think this recipe was meant to be made with venison. It just fits so well here. That might be just because I prefer venison to beef these days, but it could also be the simplicity of this recipe.
The easiest ones are always my favorites. Wouldn't you agree?
We start with mushrooms sautéed in butter, add a good cut of venison sliced thin. Then add in the flavor enhancers, shallot, garlic, and paprika. Round it all out with a deglaze of broth or wine for the final flavor boost. Finally add good quality sour cream and maybe a bit more butter to make the sauce complete.
I put it over egg noodles as is the American tradition, and the way I like it best. I also like to add a side of steamed broccoli, because those babies are great for soaking up extra sauce that gets left behind, and they taste great together.
I want to mention that this version only uses wine as an option. This is because I haven't found a wine I like in this recipes as well as I like plain beef or venison broth. I have seen it made with brandy, madeira wine, sherry, and broth, so use your best judgment on that one.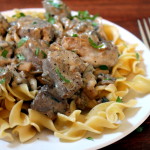 Venison Stroganoff
A simple version of the classic stroganoff recipe made with venison, as it should be.
Prep Time 15 minutes
Cook Time 20 minutes
Total Time 35 minutes
Ingredients
3 tablespoons butter separated
1 lb venison sliced thin
½ lb mixed mushrooms sliced (I like shitake or cremini)
2 large shallots minced
1 clove of garlic minced
½ tablespoon paprika
¼ cup beef or venison or red wine plus more if needed
1 teaspoon black pepper
1 cup sour cream
Chopped fresh parsley and/or dill for garnish
Instructions
Heat 2 tablespoon of butter in a large skillet over medium high heat.

Season the venison with salt and pepper and add it to the hot pan. Cook it for 2 to 3 minutes or until it is medium rare, then remove it from the pan and set aside.

Add the mushrooms to the pan and turn the heat up to high. Saute for 1 to 2 miuntes or until the mushrooms release their liquid and it has almost all evaporated.

Add another tablespoon of butter to the pan and then add the shallots, garlic, and paprika and cook for 3 to 5 minutes scraping the browned bits from the bottom of the pan. The vegetables should be soft and browned.

Add the broth or wine and reduce to medium high heat cooking until the liquid reduces to half.

Remove from heat completely and add venison back to the pan.

Stir in the sour cream until well combined. If the sauce is too thick add broth a tablespoon at a time until desired consistency is reached.

Serve with fresh herbs for garnish.
Similar Recipes: