These meatballs could very well be the end all be all of meatballs. They are downright amazing! Not that one would expect anything less from a Swedish meatball. I have yet to meet anyone who doesn't like them (sans the vegetarian/vegan crowd – but they don't count here).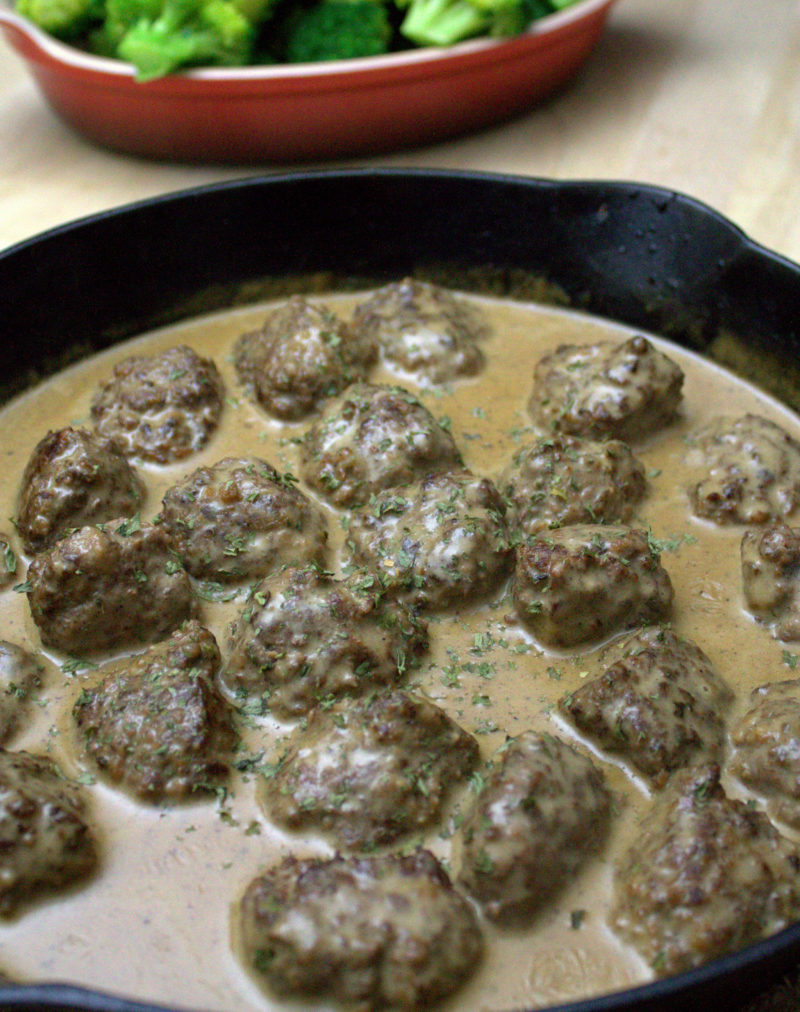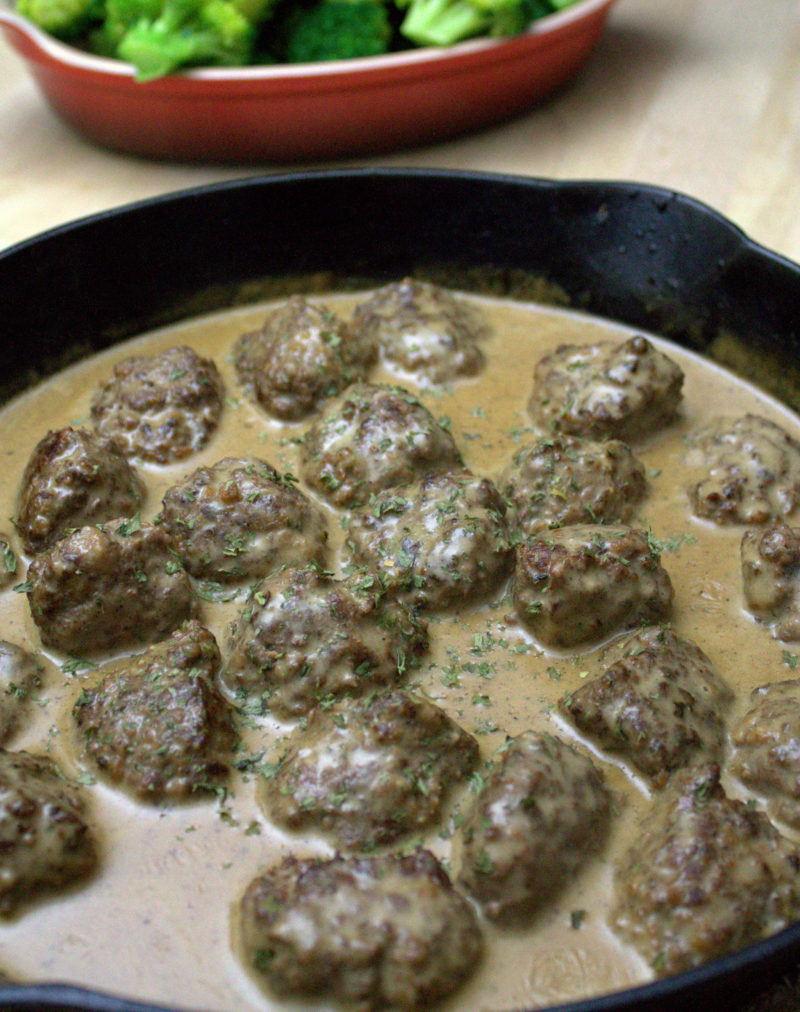 I made a double batch to freeze and to photograph them for the blog again last week, and I'm pretty sure Chuck ate his weight in them. Needless to say, there were none left to freeze. Lesson learned, make these on a day when he's not home.
This particular recipe is adapted from the book Buck, Buck, Moose. The only major difference is that I used heavy cream in mine instead of sour cream. I have found that the debate on which one to use is a pretty lengthy one. I tend to just use what I already have on hand because we don't like to waste in this house. Yes, that does have an effect on the flavor, but sometimes it's nice to change it up, and again we don't like to waste.
What I like the most about these meatballs is the flavor of the actual meatball. I've seen so many Swedish meatball recipes that don't utilize allspice and caraway enough. These are fun spices that I don't feel get enough attention in modern cuisine. Here they shine in a wonderful and delicious way.
I serve them over egg noodles because that's how I grew up eating them, but rice or mashed potatoes work as well. Basically, any starchy vehicle that allows you to soak up that delicious sauce is a great choice. I also made steamed broccoli, because we eat something green with every meal, a salad, and a side of cranberry sauce (it's traditional).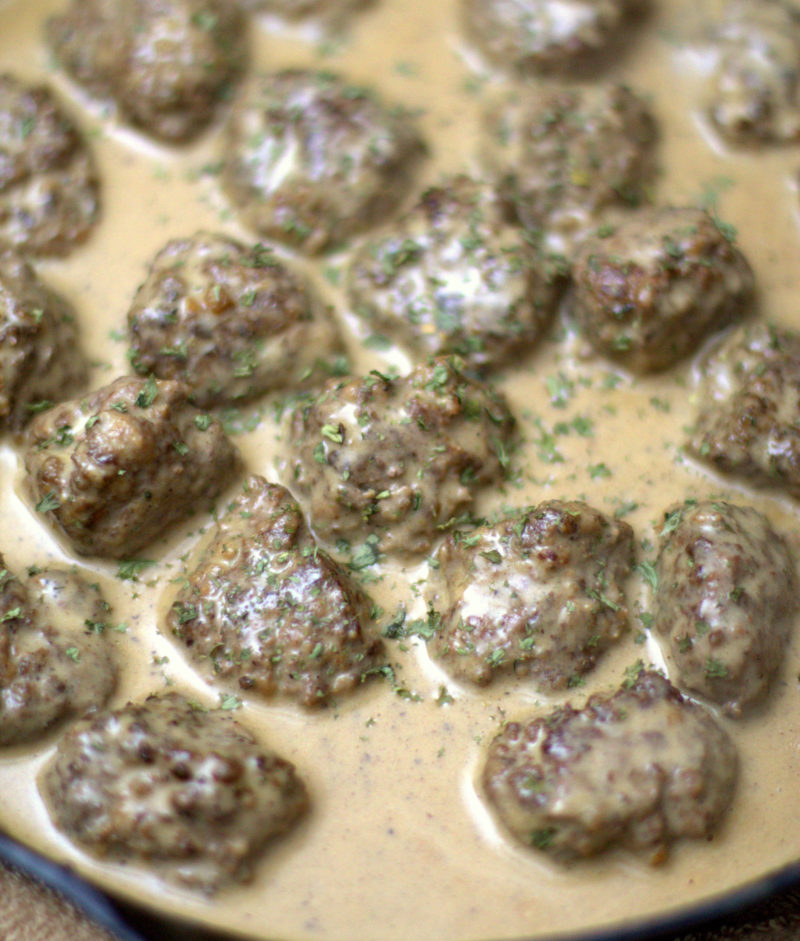 Venison Swedish Meatballs
Ingredients
½ cup day old bread, pulsed in a food processor until crumbly
½ cup milk
2 pounds venison (95% Lean)
2 teaspoons Kosher salt
2 teaspoons ground allspice
1 teaspoon caraway seeds
1 teaspoon black pepper
1 teaspoon onion powder
1 egg, beaten
3 tablespoons vegetable Oil (plus more)
3 tablespoons butter
2 tablespoons flour
1 quart beef stock or venison stock
½ cup *heavy cream (or sour cream)
Instructions
Combine the milk and breadcrumbs in a small bowl and let stand while preparing the other ingredients, about 5 minutes.
In a large bowl add the venison, salt, spices and egg. Pour the milk-bread mixture over the meat.
With your hands gently crumble the meat and other ingredients together to incorporate. Once well combined use your hands to roll tablespoon sized balls. Place the balls on a clean plate or tray until you have run out of meat mixture.
Heat a large skillet with vegetable oil over medium-high heat until the oil is hot enough to sizzle.
Add the meatballs a few at a time to the pan (don't over-crowd) and cook for roughly 3 to 5 minutes. Turn once and cook for another 3 to 4 minutes. Remove the cooked meatballs to a paper towel lined tray to cool. Repeat this process until all the meatballs are cooked through, adding more oil if necessary to coat the bottom of the pan.
Once the meatballs are cooked drain the oil from the pan, leaving the browned bits on the bottom. Add the butter to the pan and allow it to melt over medium heat. Whisk in the flour until well blended and allow it to cook for a minute.
Gradually stir in the stock and bring up the heat to a simmer until it begins to thicken.
*if using heavy cream: Stir it in and allow the sauce to cook until it reaches the desired thickness. Add the meatballs back to the pan and toss over medium heat, until heated through. Serve immediately.
*If using sour cream: Add the meatballs to the pan and continue to cook over medium heat until heat through. Stir in the sour cream until well blended, cook for a minute or two and remove from heat. Serve immediately.
Similar Posts: