I love Asian inspired food. I'm not calling it Asian food because the American versions that we are all familiar with are not exactly accurate. Having never been to the continent (someday!) I don't have much experience with anything else. But in all seriousness, give me all the soy, ginger, and garlic. I love them. I'm also pretty in love with umami, I mean who isn't? Roasted tomatoes, soy, mushrooms, oh so much yum.
Today we are talking about cleaning up some of my favorite takeout staples. Egg rolls and duck sauce. I mean these two dishes alone are half the reason to order takeout, to begin with in my opinion. However, we try not to order too much take out, thus devising our very own recipes for takeout favorites.
Besides, when you make them at home they are better for you, and typically you get a lot more bang for your buck. I mean why not make up a whole batch of egg rolls and tuck them away in the freezer for a lazy day? Why not make a huge batch of duck sauce and can it? Then you can use that stuff on all kinds of things. Glaze a chicken, toss it in a stir-fry, pull out those egg rolls and dip them right in.
This is how we do things around here. We make big batches so Momma can get a break later when she's just not feeling it. Then at least we know we are still getting that home-cooked goodness. Even if it only took 5 minutes of effort that day. I realized just how good an idea this was after my first time canning homemade tomato sauce. Nothing is better than opening a jar of homemade sauce mid-winter and with little effort being able to serve your family a from scratch meal. Now we have mid-winter duck sauce and egg rolls, from way back when the apricots were luscious and ripe and all those veggies were fresh.
This my friends, is the life.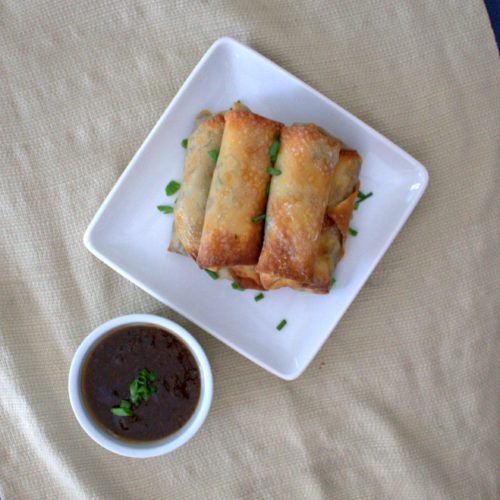 Vegetable Egg Rolls with Duck Sauce
Prep Time 30 minutes
Cook Time 20 minutes
Total Time 50 minutes
Ingredients
Egg Rolls
½ tablespoon vegetable oil
1/2 teaspoon garlic powder
½ teaspoon powdered ginger
4 oz. mushrooms juliened
2 medium carrots julienned or shredded
3 medium green onions
1 small head green cabbage shredded
2 tablespoons soy sauce
2 teaspoons cornstarch
1 pkg 20 ea egg roll wrappers
as needed non-stick spray
Duck Sauce
¾ C all-natural apricot jam
3 tablespoons rice vinegar
½ teaspoon low sodium soy sauce
½ teaspoon garlic powder
½ tsp chili powder
Instructions
In a large skillet or wok, heat the vegetable oil over medium-high heat and saute mushrooms until softened.

Add the carrots, green onions, and cabbage and cook until all the vegetables have softened, about 3 to 5 minutes.

In a small bowl whisk together the soy sauce and corn starch until well blended. Pour this combination over the vegetables and toss to coat. Remove from heat and let cool.

Preheat the oven to 425 degrees.

One at a time fill the egg roll wrappers by placing about ¼ cup of the vegetable mixture in a log shape just off center of the wrapper, close to one of the corners. Roll the close corner up over the filling. Then fold in both of the sides (like a burrito) and continue to roll the wrapper until closed. Dip your fingertips into water then tough the final wrapper corner to seal it in place. Place the completed egg roll on a greased baking sheet.
Similar Recipes: