Bruschetta Chicken has taken on a whole new form with this Salad recipe that combines Creamy Parmesan Peppercorn Dressing with crunchy garlic croutons.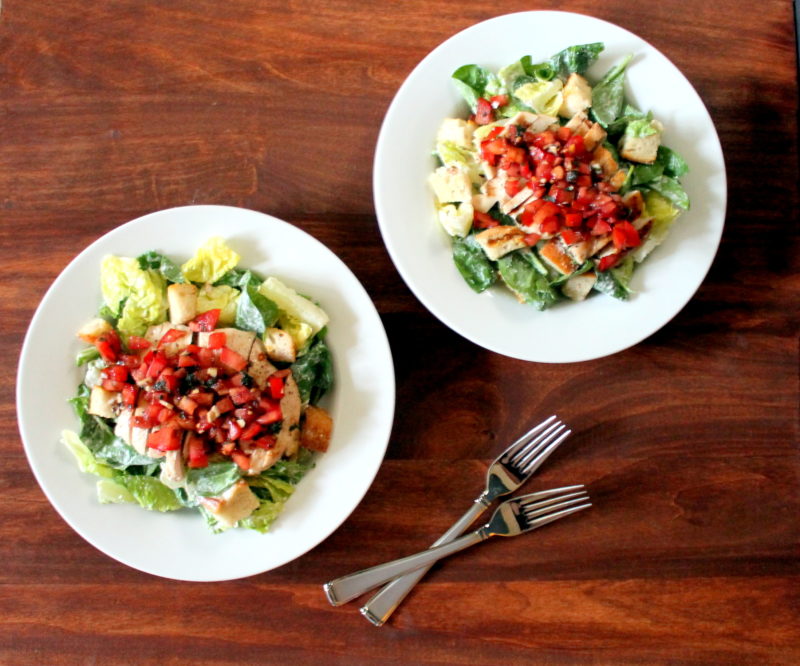 Tomato season is a much loved season in our home. I love picking sun warmed tomatoes from the vine and eating them right away or chopping them up and tossing them in basically everything.
Unfortunately the whole moving/wedding thing has pushed my garden down on the priority list this summer, so my tomatoes are not what they could have been, but I'm still getting a few. I've been enjoying my fair share of BLT's (this one is my favorite), and fresh tomato sauce. I've been forced to buy a few from the farm stands that surround our house to support my cravings. I seriously think we hit the jackpot with those, they are everywhere and everything is so fresh!
Typically when I make brushetta chicken I put it over alfredo, or pesto pasta, however since we are trying desperately here to keep ourselves in shape for the last few weeks before the wedding I thought a salad might be a better idea. Not that it stopped me from making the best Parmesan Peppercorn Dressing ever and dreamy garlic croutons. I stick by the idea that there is spinach so it's still healthy.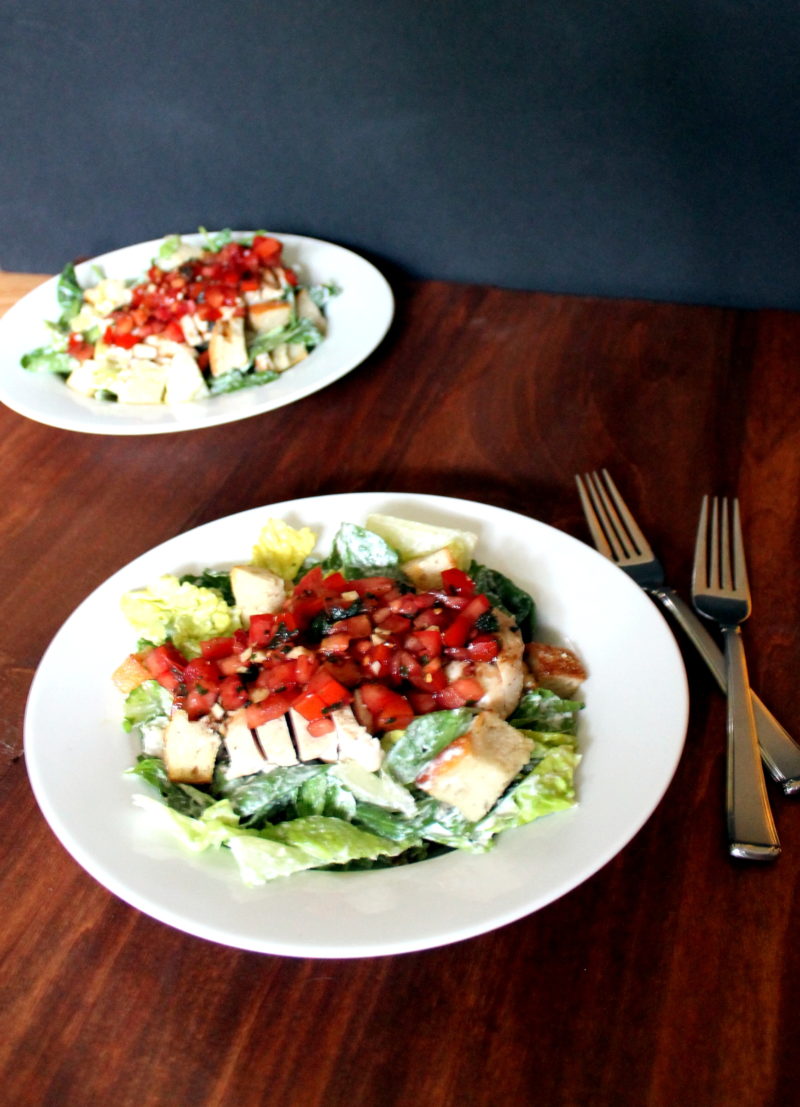 This salad is very reminiscent of the usual Chicken Caesar that you would order in a restaurant. You know the type; romaine lettuce and croutons drenched in a creamy thick dressing. Oh yes, it's so good right? Now just take that image and toss some warm juicy chicken on top with some good balsamic and fresh in season tomatoes. The tangy, fresh tasting balsamic drips its way down to the creamy and cheesy dressing, it's like a happy dance is happening in your mouth. It's like crack and you can't stop until every last drop is gone. It's a good thing you saved that bread heal from the croutons to soak up the last little bit.
When did I start talking in the third person? Whatever. You get my point here. This might just be my favorite salad ever. I love it, and you should definitely try it immediately.
Creamy Parmesan Peppercorn Dressing
½ cup mayonnaise
½ cup sour cream
1 tablespoon white wine vinegar
2 tablespoons milk
3 tablespoons parmesan cheese
2 teaspoons fresh cracked pepper
¼ teaspoon garlic powder
¼ teaspoon onion powder
Pinch of salt
Whisk together all ingredients in a bowl until well combined. Let stand for 10 minutes to overnight before serving. Can remain in the refrigerator for up to 2 weeks.
Bruschetta Chicken Salad with Parmesan Peppercorn Dressing
Ingredients
1 to 2 cups of day old bread, cubed
2 tablespoons olive oil
1 teaspoon garlic powder
Pinch of salt
1 teaspoon parsley flakes
2 small boneless skinless chicken breasts
Salt & pepper to taste
2 roma tomatoes, diced
2 cloves of garlic, minced
1 tablespoon basil, chopped
1 tablespoon balsamic vinegar
2 cups romaine lettuce, chopped
2 cups baby spinach, loosely packed
¼ cup Creamy Parmesan Peppercorn Dressing
Instructions
Preheat the oven to 425 degrees. On a baking sheet toss the cubed bread with olive oil, garlic powder, salt, and parsley. Place in the oven and cook for 6 minutes, or until the bread begins to turn golden brown. Remove from heat and toss carefully. Set aside.
Season the chicken well and place it on a preheated grill. Cook for 4 minutes, flip and cook for another 4 minutes or until the chicken is cooked through. Remove from heat and set aside.
In a small bowl combine the tomatoes, minced garlic, basil, and balsamic. Set aside.
In a large bowl combine the lettuce, spinach, and croutons with the dressing and toss well to coat.
On each plate place a layer of coated lettuce and croutons. Add chicken and top with tomato mixture and serve.