The weather is playing trick on us over here in the northeast. On Saturday it was sunny and 70, Chuck and I were strolling downtown, coat-less in February. Then on Sunday it was snowy, windy and cold, surprisingly this was still pretty nice for February, which is typically one of (if not THE) the coldest months of the year.
The forecast isn't looking much more calm, with temperatures fluctuating daily, and another big storm on the radar for next week. This winter, similarly to last winter hasn't been the best for snow and ice, which some of us enjoy. I mean hello winter sports! Sadly, I'm starting to think that this may be our new normal. It makes me strive even more to live a sustainable lifestyle. My little contribution isn't much, but it's something.
All this turbulent weather has got me craving some of my favorite spring recipes (for example: Spring Vegetable Couscous, Venison with Morel Sauce or Fiddle Head Hash) as well as really missing the garden.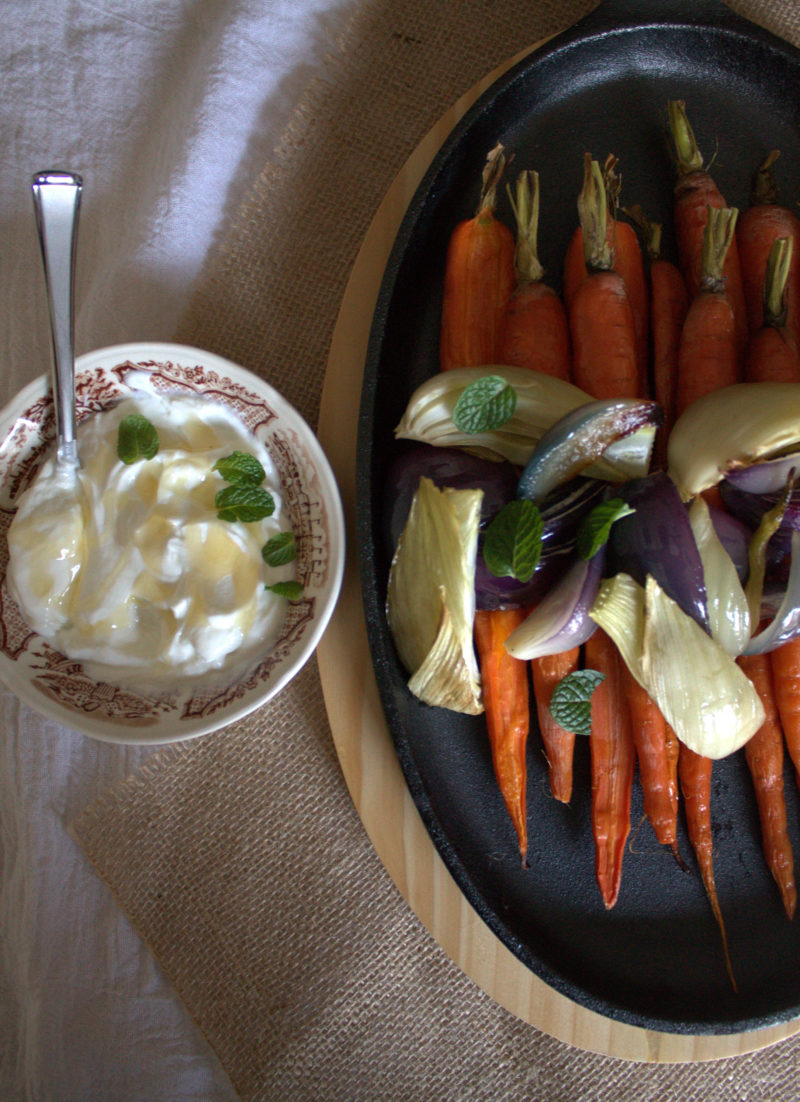 To help quell my spring and summer day dreams Chuck and I decided to have a little spring in the winter. We made venison burgers in cast iron skillets and roasted veggies. We made the veggies a little lighter and more spring like by adding yogurt with fresh mint and honey. It made all the difference.
Yogurt with mint and honey on its own is pretty amazing, but when combined with sweet roasted veggies it really becomes a wonderfully light dish that perfectly brightens up a dreary winter evening.

Roasted Veggies with Mint Yogurt & Honey
Ingredients
1 bunch medium carrots, , greens removed and large ones halved
1 large red onion, quartered
1 large fennel bulb quartered
2 tablespoons olive oil
Salt & pepper to taste
½ cup plain Greek yogurt
1 tablespoon (or more to taste) honey
1 tablespoons mint leaves, roughly chopped
Instructions
Preheat the oven to 400 degrees.
Combine the carrots, red onion, and fennel bulb on a large baking sheet and drizzle with oil. Sprinkle liberally with salt and pepper.
Spread the vegetables out evenly and place in the oven for 25 to 30 minutes, or until tender.
Meanwhile, combine the yogurt mint and honey in a small bowl. Mix well to combine (I like to add a bit extra on top for looks also).
Remove from heat and arrange the vegetables on a serving platter with the yogurt mixture on the side and serve.