Butternut squash soup is a house staple in the fall and winter months. Mostly because it's the best way to use up leftover roasted squash, but also because it's pretty delicious. I actually took these photos way back in November, and I'm just now getting around to telling you about it. It's ok though because butternut squash is one of those storage squash that hangs out all winter.
I always seem to have more squash than I know what to do with. Luckily, butternut squash lends its self to a lot of different flavors. I put it in everything from beef stews, to fresh salads or even spice it up with middle eastern spices.
This particular version of squash soup I came up with about a million years ago when Chuck was living the bachelor life. It was part of one of the first meals I made him in his crusty old basement apartment. He wasn't sure if he even liked squash, but was on board when he heard about the smoked gouda. Luckily it ended up being well received and something he even asks for every fall. I'm happy to oblige him since it's so easy and healthy to boot. I know I'm not the only one trying to get my husband to eat more veggies right?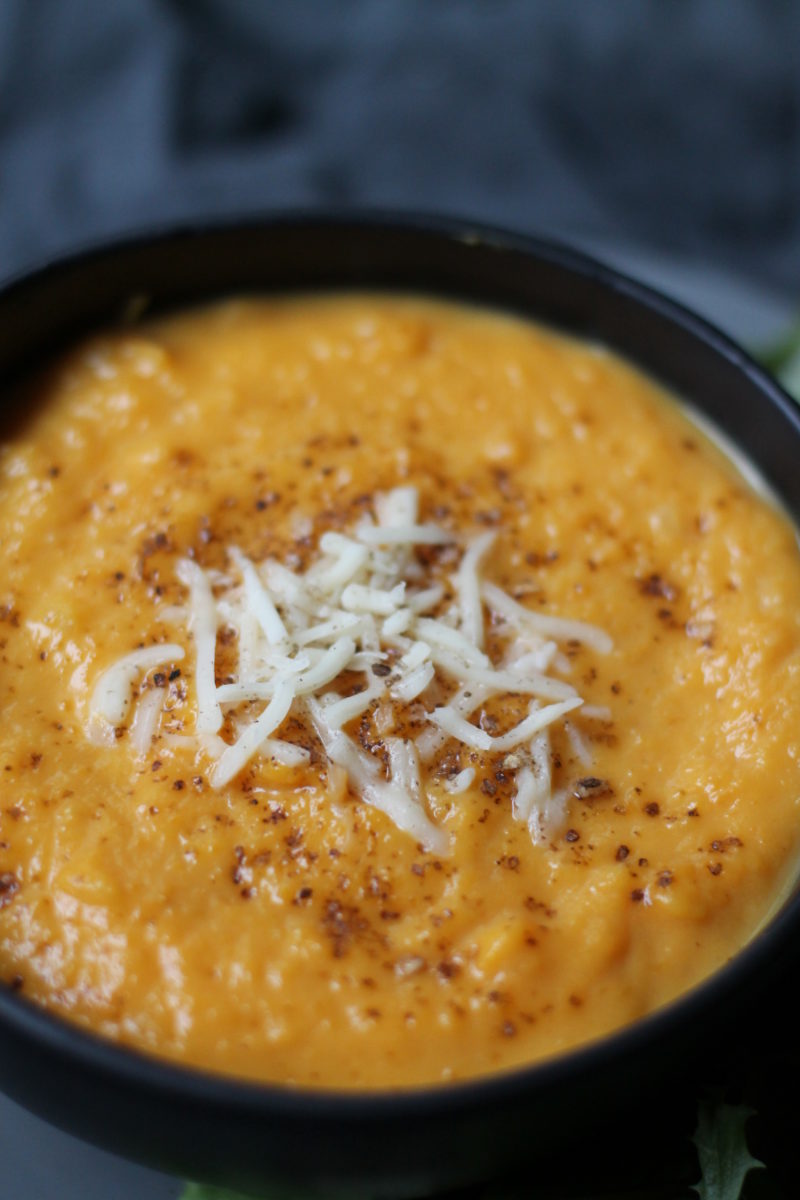 For this particular meal, I'm pretty sure I also served it with my version of a monte cristo panini. That panini is hands down Chuck's favorite. I mean maple syrup, right? On another occasion, I've served it with leftover turkey croquettes, which is my prefered pairing. Again it's easy and the croquettes are perfect for dipping into the soup. This is basically the perfect meal when you have roasted a chicken and served it with salad and roasted squash. For a lighter meal, just opt for a simple salad.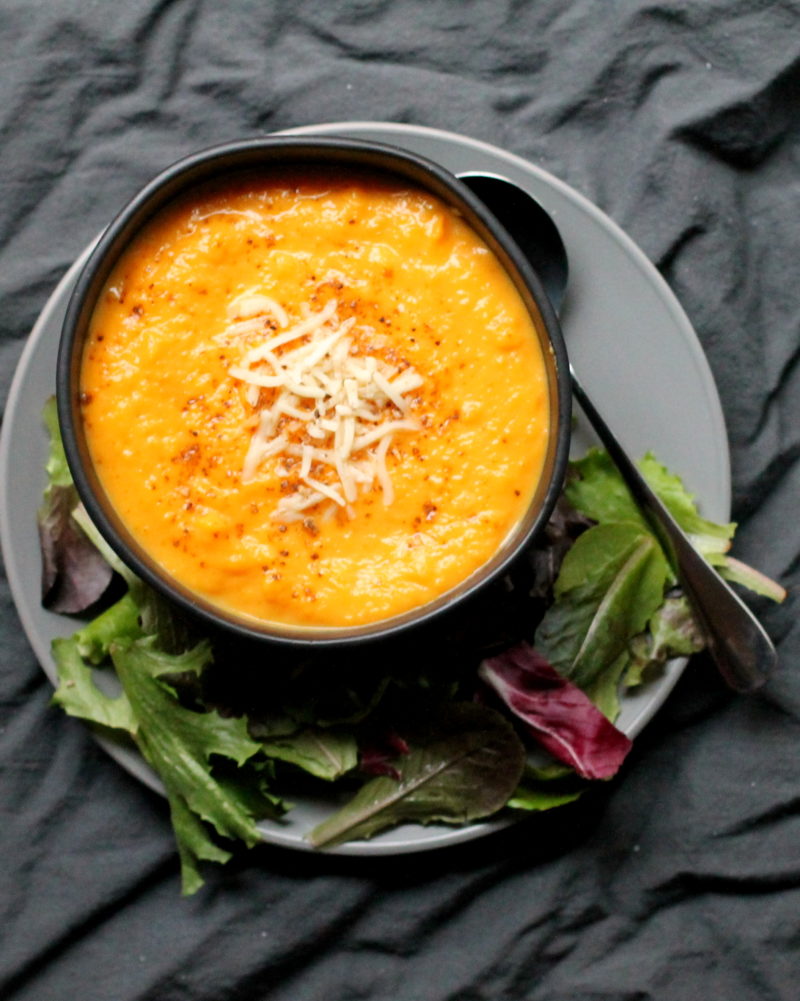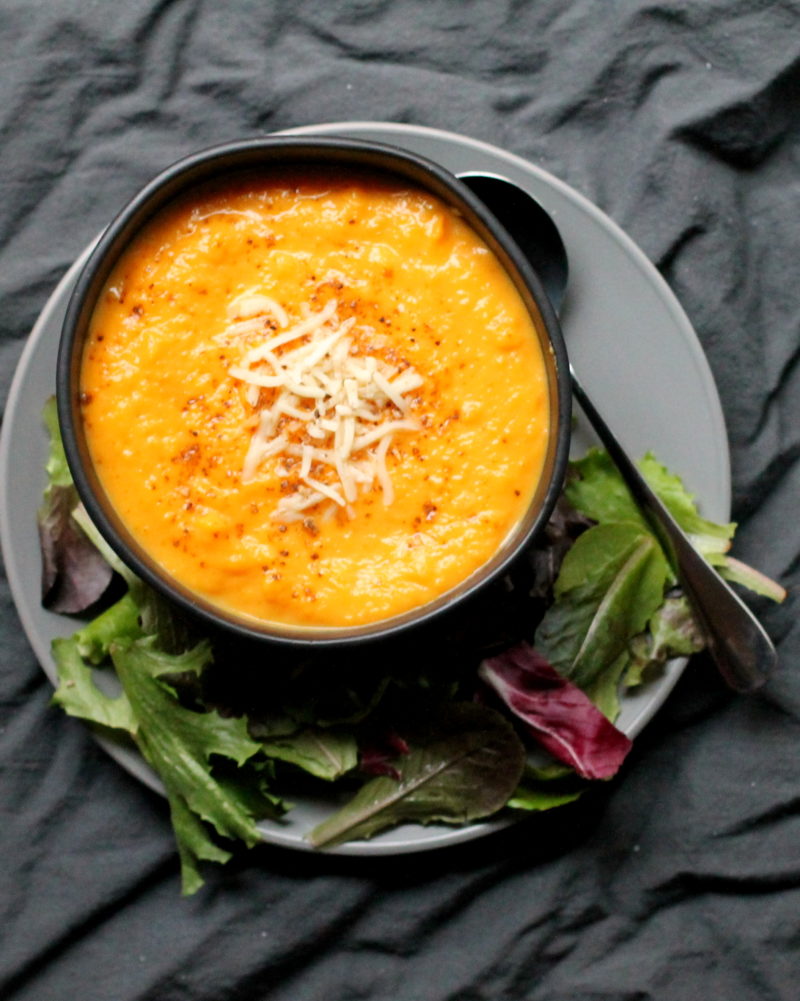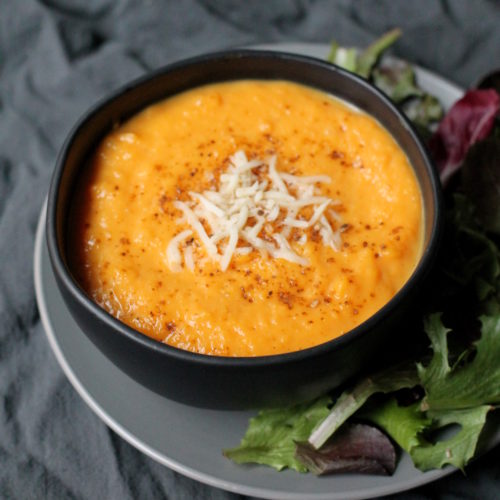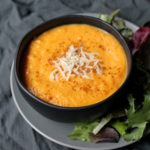 Butternut Squash Soup with Smoked Gouda
Prep Time 10 minutes
Cook Time 20 minutes
Total Time 30 minutes
Ingredients
1 tablespoon butter
1 small onion peeled & chopped
1 medium roasted butternut squash flesh only
½ cup apple cider
4 cups low sodium vegetable broth
1 medium apple peeled and diced
1/3 cup shredded smoked gouda plus more for garnish
Salt and pepper to taste
Instructions
Melt butter in a large sauce pan, over medium high heat. Add onion and saute, until translucent, about 1 minute.

Add squash, cider and broth to the pan. Cook for 3-5 minutes.

Remove from heat and blend with an immersion blender (or in batches) blend until smooth.

Return the pan to medium heat and add the apple and smoked gouda. Cook for 5-6 minutes stirring regularly, or until the apples have softened and the gouda has melted

Adjust seasoning and serve warm with extra cheese for garnish.
Similar Recipes: