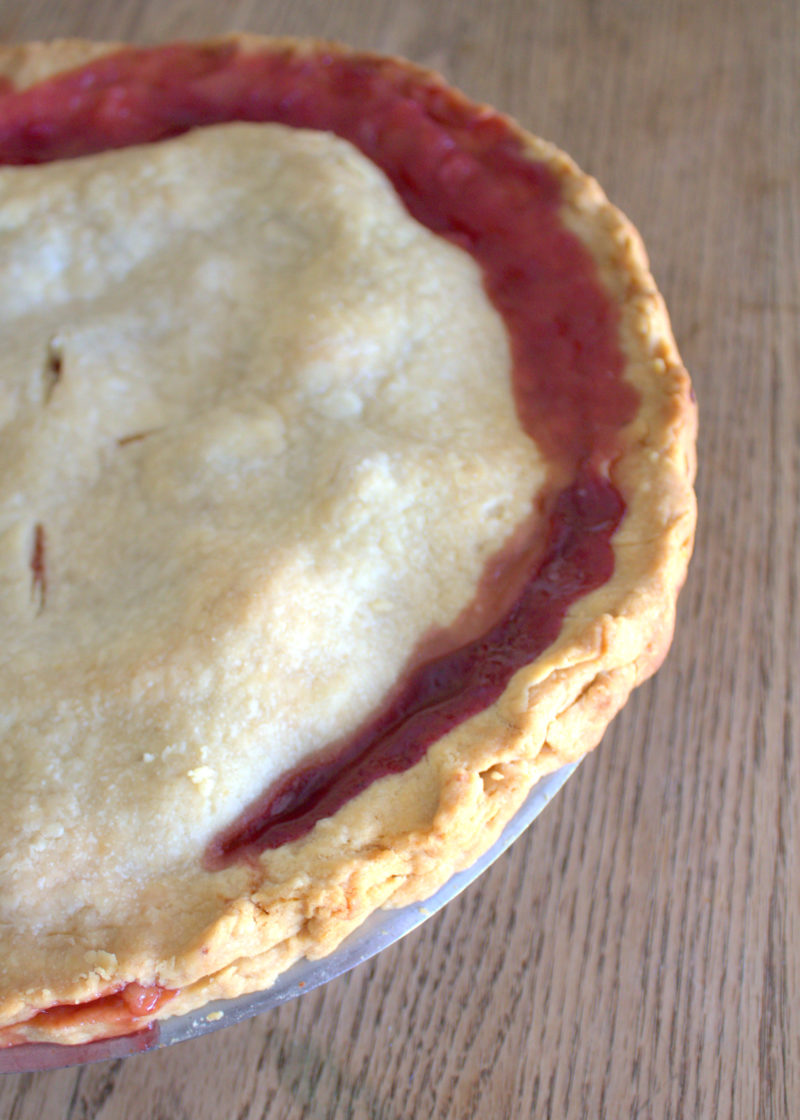 Spring is here? As I type this it's currently spitting bits of snow. It's not supposed to amount to anything, but it still has me worried. This has been the longest winter ever for me, and I am so ready for it to be over. I can see chives and tulips popping up, so fingers crossed.
This pie is one of those things that people associate with spring. I mean technically much of the fruit in it is ready to be picked in spring, but that's late spring in my book. Those of us who spend a lot of time in our gardens know that there are a few more seasons than the standard 4 that we celebrate. Right now rhubarb might be just starting to poke through the ground, and as for the other berries? They are a long way off.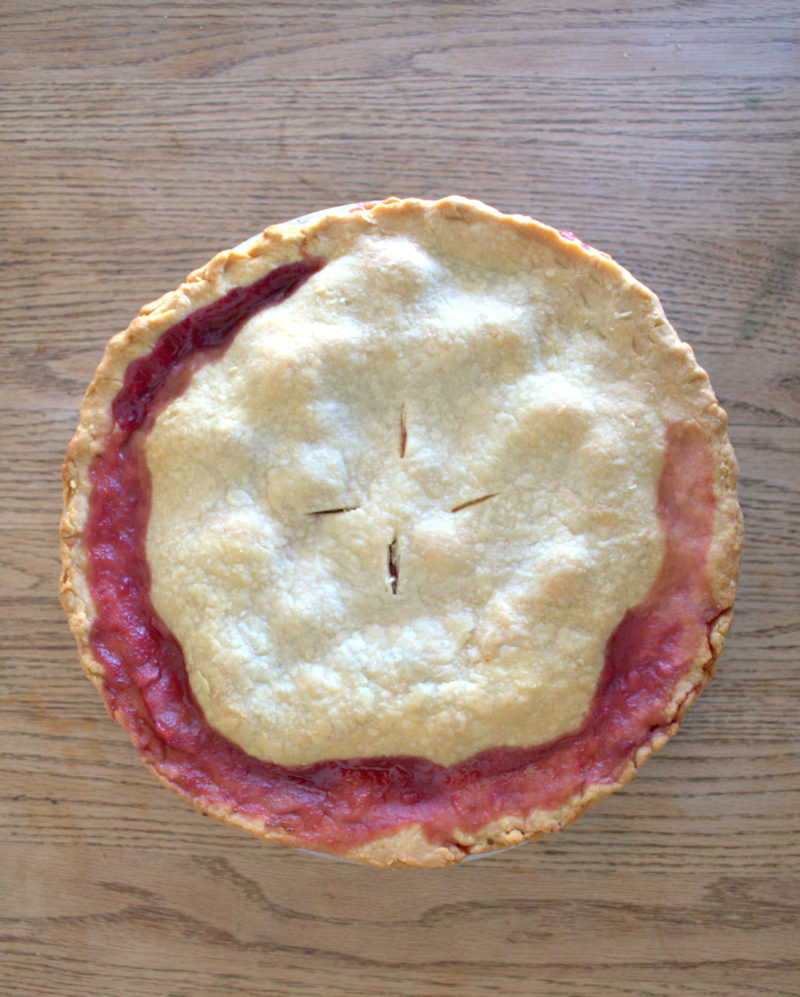 Around here we pick all of these ingredients in season and freeze or can them for times like these. This sweet-tart flavored pie with its bright color and flavor are so needed this time of year. You know when we've (mostly) moved on from the endless seas of white to lots of mud and a few green buds. In the northeast, we call this mud season and it's my favorite time of year. Mostly because it signifies fresh new beginnings. What's not to love about that?
Did I mention that this is Chuck's favorite pie? It is. He adores the unique tart and tangy flavor of the rhubarb and berry mixture. Also, he loves pie. You'll notice if you are following along with my #100daychallange (where I will spend the next 100 days coming up with dinner party menus #100daysofmenus) on Instagram that there is a distinct pie theme to the first menu. Its title Chuck's favorites, because it's a compilation of his favorites. I added a few extra's like a salad to help round out the menu because let's be serious, Chuck isn't about to eat a salad when there are a plethora of pies to be had.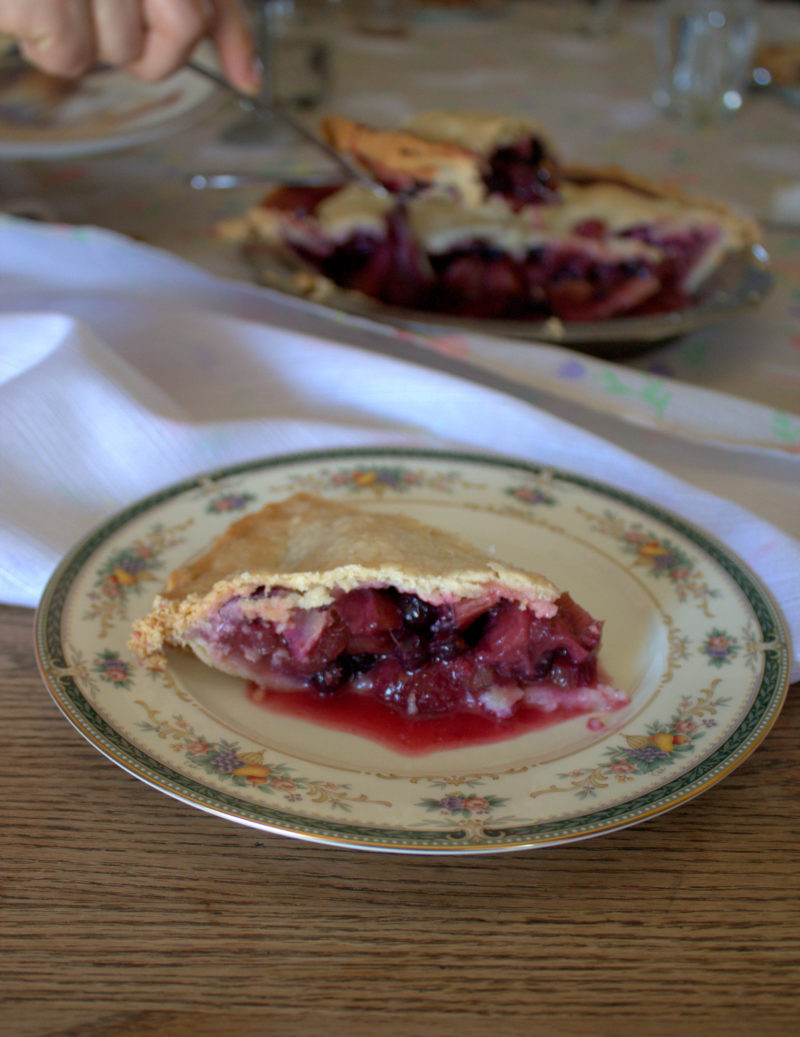 This recipe comes from my step-mom, Miss Amy. Since it was she who first introduced Chuck to this kind of pie. You'll remember some other recipes of hers, such as pan seared venison with onions (also one of Chuck's favorites), my favorite dill pickles, German potato salad, venison sausage stuffing, and more. There are a lot of recipes influenced by her cooking, because when it comes to comfort food she's got it down.
Amy's Berry Rhubarb Pie
Prep Time 10 minutes
Cook Time 1 hour
Total Time 1 hour 10 minutes
Ingredients
2 prepared pie crusts
2 ½ cups rhubarb chopped small
2 ½ cups strawberries sliced
1 cup blueberries
Zest of 1 orange
3 tablespoons flour
1 ½ cups sugar
2 tablespoons butter
2 tablespoons milk
Instructions
Preheat the oven to 425

Roll out pie crusts and line a pie plate with one of the crusts. Set aside.

In a large bowl combine the rhubarb, strawberries, blueberries, orange zest, flour and sugar.Stir well to combine. Pour into the prepared pie crust.

Cut the butter into small pats and spread them around the top of the fruit mixture.

Place the second pie crust on top and synch down the edges.

Brush the top of the crust with milk and place in the oven. Bake at 425 degrees for 15 minutes, then reduce the temperature to 375 and continue to bake for 45 mins or until the top is golden.
 Similar Recipes: