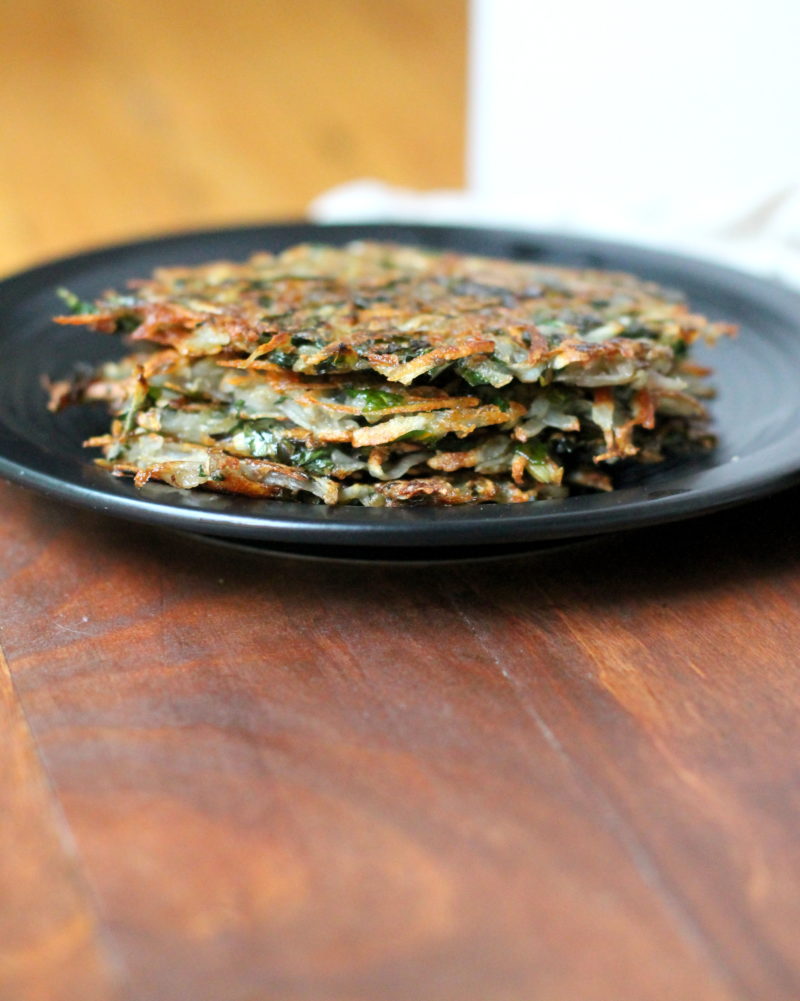 Something you should probably know about me is that I love potatoes. I eat them pretty much every single day. There are just so many ways you can prepare a potato! They are delicious and good for you. And, they are a great vehicle for sneaking in all kinds of other veggies, which this time of year is a huge priority.
The gardens are picking up now, and I, like I'm sure many of you, have produce coming out my ears. I already gave you a list of my favorite meals that use up lots of produce, but this recipe is a more about using up a few greens. It's not going to take care a whole pile of them, but it can definitely help spread out the love without you getting completely sick of them.
The coolest part about this recipe is that it basically has 2 ingredients, not counting, butter, and salt. It's literally just potatoes and greens. Often times, latkes are made with egg, and flour and other things to help everything stick together, but the cool thing about potatoes, is they have this natural starch that helps them bind without all the extras. That's what makes this recipes so easy to add to your dinner rotation. Just a bit of shredding and chopping and then into the pan, while you can run off and attend something else. How glorious?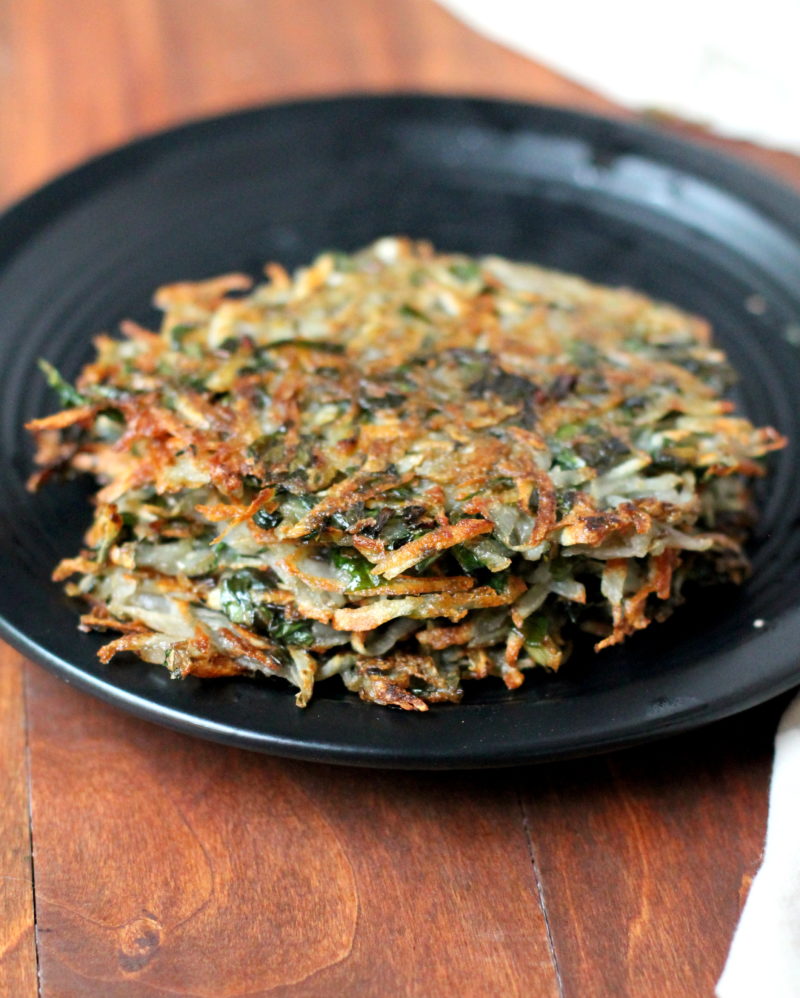 I served these with just a side of applesauce for dinner one night, but they go really well with some spicy mayo, or sour cream. They also go pretty well on their own with a pinch of extra salt, at least in my opinion. Monster and I eat them regularly for breakfast with nothing extra but a bit of runny egg yolk. I can feel really good about serving him these with an egg, knowing he's getting in some greens first thing.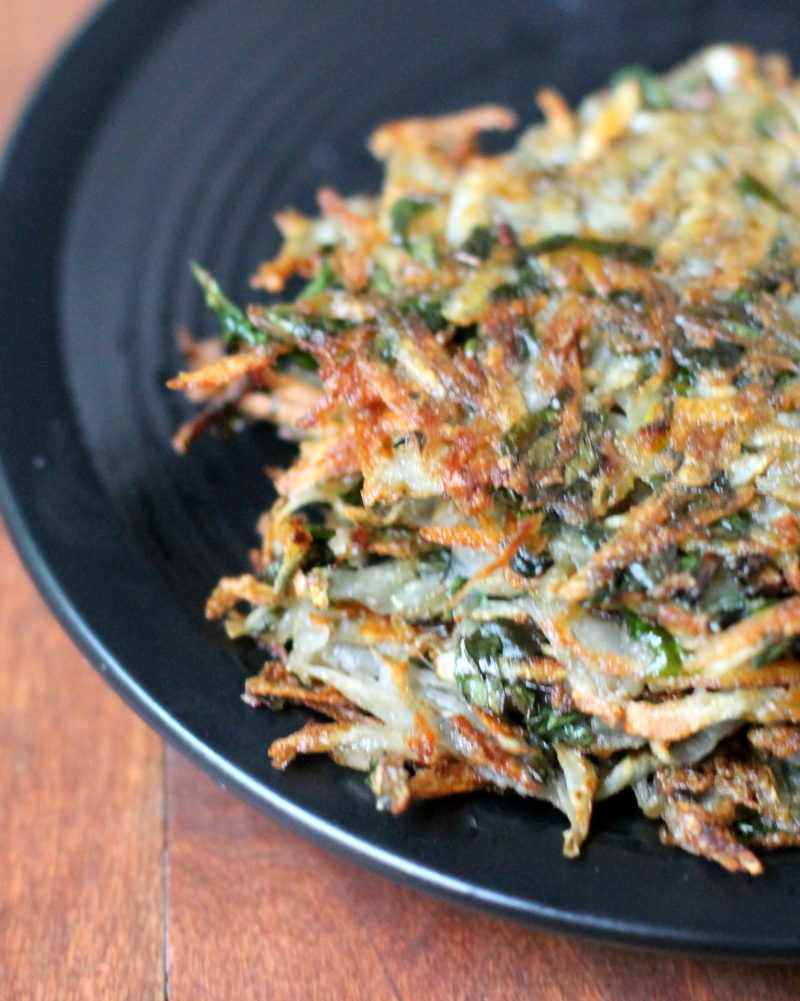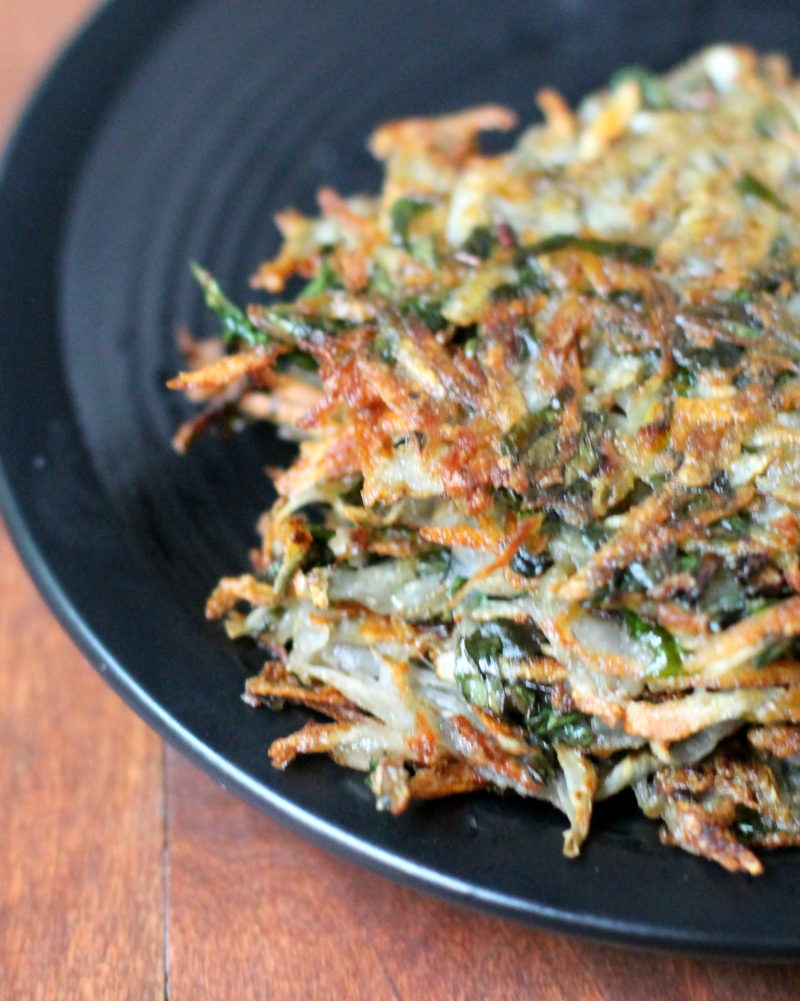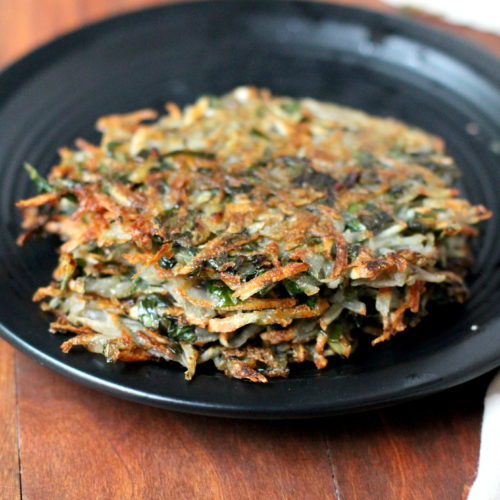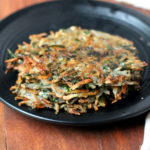 2 Ingredient Kale & Potato Latkes
Prep Time 10 minutes
Cook Time 5 minutes
Total Time 15 minutes
Ingredients
1 ½ cups shredded russet potato
1 cup Swiss chard finely chopped
2 tablespoons oil plus more if needed
Salt to taste
Instructions
Combine the shredded potato, and chard in a bowl and toss until blended.

Heat oil in a large nonstick (or cast iron) skillet over medium-high heat.

Scoop out handfuls of the potato chard mixture and sprinkle them into the pan forming small rounds. Sprinkle salt to taste on top.

Let cook, without disturbing, for 2-3 minutes or until the bottoms of the rounds become browned and easily pull away from the pan. Flip the rounds and press down.

Cook for 30 seconds to a 1 minute, or until browned.

Repeat (adding more oil to the pan each time) until all the potato chard mixture is used up.

Remove from heat and serve.
Similar Recipes: