Hosting dinner parties is an activity that is meant to be a fun and relaxing, though I find a lot of people find it stressful. I think most people generally enjoy themselves at the dinner party but really loath the preparation and cleanup part. I'm here to tell you that there is no need to stress out about any part of it.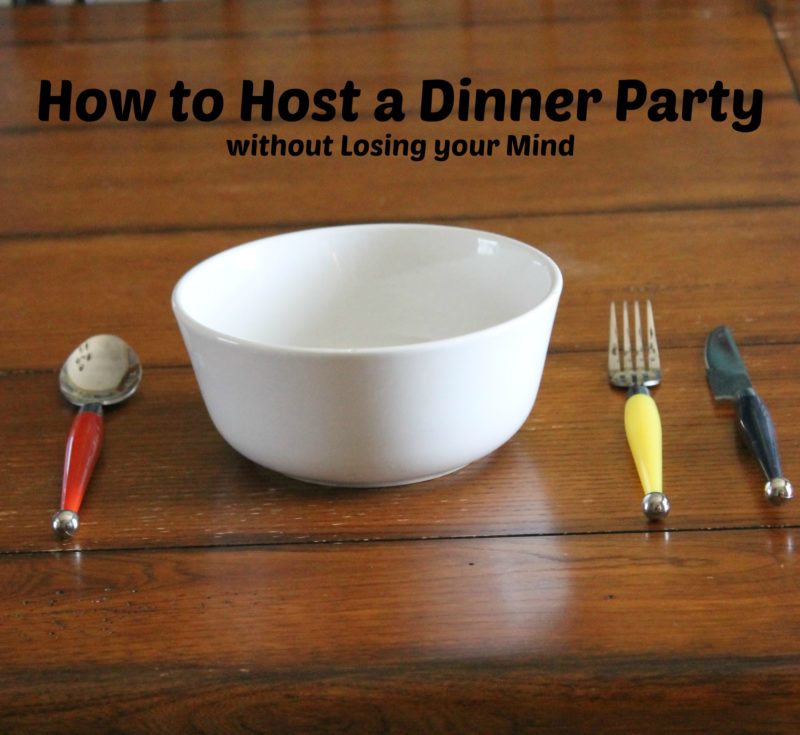 This post is all about my method of throwing dinner parties in a fun and casual way so that you can enjoy yourself and stress less.
Keep it simple – obviously, but it bears repeating, often. A simple 4 course meal (appetizer, main dish, salad & desert) is perfect for nearly any occasion, and depending on the main dish you may not even need that many courses (think tacos people they make a great dinner party).
Plan the meal a few days to a week ahead – this gives you plenty of time to hit the grocery store and any other specialty stores before the day of the party.
Prep as much as possible ahead – Make whatever you can a day or two ahead and store it until the night of the party, things like sauces and salad dressings are better when the flavors get the chance to mingle anyway. In the winter sometimes I cook an entire stew the night before so that it has time to rest and mingle, then it just needs to be heated up and served with sides.
Choose menu items that you know – being comfortable with the food is important to reducing stress. Using tried and true recipes means that you are more likely to know what to do in an emergency when you run out of cream for the sauce or you drop an entire steak on the floor.
Choose different methods of cooking – if you want to cook everything the day of and you want it to all be done at the same time choosing 4 dishes that need to bake at different temperatures for varying amounts of time is not wise. I like to have something in the oven, something on the stove, something premade, and something that doesn't require the stove (think salad or cheese plate).
Don't overthink the décor – Yes social media tells you that you need the perfect table cloth, with matching linen napkins, dishes and flatware, as well as name cards and centerpieces. The truth is – ain't nobody gonna care about that. People aren't there to be overwhelmed by your décor (unless you only invite bloggers). Your friends want to see you, eat good food and have good conversation. Having a standard set of dishes, napkins and a table cloth are really all you need. If you want centerpieces, a couple candles or a bouquet of flowers will do just fine.
Let the cleanup be – Some people may not agree with this idea but I like to leave the cleanup for the next day. Who wants to be up until 2 am doing dishes? Put those suckers in soapy water and leave them till morning. I also like to use a table cloth because tossing it into the wash is so much easier than wiping down the table. If you're skipping all the other fancy stuff this should be all you have to clean up, so relax and have another glass of wine instead.
Don't worry about the entertainment – Good friends can always find things to talk about, however if you are looking for some fun games to play I made a list. Just don't overthink it, let your guests take the lead.
Now that you've had all my tips I thought you might be interested in some of my favorite diner party menus. As always these are the tried and true favorites that are served in our house often.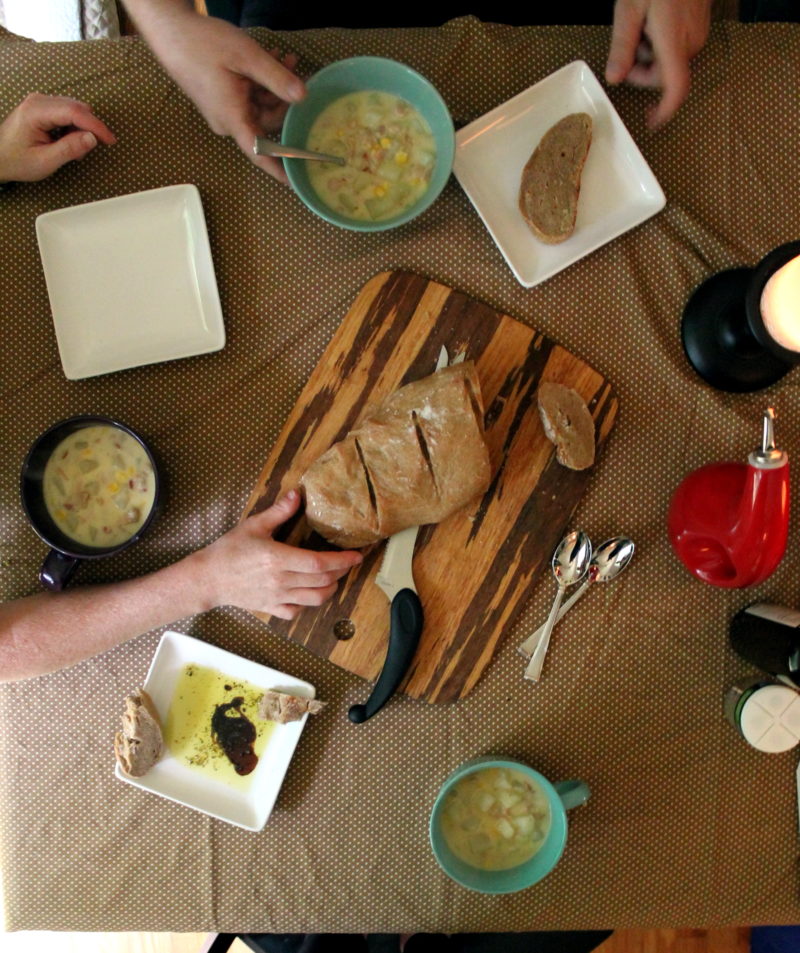 Casual Roast Chicken Dinner
Apple Tart (made ahead)
Comfy Winter Dinner Party
Salad
Beef Stew (made ahead & warmed up)
Mashed potatoes
Last Minute Dinner Party
Guacamole & chips
Salad
Ice Cream Sundaes
Famous Fall Dinner Party
Squash Soup (made Ahead)
Baked Apples with Ice Cream