These last few weeks of beautiful weather has really excited me to get outside and spend some time in my gardens and finishing house projects. I mean it was 70 the other day and it was the beginning of March?! Usually we are still buried under piles of snow here in March so this is really weird. Unfortunately one of the side effects of spend so much time breathing in the fresh spring air is that I've kind of put cooking on the back burner for a while. It's that weird time of year when the spring veggies and herbs haven't quite made their appearance yet and I'm totally not in the mood for more soup so there have been a lot of tossed together last minute dinners lately. What can I say even I just don't have it in me sometimes to cook a four course meal every night. I'd much rather be drinking wine by our new fire pit (more on that soon), I mean if we are being honest here.
This recipe is one that just keeps popping up in our household, and with good reason, since it's one of my favorites. I love it because I always have everything for it on hand, it's super easy to whip up for lunch or dinner and it's pretty darn healthy too. I also really love that I can swap out ingredients for whatever I have at the time; for example I have used broccoli rabbe, kale, and collard greens instead of spinach. I have also changed the type of beans and even mixed them because I had leftover to use in the fridge.
While this recipe can easily serve four if you are interested in making it go further serving it with a side or pasta or rice is also a great option.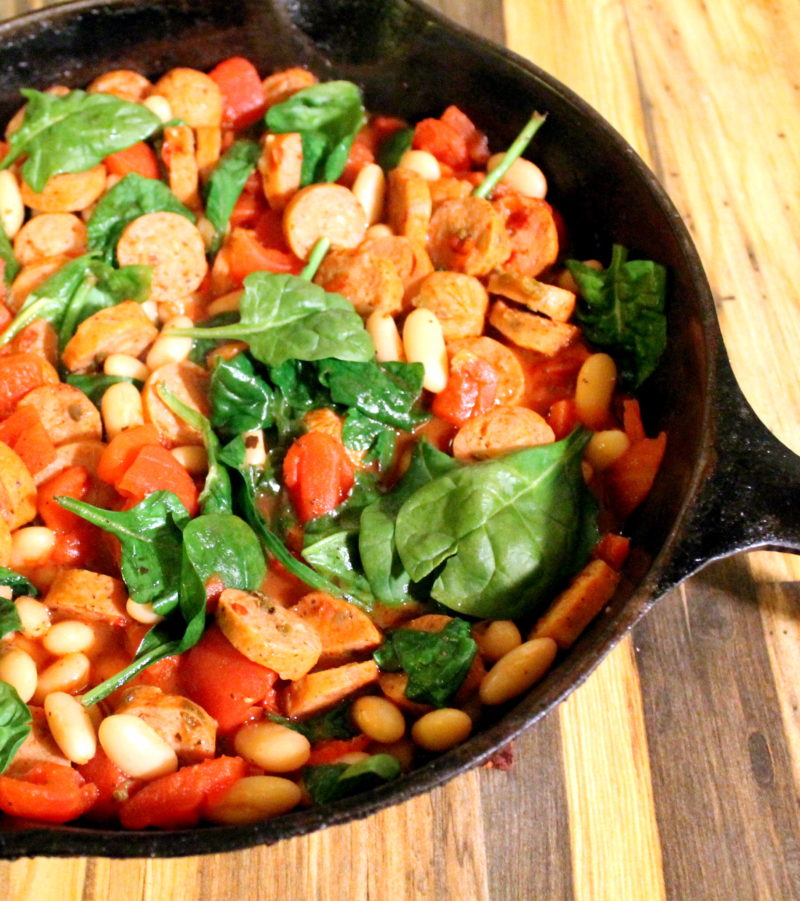 Sausage & Tomato Rugout
Ingredients
1 tablespoon olive oil
1 small onion, chopped
1 lb chicken sausage, sliced
3 cloves of garlic, minced
6 cups of loose packed baby spinach
½ cup low sodium chicken broth
2 (16 ounce) cans cannellini beans, drained and rinsed
1 (14.5 ounce) can diced tomatoes
Salt & pepper to taste
Instructions
Heat oil in a large skillet over medium high heat. Saute onion and sausages for 4 to 5 minutes or until the sausages have browned and the onion turned translucent.
Add the garlic and cook for another 1 to 2 minutes.
Stir in the kale, broth, beans, and tomatoes. Bring to a boil and reduce heat to a simmer. Cover and cook for 8 to 10 minutes, stirring occasionally.
Adjust seasonings and serve.
Similar Recipes: