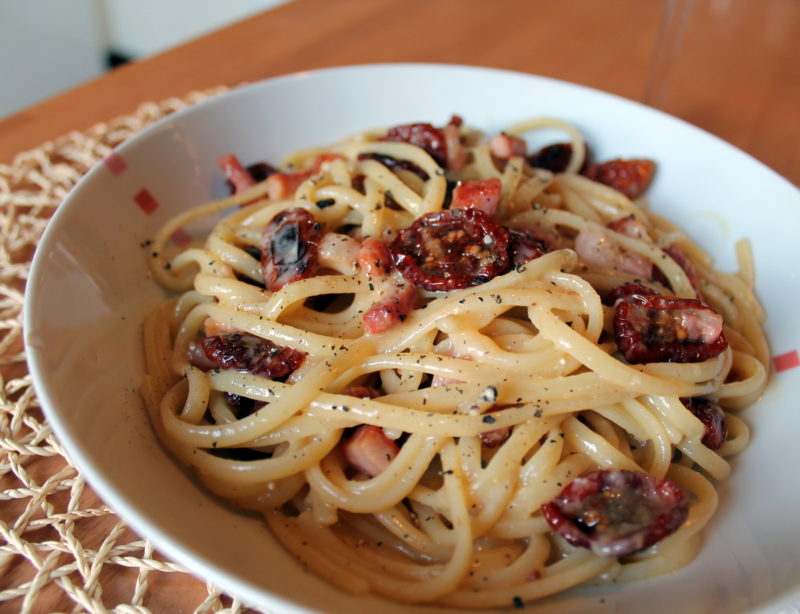 By now I'm sure you guys are dying to see pictures from our trip to Italy, and I promise that they are coming soon. I just have to get around to going through the photos. But alas, I am still sitting on a cloud over here, daydreaming about the amazing trip we just took. So, instead of editing photos, for now, I'll just tell you about this amazing recipe that I made while we were there because you know, when in Rome.
Carbonara is one of Chuck's favorite things to eat, and I have tried to make it for him for years. Until now I thought I was doing a pretty good job. How naive was I?  After trying it in several places in Italy I realized just how silky and lusciously creamy the sauce, made traditionally, really is. I knew I had to re-perfect my recipe.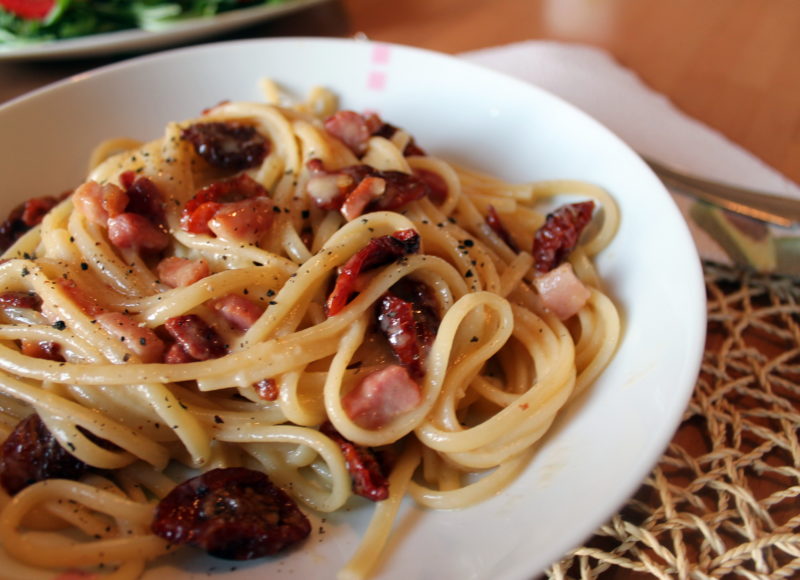 While staying in Rome, we chose to go through Airbnb and get an actual apartment. This way we could cut down on some of the food costs, wash some clothes, and have a bit more freedom. It was totally the right idea, we really enjoyed the freedom and the extra space, that it gave us, especially the opportunity to cook. One of my goals for this trip was to cook with fresh Italian ingredients while we were here. I shouldn't say goal, it was a long time dream. Raw ingredients in Italy for Italian food are so incredibly different from what you find in the U.S.
We found a great little farmers market in Campo Fiori, Rome where I bought everything that I needed to make this carbonara. I loved walking through the stalls and watching the locals haggle with the stall keepers. This is the way shopping is supposed to be. Everyone has their specialty, and everything is fresh! So fresh, you can smell the earth from which it came.
This recipe is based on a dish that we had during our stay in Florence, just days before. The sauce has an utterly silky texture that is full of rich flavor pulled in from the fresh eggs, pancetta, cheeses, and sundried tomatoes. I chose sundried tomatoes because of the extra sweetness. They add a certain depth to the simple dish. This sauce is tossed with a thick pasta cooked aldente, so there's a bit of firmness to it. You need a thick pasta what will really hold onto the sauce and stand up to the other ingredients. It's topped with a bit of fresh cracked pepper because, well, that's how it's done. The pepper brings a contrast not only in color but flavor to the overly rich dish.
With it, I served a simple Caprese salad over arugula. You need something lighter to balance out all that pasta. Of course, there was also a bottle of Chianti wine. Chianti was kind of the theme wine of our trip, so it made an appearance quite a bit.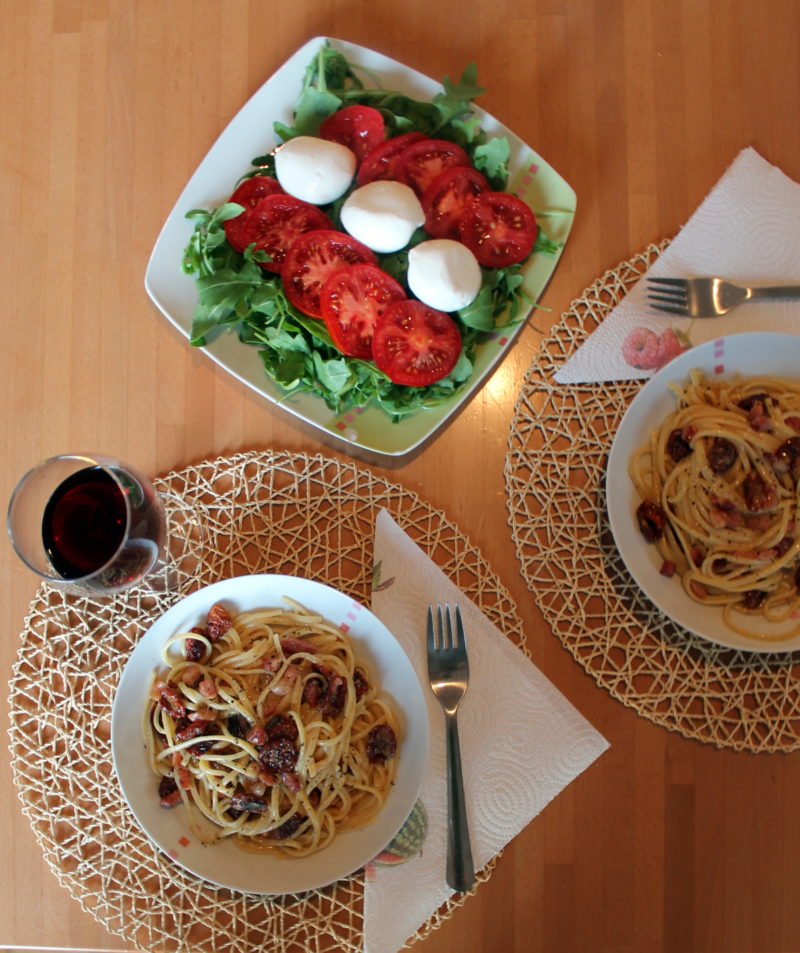 Authentic Italian Carbonarra, with Sun Dried Tomatoes
Ingredients
1 pound dry spaghetti
8 ounces pancetta or slab bacon, cubed
½ cup sun dried cherry tomatoes (or large tomatoes, chopped)
4 Large, fresh eggs
½ cup freshly grated Parmesan Cheese
½ cup freshly grated Pecorino Cheese
Freshly cracked black pepper to taste
Instructions
Cook the pasta according to package instructions to al dente (cooked, though slightly firm). Reserve 1 cup of the pasta water before draining and set aside.
In a medium size bowl whisk together the eggs and cheese until well blended and set aside.
While the pasta is cooking heat a large skillet over medium high heat. Add the pancetta and sauté for 2 to 3 minutes. The pancetta should begin to brown and crisp.
Add the cherry tomatoes and sauté for another minute.
Stir in ¼ cup of the reserved pasta water until well combined. Add the pasta to the pan and toss lightly.
Remove the pan from the heat and add the egg mixture, stirring quickly so that the eggs do not have time to scramble. As you stir and toss the pasta the eggs will thicken into a sauce. If the sauce becomes too thick slowly stir in more reserved pasta water.
Top generously with pepper and serve immediately.
Similar Recipes: