An easy and healthy spring recipe for Spinach Artichoke Chicken Casserole.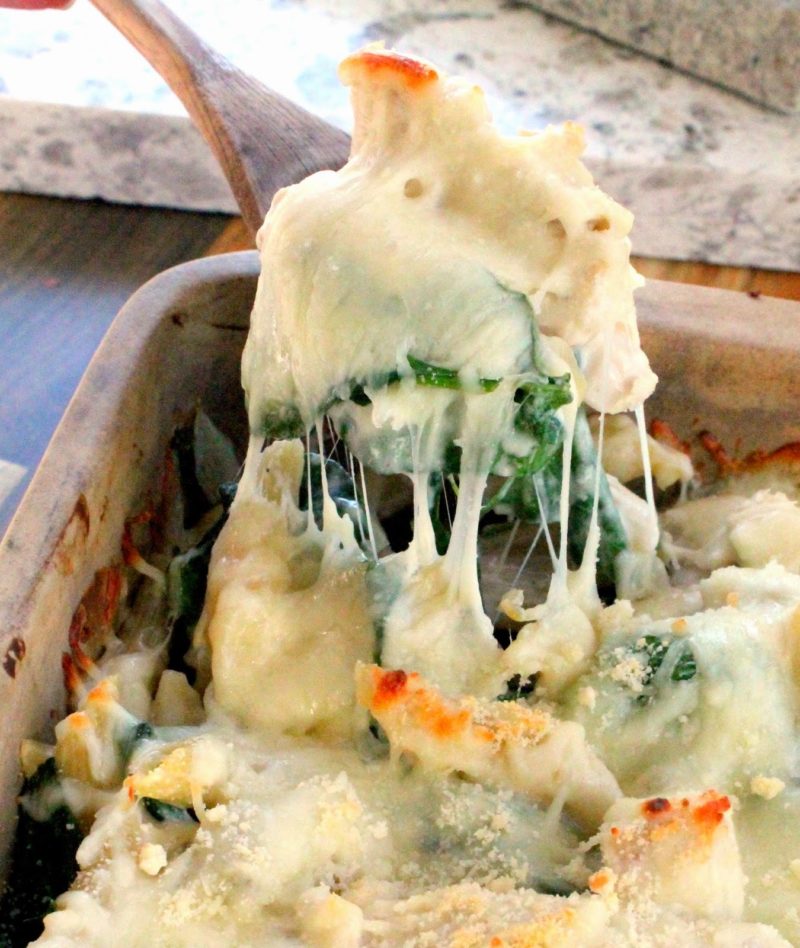 You guys I looked out my window today and actually saw some green grass. Like living green grass!
If you don't live in the frozen tundra that is the northeast, you probably don't understand my excitement. Let me explain: this winter was hard. I mean aside from the typically short days and snow, it was ridiculously cold. Entire weeks were spent in below freezing temperatures, to the point where going outside for more than 10 minutes actually became dangerous.
It was hard on all of us cooped up indoors hoping for just a 25-degree day so we could spend some time outside without feeling like our face was on fire.
Anyway, I digress.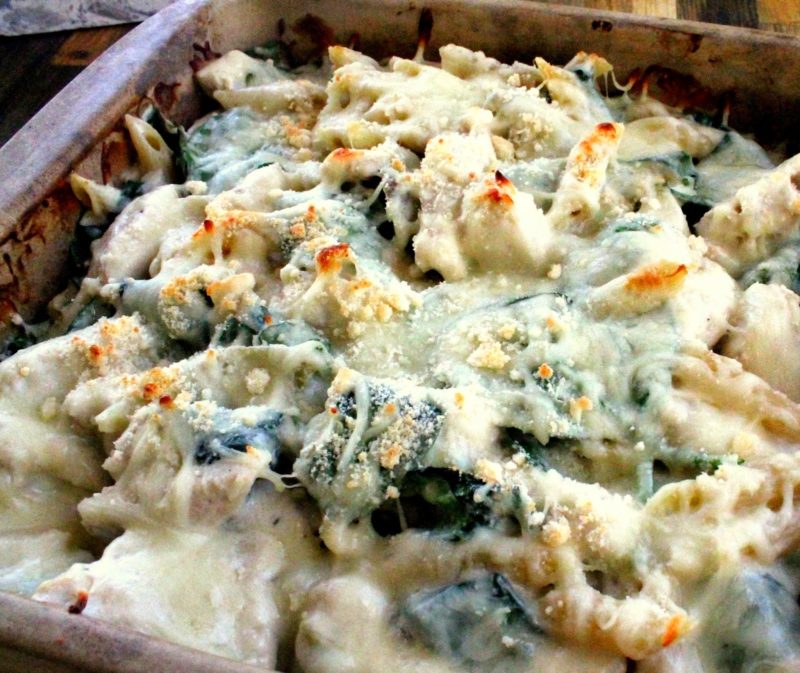 I want to celebrate the green.
I want to celebrate the birds I'm beginning to see poke coming out, and the long-lost sun that I have failed to have seen due to work.
What better way to celebrate than a new twist on one of my favorite dishes? Spinach Artichoke dip is a huge favorite of mine and something I start to crave right as spring starts to come around. As evidenced by a very similar recipe I posted just shy of a year ago today. Remember that? One pot 
Spinach Artichoke Pasta
? While this isn't a one pot meal, it's awfully close. It's also super satisfying, and the perfect way to invite some spring into your home!
Spinach Artichoke Chicken Casserole
Ingredients
1 tablespoon olive oil
1 small onion, chopped
3 cloves of garlic, minced
½ lb boneless skinless chicken breast, cut into bite size
pieces
Salt and pepper to taste
1 (13.5 oz.) can artichoke hearts, drained, & chopped
5 oz of fresh baby spinach
12 oz penne pasta, cooked according to package instructions
1 cup low fat sour cream
4 oz low fat cream cheese, softened
½ cup Parmesan cheese
1 cup mozzarella cheese
Instructions
Preheat the oven to 425.
In a large skillet heat oil over medium high heat and sauté the onions for one minute.
Season the chicken with salt and pepper then add the garlic and chicken to the pan and cook, tossing occasionally until the chicken is browned on all sides.
Add the artichoke hearts and spinach and cook, while stirring until the spinach has wilted.
Remove from heat and stir in pasta, sour cream, cream cheese, and parmesan until well
combined.
Transfer to a greased baking pan and cover with mozzarella cheese.
Bake in the oven until the cheese has begun to brown, about 10-15 minutes.
Serve immediately.
 Similar Recipes: