So this isn't your typical chop everything up and dump it in the crock pot recipe for pea soup that everyone is used to,  let's just get that out in the open right now.
Don't get me wrong that modern American classic is one of my favorites, but sometimes you just have ham bones lying around needing to be used. Easter definitely just happened over here so you can imagine the oversized hams that have been prepared as of late.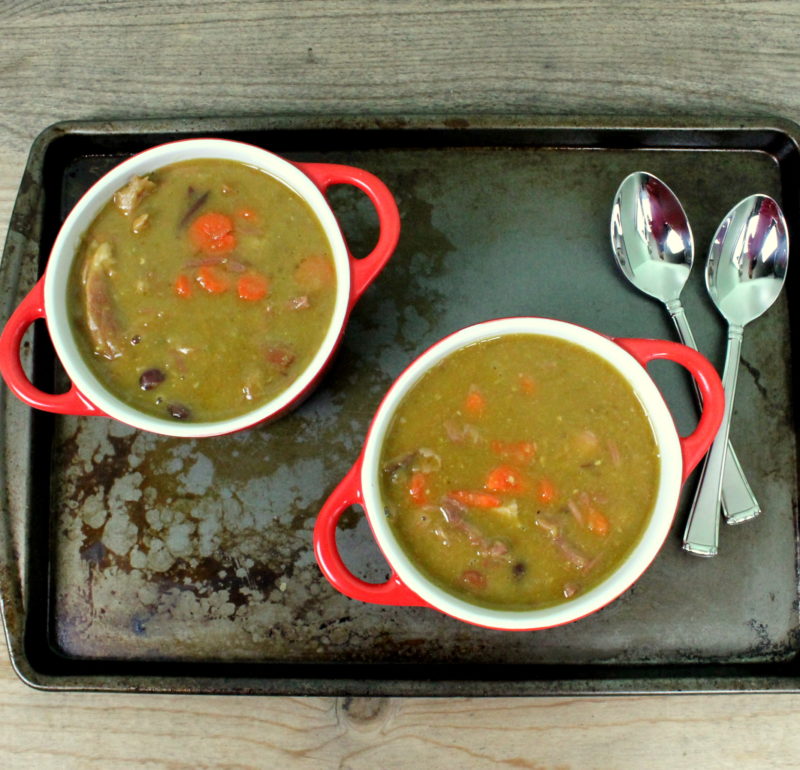 It starts out easy enough; toss the bones with whatever meat they have left right into the crock pot along with some split peas, broth, and spices. Let that go until the peas are soft and the meat is falling off the bone. Then you add in all the other good stuff (the veggies) and clean the bones, dumping the meat back into the crock.
See that's not so hard and you can now reap the benefits of the "bone broth" that was created while they simmered in the crock. Not to mention the flavor that using bones adds.  You'll never want the easy-chop version again.
In this particular recipe I do not use potatoes because we are still on the "slow carb diet" (notice the use of kidney beans) for the most part, but you can add them in with the rest of the vegetables if you prefer.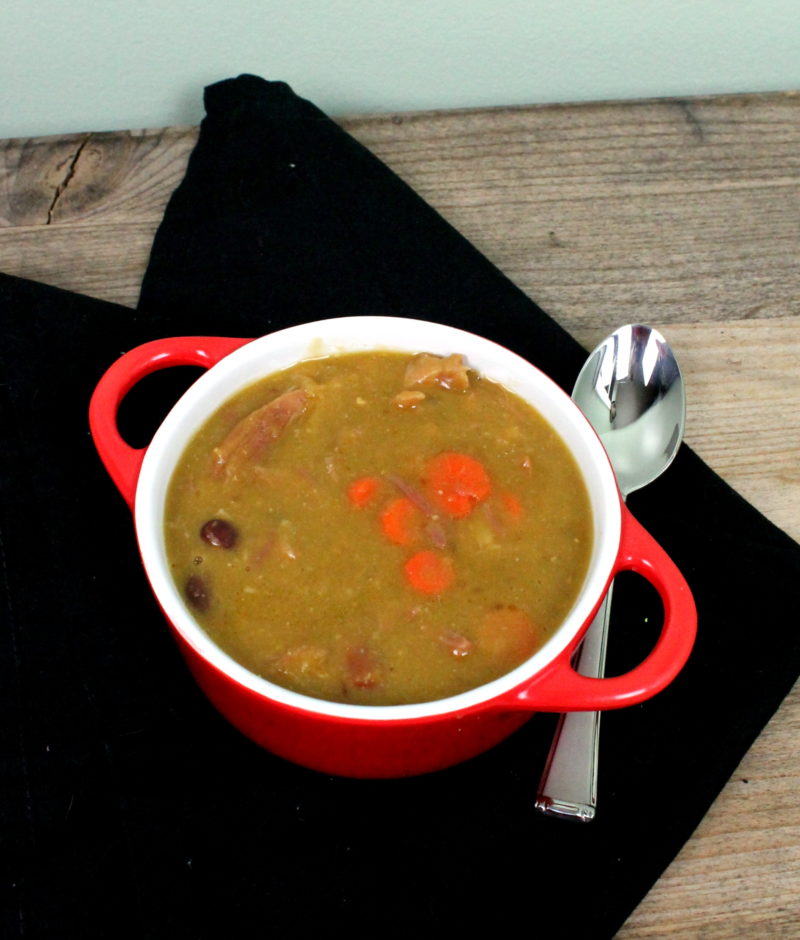 Crock Pot Pea Soup from Leftover Ham Bones
Ingredients
1 ham bone with meat (about 2 lbs) or 2 cups diced ham
1 lb dried green split peas, rinsed
1 bay leaf
½ a small yellow onion, chopped
2 stalks celery, minced
1 clove garlic, minced
4 cups chicken broth
2 cups water
2 carrots, chopped (about 1 cup)
1 (15.5 oz) can kidney beans
Instructions
Place ham, peas, bay leaf, onion, celery, garlic, broth and water into a large Crockpot. Cover and cook on low for 8 to 10 hours or high for 5 to 6 hours. The peas should be soft, and ham falling off the bone.
Remove the ham and bones from crock pot and transfer to a rimmed baking sheet, set aside to cool for 5 to 10 minutes.
Add the carrot, and beans to crock pot and turn onto high for 2 hours.
Meanwhile remove the ham from the bone and shred into bite size pieces. Return to the Crockpot and stir to combine. Allow the Crockpot to complete cooking.
Once the carrots and beans are soft turn of the Crockpot and serve.
To speed up the final steps you can also cook the carrot and beans on the stove top first. If you prefer you can also add them with the rest of the ingredients in the beginning, however i find that these ingredients become too mushy for my taste.